Cyclingnews 2005 Reader Poll Results
Best male Cyclo-cross rider
Sven Nys leads Bart Wellens in real life too.
Photo ©: Roberto Bettini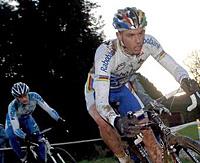 Sven Nys has swept the vote for best male cyclocross rider category for in three of the four years since we began the Cyclingnews reader poll in 2001. Only when Bart Wellens had his rainbow year in 2003 and completely dominated the 2003-4 season did he knock Nys off the top spot.
This year, though, Nys has been almost unstoppable, winning race after race in the World Cup, Superprestige and GVA series. He gets to defend his world title at the end of next month, and it will be illuminating to see if his run of good form can last till then.
If anyone threatens Nys at worlds it will be Bart Wellens, who came second in the poll with just under 13 percent of the vote. Wellens has been riding strongly of late, especially when not hampered by idiots throwing mud and beer at him.
Perennially popular US cross specialist Jonathan Page was third.
Results
                               Votes   %ge
 
1 Sven Nys                      3248  50.9
2 Bart Wellens                   818  12.8
3 Jonathan Page                  534   8.4
4 Ryan Trebon                    344   5.4
5 Tim Johnson                    337   5.3
6 Daniele Pontoni                255   4.0
7 Barry Wicks                    243   3.8
8 Richard Groenendaal            201   3.2
9 Gerben De Knecht               159   2.5
10 Enrico Franzoi                141   2.2
11 Petr Dlask                     99   1.6

Total                           6379