Cyclingnews 2005 Reader Poll Results
Best female cyclocross rider
Lyne Bessette at US nationals - riding against the men in the non-championship Liberty Cup
Photo ©: Ed Collier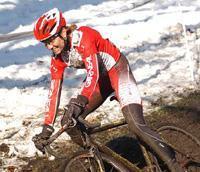 Just as she has blitzed almost every race in North America this season, Lyne Bessette blitzed the poll for top female cyclocross rider. It's hardly surprising - about the only significant race Bessette has not won this year was the US national championships because, of course, as a Canadian she's not actually eligible.
In Bessette's absence, poll runner-up Katie Compton made her annual appearance at a major cross event and won the US national championship. You have to admire Compton's style. She trains quietly at home for a few months, turns up to nationals and blitzes the field, then declines a spot on the US team because it's more important to her to be able to captain a tandem for blind stoker Karissa Whitsell in Paralympic events. That's class, and 18 percent of you agree!
Top German cyclocrosser Hanka Kupfernagel was third.
Results
                               Votes   %ge
 
1 Lyne Bessette                 2106  33.5
2 Katie Compton                 1153  18.4
3 Hanka Kupfernagel              847  13.5
4 Daphny van Den Brand           646  10.3
5 Barbara Howe                   633  10.1
6 Christine Vardaros             307   4.9
7 Wendy Simms                    272   4.3
8 Laurence Leboucher             240   3.8
9 Maryline Salvetat               77   1.2
 
Total                           6281