Cyclingnews 2005 Reader Poll Results
Best male track rider
Chris Hoy (Great Britain)
Photo ©: Mike Gladu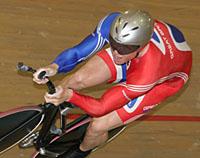 It's been a quiet year in track cycling, compared to the Olympic excitement of 2004, with more controversy away from the velodrome than in it as the UCI inexplicably decided to drop the men's 1000m time trial and women's 500m from the programme for the 2008 Beijing Olympics. Track fans will therefore find it very fitting that the Cyclingnews male track cyclists of the year is likeable Scottish kilo specialist Chris Hoy.
Hoy will no doubt have no problem continuing his kilo career at World Ccup level and his excellence as a sprinter will likely be on show at Beijing in the match sprint, team sprint and keirin disciplines. But anyone who has seen Hoy explode across the boards in sheer focused power has to regret that his kilo talent won't get a chance to shine for the mainstream world's TV cameras in 2008.
In second place was a German better known as a road sprinter: Erik Zabel. Zabel's name recognition is the reason why the promoters of the Munich and Dortmund Six-day races sign him up for the showcase events, and this year Zabel didn't disappoint, winning in pairings with Robert Bartko and Rolf Aldag respectively.
In close third was the Netherlands' rising star of track sprinting, Theo Bos, a rider who can be confidently expected to deliver many more stellar performances to match his 2005 kilo world championship.
Results
                               Votes   %ge
 
1 Chris Hoy                     1329  21.4
2 Erik Zabel                     990  16.0
3 Theo Bos                       878  14.2
4 Ryan Bayley                    484   7.8
5 Andre Sosenka                  457   7.4
6 Matthew Gilmore                360   5.8
7 Greg Henderson                 338   5.5
8 Ben Kersten                    336   5.4
9 Robert Bartko                  203   3.3
10 Rene Wolff                    180   2.9
11 Mark Cavendish                159   2.6
12 Rob Hayles                    145   2.3
13 Jason Queally                 131   2.1
14 Craig McLean                  124   2.0
15 Jamie Staff                    86   1.4

Total                           6200