Cyclingnews 2005 Reader Poll Results
Best Stage Race
Le Tour
Photo ©: Sirotti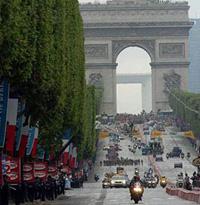 It's the Tour, baby and once again it was your favourite stage race of the year.
The 2005 Tour de France was historic for Lance Armstrong's seventh consecutive - and final - victory. It's rare to see any athlete genuinely quit at the very top of his game, but after winning this year's Tour, Lance Armstrong did just that.
It has to be said that the popularity of this year's Tour probably owed more to Armstrong's swansong than to the actual racing, which seemed to be over more or less as Armstrong caught Jan Ullrich in the opening time trial. Nevertheless, the following three weeks did provide some great entertainment: Robbie McEwen putting himself out of the green jersey contest by head-butting Stuart O'Grady in a sprint; Michael Rasmussen emerging as perhaps this generation's great climbing specialist and time-trialling disaster); two of Armstrong's faithful sidekicks finally getting Tour stage wins; and Levi Leipheimer and Cadel Evans making the top ten.
In second place, the 2005 Giro d'Italia sparkled. The outcome was undecided until the final days; the leader jersey changed hands frequently between genuine contenders; two young favourites - Damiano Cunego and Ivan Basso - succumbed to illness; and a rider from a wildcard, non-ProTour team blew away the big names in the mountains. The Giro certainly benefited from an influx of non-Italian teams as a result of its status as first grand tour of the new ProTour system.
The Tour of Georgia and Vuelta a Espana took third and fourth respctively in a near-tie.
Results
                               Votes   %ge
 
1 Tour de France                3629  51.3
2 Giro d'Italia                 2364  33.4
3 Tour of Georgia                178   2.5
4 Vuelta a Espana                174   2.5
5 Paris-Nice                     134   1.9
6 Tour Down Under                125   1.8
7 Tour de Suisse                 118   1.7
8 Tour de Romandie                68   1.0
9 Deutschland Tour                67   0.9
10 Tour de l'Aude                 64   0.9
11 Critérium du Dauphiné Libéré   63   0.9
12 Vuelta Ciclista al Pais Vasco  42   0.6
13 Tour of Britain                39   0.6
14 Volta a Catalunya              14   0.2

Total                           7079