Cyclingnews 2005 Reader Poll Results
Legend of Cycling
Lance Armstrong
Photo ©: Sirotti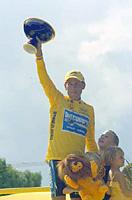 There is no disputing who you voted as the Legend of Cycling 2005: Lance Armstrong.
A Cyclingnews Legend of Cycling is a rider who is still active or has just retired, and has incredible career achievements. There's no denying that Lance Armstrong fits this to a 't', and his 4744 votes (66.4% of the total) is a clear indication of this. Armstrong has over 80 victories in his 14 year career, the standouts being seven Tours de France and a World Championship Road Race. Even more incredibly, his Tour wins came after he recovered from life threatening testicular cancer, a disease that has defined him as a person and as an athlete. No other rider has won seven Tours, and there is only one other currently active rider who has even one Tour to his name: Jan Ullrich.
Armstrong's Tour win record (he also has 20 stage wins and 83 days in yellow) is unlikely to be beaten for a long time, and it's difficult to imagine someone winning eight. Will it be one of the current crop of stars such as Ivan Basso, Damiano Cunego, or Alejandro Valverde, or will we have to wait for a new generation of riders to find one as dominant as The Boss from Texas?
A fairly distant second to Lance Armstrong, but still very worthy of mention, is Erik Zabel. The German sprinter is on the wane compared to his dominant years betwen 1995 and 2002, but his massive palmares - the biggest of any active rider - merits a place in the Legend of Cycling list. He has almost 200 victories, and is quite accomplished on the track as well as the road, winning several Six Day races. Zabel also has six Tour de France green jerseys to his credit - the most of any rider - and has won nine classics: four Milan-San Remos, three Paris-Tours, one Amstel Gold Race, and one HEW Cyclassics. He took out the World Cup in 2000.
This year, Zabel showed that there is still some punch in those legs, winning Paris-Tours and Rund um den Henninger Turm.
With Armstrong and Zabel netting 83% of the votes between them, there were slim pickin's for everyone else. Paolo Bettini, with 220 votes, edged out Jan Ullrich by just four votes for third place. Bettini is a rider who doesn't win vast numbers of races, but he often wins big. He won two late season classics this year, Giro di Lombardia and Meisterschaft von Zurich, to add to his total of eight classics. He has won the World Cup three times, is the reigning Olympic Road Race Champion, and is one of the most deadly riders in a hilly one day race.
Results
                               Votes   %ge
 
1 Lance Armstrong               4744  66.4
2 Erik Zabel                    1172  16.4
3 Paolo Bettini                  220   3.1
4 Jan Ullrich                    216   3.0
5 George Hincapie                179   2.5
6 Tom Boonen                     178   2.5
7 Ludo Dierckxsens               171   2.4
8 Rolf Aldag                      70   1.0
9 Daniele Pontoni                 66   0.9
10 Danilo Di Luca                 53   0.7
11 Pavel Tonkov                   49   0.7
12 Tristan Hoffman                17   0.2
13 Igor Gonzalez de Galdeano      14   0.2

Total                           7149