Cyclingnews 2005 Reader Poll Results
Best Female MTB Racer
Gunn-Rita Dahle wins another world championships
Photo ©: Marek Lazarski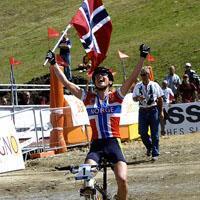 Gunn-Rita Dahle remained the most dominant female mountain bike racer on the planet in 2005, winning six of the eight rounds of the World Cup and finishing the season on top of the UCI rankings by a huge margin. In her diary on Cyclingnews, Dahle chronicled a season that once again saw her manifest her incredible determination, but never take for granted that she was better than her rivals. A remarkable athlete and unarguably worthy winner of your votes.
Dahle capped off the season with not one but two world championships, landing both the regular cross-country title and the longer-distance Marathon rainbow jersey, and grabbed a European championships and Nordic and Norwegian championships too. In fact, of her 17 starts in UCI-ranked races this year, Dahle failed to win only two of them.
In second place, Alison Dunlap ended her career in the best possible way this year with a victory at the NORBA finals at Mt Snow in August. The 2001 world champion is still hugely popular in her native US and among her post-racing jobs, she will be rider representative to the UCI's mountain bike commission.
Another Cyclingnews diarist, Australia's Niki Gudex was third.
Results
                               Votes   %ge
 
1 Gunn-Rita Dahle               2327  36.7
2 Alison Dunlap                 1310  20.7
3 Niki Gudex                     419   6.6
4 Bernadita Pizarro              258   4.1
5 Marie-Helene Premont           214   3.4
6 Anne Caroline Chausson         210   3.3
7 Mary McConneloug               176   2.8
8 Katrina Miller                 165   2.6
9 Shonny Vanlandingham           150   2.4
10 Sue Haywood                   132   2.1
11 Kathy Pruitt                  110   1.7
12 April Lawyer                  106   1.7
13 Leana Gerrard                  88   1.4
14 Monique Sawicki                87   1.4
15 Maja Wloszczowska              86   1.4
16 Jill Kintner                   80   1.3
17 Vanessa Quin                   72   1.1
18 Sabine Spitz                   71   1.1
19 Tara Llanes                    69   1.1
20 Melissa Buhl                   58   0.9
21 Petra Henzi                    57   0.9
22 Marg Fedyna                    34   0.5
23 Sabrina Jonnier                32   0.5
24 Marielle Saner                 26   0.4
  
Total                           6337