Cyclingnews 2003 Reader Poll Results
Best Male road rider
Paolo Bettini
Photo: © Chris Henry/CN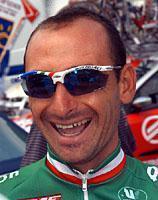 It was an extremely close finish this year for the Best Male Road Rider of the Year award, but in the end it was Italian all-rounder Paolo Bettini who took the honours from Lance Armstrong by just two votes, both riders scoring nearly a quarter of the votes. Cyclingnews' most improved rider, Alexandre Vinokourov, took third place with 153 votes (12.4 percent).
Bettini's list of wins this year was not long but it was solid. He won an unprecedented three World Cup races, starting with Milan-San Remo, then following up with HEW Cyclassics and the Clasica San Sebastian. That was enough to give him the overall World Cup title and the UCI number one ranking at the end of the year. Bettini also took out the Italian Championship in June and the Tour Mediterraneen in February. He was in the winning break at the World Championships in October but finished just out of the medals in fourth place - a disappointment for the bubbly Italian, nicknamed 'Il Grillo' (The Cricket).
Runner up Lance Armstrong's 2003 season also contained few wins - just four this year compared to eight in 2002. However he won the biggest race of the year, the Tour de France, for a fifth consecutive time which put him among the Tour greats such as Merckx, Anquetil, Indurain and Hinault. That was enough to almost get him over the line as our readers' Best Male Road Rider of the Year...but not quite.
Results
                                     Votes     %ge
1 Paolo Bettini                        298    24.1
2 Lance Armstrong                      296    24.0
3 Alexandre Vinokourov                 153    12.4
4 Tyler Hamilton                       108     8.8
5 Alessandro Petacchi                  101     8.2
6 Jan Ullrich                           91     7.4
7 Peter Van Petegem                     20     1.6
8 David Millar                          17     1.4
9 Baden Cooke                           14     1.1
10 Chris Horner                         10     0.8
11 Erik Zabel                            9     0.7
11 Roberto Heras                         9     0.7
13 Alejandro Valverde Belmonte           7     0.6
13 Gilberto Simoni                       7     0.6
13 Iban Mayo                             7     0.6
16 Michael Rogers                        6     0.5
17 Brad McGee                            5     0.4
17 Mario Cipollini                       5     0.4
19 Floyd Landis                          4     0.3
19 Michael Boogerd                       4     0.3
19 Michele Bartoli                       4     0.3
22 Igor Astarloa                         3     0.2
22 Marco Pinotti                         3     0.2
22 Michael Barry                         3     0.2
22 Tom Danielson                         3     0.2
26 Cadel Evans                           2     0.2
26 George Hincapie                       2     0.2
26 Joseba Beloki                         2     0.2
26 Nick Price                            2     0.2
26 Nuno Ribeiro                          2     0.2
26 Richard Virenque                      2     0.2
26 Stuart O'Grady                        2     0.2
26 Thor Hushovd                          2     0.2
34 Bryan Fly Adams                       1     0.1
34 Cezary Zamana                         1     0.1
34 Christopher Bauman                    1     0.1
34 Dave Bruylandts                       1     0.1
34 Doug Ollerenshaw                      1     0.1
34 Fasso Misiti                          1     0.1
34 Felix Caredenas                       1     0.1
34 Francesco Casagrande                  1     0.1
34 Frank Vandenbroucke                   1     0.1
34 Fraser MacMaster                      1     0.1
34 Gordon Macauley                       1     0.1
34 Graeme Brown                          1     0.1
34 Jaan Kirsipuu                         1     0.1
34 Johan Museeuw                         1     0.1
34 Jose Maria Jimenez                    1     0.1
34 Jukka Vastaranta                      1     0.1
34 Kam Po Wong                           1     0.1
34 Kirk O'Bee                            1     0.1
34 Marc Lotz                             1     0.1
34 Mark Hekman                           1     0.1
34 Mark Renshaw                          1     0.1
34 Mark Scanlon                          1     0.1
34 Mike Sayers                           1     0.1
34 Nick Lawson                           1     0.1
34 René Obst                             1     0.1
34 Richard Quinn                         1     0.1
34 Royce Jacomen                         1     0.1
34 Samuel Sanchez                        1     0.1
34 Saul Raisin                           1     0.1
34 Sven Montgomery                       1     0.1
34 Trent Wilson                          1     0.1
 
Total                                 1234     0.0