Cyclingnews 2003 Reader Poll Results
Best One-day Race
Blue skies on the road to Roubaix
Photo: © Chris Henry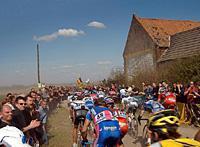 For a truly epic Paris-Roubaix the weather should be bad, and preferably unrelentingly evil. This year's edition lacked the element of crummy meteorology but instead had the magic element of a great but inconsistent Classics rider - Peter van Petegem - completing a double victory after winning Ronde van Vlaanderen the week before.
A close runner-up was Liege-Bastogne-Liege and a Tyler Hamilton victory that heralded an amazing year for the quiet American - and the first victory by a US rider in the Doyenne.
Once again, we asked for reasons for your choices. Here are a few Roubaix and Liege explanations.
Paris-Roubaix
A tough race with the right winner, inspiring ride by Eki.
Ask any Classics rider which race is the one they would most like to win. 95% will say the Hell of the North.
Brutally hard race.
Can't beat it for excitement, no matter what the weather. It's uniquely difficult.
Chaos despite sunshine.
Cobbles can be added to almost anything and make it cooler.
Eki almost got it! A fantastic finale with three good possible winners. Van Petegem's Flanders/Roubaix double
Great to see Ekimov almost pull off a spectacular win, while Van Petegem's bridge and attack were amazing.
I can't think of a more difficult, a more challengeing, a more legendary course, a course that inspires some few riders to greatness, a course that will forever haunt thousands of others, and that takes every rider and their machines, win or lose, to their utmost limits.
No matter who wins there is always a great story with great photos. You can feel the pain they are going through and I am thousands of miles away.
The riders become Ring Wraiths upon entering the Velo-Tomb at the end....
Van Petergem's double on the fast, dusty course was what everyone expected but could not be stopped.
You need to be a human, not mannequin, to win it.
Liege-Bastogne-Liege
Always the greatest classic of the year, without any competition. So tough and a super course.
Dramatic victory, most suspenseful of the monuments in 2003, best overall field.
Hamilton came to prominance and trounced Armstrong, biting the hand that had fed him, and showing he is a leader in his own right.
Hamilton outfoxed them all with strength and wits!
Hamilton-Tyler-Hamilton
Hard, selective, rain, LA was supposed to win and Tyler was unexpected.
Lance broke the race apart, and Tyler shocked them all and won
Lots of heavy hitters were in the peloton that day, and out of the crowd came a man with a point to prove. It was Tyler Hamilton's break out Day, a day that told the peloton to pay attention to this man.
One of the few Spring Classics still sought after by Armstrong and considered important to the GC peloton. Signaled that Tyler Hamilton was a serious threat as a team leader.
Results
                                     Votes     %ge
 
1 Paris-Roubaix                        391    34.8
2 Liege-Bastogne-Liege                 346    30.8
3 Ronde van Vlaanderen                 109     9.7
4 World's, men's road race              64     5.7
5 Milan-San Remo                        40     3.6
6 T-Mobile International                37     3.3
7 Amstel Gold                           36     3.2
8 Clasica San Sebastian                 14     1.2
9 USPRO championship                    10     0.9
10 Züri Metzgete/Zurich world cup        9     0.8
11 Gent-Wevelgem                         8     0.7
12 Giro di Lombardia                     5     0.4
12 New York City Championships           5     0.4
12 Omloop Het Volk                       5     0.4
15 HEW-Cyclassics                        4     0.4
16 Paris-Tours                           3     0.3
16 Women's World Cup of Montreal         3     0.3
18 Flèche Wallonne                       2     0.2
18 MTB World's, Senior Men's race        2     0.2
18 Salzkammergut Trophy                  2     0.2
18 Shenandoah Mountain 100 miler         2     0.2
22 Cape Argus-Cape Town South Africa     1     0.1
22 Carolina Cup                          1     0.1
22 Classique d'Alps                      1     0.1
22 Cone Azalia Classic                   1     0.1
22 Farmersville Challenge, PA            1     0.1
22 Flèche Wallonne women                 1     0.1
22 GP Plouay women                       1     0.1
22 Grafton-Inverell                      1     0.1
22 Iceman Comoth Challenge               1     0.1
22 Lake Taupo Cycle Challenge            1     0.1
22 Wachovia Liberty Classic              1     0.1
22 Melbourne-Warnambool                  1     0.1
22 Mount Victoria MTB Timetrial          1     0.1
22 Mt. Evans Hillclimb                   1     0.1
22 Mt. Snow                              1     0.1
22 Mt. Washington Hill Climb             1     0.1
22 MTB European Championships            1     0.1
22 Nalley Historic Roswell Criterium     1     0.1
22 Porto-Lisboa                          1     0.1
22 Revolution 1                          1     0.1
22 Ride For Roses                        1     0.1
22 Ronde von der Bergen                  1     0.1
22 Rund um Köln                          1     0.1
22 Spring valley classic                 1     0.1
22 Tour to Portsea                       1     0.1
22 World's, men's time trial             1     0.1
22 World's, women's road race            1     0.1
 
Total                                 1124