Cyclingnews 2003 Reader Poll Results
Most improved rider
Alexandre Vinokourov rides at the front in the final stage of Paris-Nice
Photo: © AFP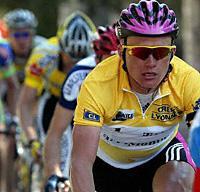 Whether it was inspired by the death of his friend Andrei Kivilev in Paris-Nice, or whether this was just his year to emerge into the limelight, Alexandre Vinokourov's improvement from a top domestique to third in the Tour and winner of Paris-Nice, Tour de Suisse, Amstel Gold and a Tour stage was a remarkable one. It's no surprise to see him take out the poll for most improved rider.
Not far behind is Tyler Hamilton, whose win at Liege-Bastogne-Liege delivered on the promise he'd shown in the previous year's Giro, and his gritty Tour ride and astonishing stage win, broken collar bone and all, is the stuff of cycling legend.
Third place went to Alejandro Valverde, who has come from relative obscurity to the podium at the Vuelta and the world championships in 2003 in his second year as a pro rider.
Here are some of the many, many reasons you gave for your choices.
Alexandre Vinokourov
After the death of his compatriot, he seemed to be guided by a divine hand.
Although already an excellent cyclist, Vino has improved his palmares substantially this season. His improvement is a quantum leap.
Always good, but this was definitely a break-out year. A true contender for teh Tour.
Domestique to superstar
Given the chance to grab the torch, he did, and lit up a big fire.
Great performances in the Tour, as well the Classics. Attacks like a badger and climbs like a goat.
He had a breakout season in the wake of friend and compatriot Andrei Kivilev and was a consistent protagonist from the early season through the Tour de France.
I think because he was motivated due to Kivilev's death, and because after he won a bit he started to believe in himself and then he rode more aggressively and improved to reach nearly full potential.
Motivated by the death of his friend, thrust into the team leader role, Vino animated the tour with 'never say die' riding and delivered a fine podium finish.
Plain and simple, Vinoukerov prior to this year has never been a major contender in the Tour de France. Vino has always shown potential with an olympic medal and success in smaller stage races, but never in a grand tour. Bravo Vino!
Successful last year, but REALLY successful this year. Demonstrated how versatile a rider he is. One day classics, small and large stage races.
Tyler Hamilton
After leaving USPS, adapted well to a new team and emerged as the undisputed leader. Racked up 2 wins at the Liège-Bastogne-Liège and the Tour de Romandie (along with strong finishes in a few others) and finished 4th overall in the Tour de France, after breaking his collar bone in Stage 1. Mighty impressive.
Finally got the results his prowess deserve.
Good lord, what a performance this year
Has won two of the major Classics and then produced a great ride in the Tour to claim fourth after breaking collarbone.
He has always shown talent, but this was the year that he confirmed that he could also win, including in the biggest stages the sport has to offer
He has really matured as a rider this year to show that he is worthy of riding in the pro peloton
He just keeps improving.
Sheer determination will only get you so far, his tactics have been superb
The top all-around American racer: won L-B-L, TdRomandie, King of Mtns Paris-Nice, and proved he a true team leader and overall competitor for the big stage races with his 4th place at the TdFrance with a broken collarbone.
Alejandro Valverde Belmonte
Third overall and twice stage winner in Vuelta, second in World's, good in sprints, TTs and mountains, good prospects for the future. You cannot say he came from nowhere, but still quite an impressive progress made by this very talented rider.
Youngest rider in the UCI top ten, coming from place 352 to 7.
Proved that he's not only a sprinter, but also at home in the mountains.
Showed improving form and great results throughout the season including the overall in the Challenge Illes Balears in February, overall at the Vuelta a Mallorca, Clásica de Amorebieta, won the 9th stage of the Vuelta and 8th on GC overall and he sealed all this with a great ride at the World's taking the silver to make it a Spanish 1-2 on the podium.
His consistency along the year, his wins in different situations, mountain, sprint, second place at world champs
Came from no where to Grand Tour contender, and even possibly Classics contender, considering his performance at Worlds and sprinting ability.
Fantastic break-trough
The new Merckx
Results
                                     Votes     %ge
 
1 Alexandre Vinokourov                 211    18.8
2 Tyler Hamilton                       182    16.2
3 Alejandro Valverde Belmonte          107     9.5
4 Alessandro Petacchi                  101     9.0
5 Jan Ullrich                           80     7.1
6 Isidro Nozal                          58     5.2
7 Michael Rogers                        43     3.8
8 Tom Danielson                         39     3.5
9 Iban Mayo                             30     2.7
10 David Millar                         27     2.4
11 Baden Cooke                          24     2.1
12 Yaroslav Popovych                    18     1.6
13 Igor Astarloa                        16     1.4
14 Michael Barry                        14     1.2
15 Haimar Zubeldia                      11     1.0
16 Marty Nothstein                       9     0.8
16 Nicole Cooke                          9     0.8
18 Roberto Heras                         6     0.5
19 Floyd Landis                          5     0.4
19 Jose-Antonio Pecharroman              5     0.4
21 Jeremiah Bishop                       4     0.4
21 Paolo Bettini                         4     0.4
23 Filippo Pozzato                       3     0.3
23 George Hincapie                       3     0.3
23 Kristin Armstrong                     3     0.3
23 Marco Pinotti                         3     0.3
23 Marie-Helene Premont                  3     0.3
23 Mark Scanlon                          3     0.3
23 Peter Van Petegem                     3     0.3
23 Ryan Trebon                           3     0.3
31 Bernhard Eisel                        2     0.2
31 Dave Bruylandts                       2     0.2
31 Ivan Basso                            2     0.2
31 Jonathan Page                         2     0.2
31 Joseba Beloki                         2     0.2
31 Katie Mactier                         2     0.2
31 Luca Paolini                          2     0.2
31 Magen Long                            2     0.2
31 Me                                    2     0.2
31 Michael Rasmussen                     2     0.2
31 Ryder Hesjedal                        2     0.2
31 Susanne Ljungskog                     2     0.2
31 Sylvain Chavanel                      2     0.2
31 Thor Hushovd                          2     0.2
31 Tom Boonen                            2     0.2
46 Alison Wright                         1     0.1
46 Andy Sparks                           1     0.1
46 Bas Peters                            1     0.1
46 Ben Day                               1     0.1
46 Bradley Wiggins                       1     0.1
46 Bram de Groot                         1     0.1
46 Bryan Smith                           1     0.1
46 Candice Blickem                       1     0.1
46 Cedric Vasseur                        1     0.1
46 Chris Horner                          1     0.1
46 Dan Schmats                           1     0.1
46 Danny Pate                            1     0.1
46 Darren Lill                           1     0.1
46 David Hintz                           1     0.1
46 David S. Washburn                     1     0.1
46 Erik Dekker                           1     0.1
46 Frank Vandenbroucke                   1     0.1
46 Gerben Lowik                          1     0.1
46 Gilberto Simoni                       1     0.1
46 Habte Weldesimon                      1     0.1
46 Jaan Kirsipuu                         1     0.1
46 Jackson Stewart                       1     0.1
46 Jeremy Powers                         1     0.1
46 Jim Hilton                            1     0.1
46 Jody Lynch                            1     0.1
46 Jonathan Erdelyi                      1     0.1
46 Julian Dean                           1     0.1
46 Kameron Vojdani                       1     0.1
46 Katie Brown                           1     0.1
46 Kim Kirchen                           1     0.1
46 Lance Armstrong                       1     0.1
46 Lisa Mathison                         1     0.1
46 Ludo Dierxksens                       1     0.1
46 Luis Peres                            1     0.1
46 Lynn Gaggiolli                        1     0.1
46 Marco Pantani                         1     0.1
46 Marianne Stover                       1     0.1
46 Mark Jamieson                         1     0.1
46 Mark McCormack                        1     0.1
46 Marla Streb                           1     0.1
46 Matthias Kessler                      1     0.1
46 Mike Barton                           1     0.1
46 Mikel Astarloza                       1     0.1
46 Murilo Fischer                        1     0.1
46 Nick Nuyens                           1     0.1
46 Nick Price                            1     0.1
46 Nina Göhl                             1     0.1
46 Nuno Ribeiro                          1     0.1
46 Oenone Wood                           1     0.1
46 Patrick Sinkewitz                     1     0.1
46 Robert Barton                         1     0.1
46 Roger Hammond                         1     0.1
46 Sal Ruibal                            1     0.1
46 Sam Baum                              1     0.1
46 Saul Raison                           1     0.1
46 Shonny VanLandingham                  1     0.1
46 Steve Zampieri                        1     0.1
46 Steven Grant                          1     0.1
46 Stuart O'Grady                        1     0.1
46 Tim Johnson                           1     0.1
46 Timmy Duggan                          1     0.1
46 Troy Glennan                          1     0.1
46 Vera Koedooder                        1     0.1
46 Victor Hugo Pena                      1     0.1
46 Victoria Pendleton                    1     0.1
46 Will Frischkorn                       1     0.1
46 William Mills                         1     0.1
 
Total                                 1124