Cyclingnews 2003 Top 10s
The readers of Cyclingnews have had their picks, now it's our turn. Presenting the CN editors' choice awards recognising the best of 2003. Our picks of the season's Top 10 Riders, Photos and News Stories will all be featured.
Top 10 Riders of 2003
Incorporating the "Honourable Mention" and "Bottom of the Barrel"
By Tim Maloney, European Editor
The top dog
Photo: © Jon Devich/CN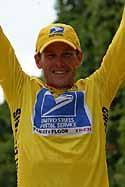 1. Lance Armstrong: Who are we to argue? Associate Press Athlete of the year, BBC Sportsman of the year, 2003 Athlete of the Year by the readers of Sports Illustrated for Kids among many other honours, winner of his fifth straight Tour De France, so our number 1 Rider of the Year has to be Lance Armstrong. Lance and his United States Postal Service-Berry Floor team will go for a 6th straight Tour win next July in Paris. Heck, who are we to argue with that fat lady who sings the Star Spangled Banner in Paris every year?
2. Paolo Bettini: Nicknamed "Grillo" (cricket), this two-wheeled Tuscan terror has not only now won back to back World Cups titles, but the likeable Quick.Step-Davitamon rider also won an unprecedented three individual World Cup races along the way (Milano-San Remo, Hew Cyclassics, Clasica San Sebastian). Bettini grabbed his first Italian title too on the way to becoming the number 1 ranked rider in the World. Although Grillo was disappointed at the Hamilton World's, the birth of his first daughter made up for it. Look for Bettini to grab his first TdF stage win and be in the hunt for the Olympic road race gold in Athens next summer.
3. Jan Ullrich: Jan The Man Comes Back...and how. Hard to keep perhaps the greatest natural talent in the sport of cycling since Greg LeMond sidelined for long. After an annus horribilus in 2002 with a bum knee and party drug suspension, then the implosion of Team Coast, Ullrich incredibly overcame it all to come back to almost win the 2003 Tour De France. For 2004, Ullrich has a mighty new team in T-Mobile but still must overcome his lack of tactical sense to beat Lance Armstrong. Lance sez: "Bring it on, Jan".
Petacchi the sprint king
Photo: © Olympia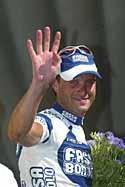 4. Alessandro Petacchi: Fast as a cheetah, strong as an ox and now mean as a junkyard dog, Alessandro Petacchi really put it all together in 2003 to not only dethrone aging Mario Cipollini as the world's fastest sprinter, Petacchi finally overcame his mental block that kept him from winning up to his full potential. I'd call 24 wins, including 15 stage wins in the Giro, Tour and Vuelta a bumper crop of winners bouquets! The Fassa Bortolo man's only flub in was in the finale of Paris-Tours where he lost to clever old fox Erik Zabel, but Petacchi may be hard pressed to repeat his winning ways in 2004. So maybe he'll only win 20 races.
5. Alexander Vinokourov: Not just for his super performance at the 2003 Tour De France does Vino deserve to be on our Top Ten Riders list for 2003, but also for his gutsy wins at Paris-Nice after the tragic death of his best friend Andrei Kivilev, a first ever World Cup Classic Amstel Gold and the Tour of Switzerland. Soon to reunited with his best friend Jan Ullrich at T-Mobile for 2004, the crafty, determined and ever-dynamic Vino will certainly make life difficult for Lance and USPS at the '04 Tour.
6. Tyler Hamilton: Hamilton proved in 2003 that he is not only able to suffer, he's able to win. First there was that long break and the climbers jersey in Paris-Nice, then an audacious move in the cold, wet finale of Liege-Bastogne-Liege that brought this Boston patriot his first ever World Cup Classic. Hamilton dominated the Tour de Romandie stage race and looked great for the Tour De France podium until his unlucky crash with 40 others in the last 300m of Stage 1 of the Tour cracked his collarbone. He looked to be out, but CSC team boss Bjarne Riis pulled Tyler back in and the granite tough Man From Marblehead went on to not only win the final Tour mountain stage in the Tour, but Hamilton was only 2'03" out of third place in Paris. After his sore-shoulder saga, it's on to greener and richer pastures at Phonak for 2004, where Hamilton can only get better as long as he can stay healthy.
Igor the World Champ
Photo: © Sirotti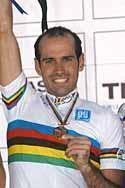 7. Igor Astarloa: It's no accident that Spain has won four out of the last 10 World Road Championships. Igor Astarloa showed already in 2003 that he could win big races with his Flèche Wallonne victory in April. With Spanish national selector Pablo Antequera's talented squad behind him, the explosive Basque rider had the legs and the head of a World Champion when it counted to take the title in Hamilton. So give Asta credit where credit is due. He used outside the box thinking to make an unexpected attack on the final ascent in Canada and held off the onslaught of the best riders in the world to take the rainbow jersey.
8. Gilberto Simoni: Gibo proved that he is unquestionably Italy's best stage racer with his second Giro title. The hard headed Trentino mountain man proved that no one could touch him on the tough Giro climbs and his superb 7th place effort in Stage 15's Merano-Bolzano ITT showed that Simoni deserved his Maglia Rosa. Despite a disappointing Tour De France GC performance, Gilberto Simoni came back to give his Saeco team a classy Tour stage win in Stage 14 at Loudenvielle. The '04 Giro looks great for Gibo again and he may be back to try and challenge Armstrong (at least verbally) in the '04 Tour.
9. Peter Van Petegem: Brakel's bad boy only won two races in 2003, but back to back wins in Ronde van Vlaanderen and Paris-Roubaix really count for a lot, not to mention his bronze medal in the Elite road race in Hamilton. Perhaps the ultimate money rider on two wheels, the soon to be 34 year old classics specialist Van Petegem still has a few years to rack up some more important victories that make him one of the most feared forces in the pro peloton.
10. Roberto Heras: Thanks to his tenacity, great team support and cool headed leadership of Johan Bruyneel at USPS-Berry Floor, the tough little climber from Bejar came back in 2003 to win his second career Vuelta a España. Soon after, Heras beat feet for a big payday and team leadership at Manolo Saiz's Liberty Seguros squad.
2003 Honourable Mentions
Horner goes for it
Photo: © Mitch Clinton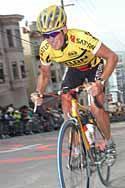 Chris Horner: Now coming into his prime at age 32, Chris Horner clearly dominated American racing in 2003. From his Saturn team's supremacy at the Tour de Georgia in April to a sweet win in SF's T-Mobile GP in September, the smiling, freckle-face hardman Horner proved all season that he was a force to be reckoned with. And Horner's "I'm not afraid of anyone" aggression at the Hamilton World Championships showed that he deserved another shot on a European squad for 2004. Alas, it was not to be, so America's top single day road racer will compete on a modest American TT3 team in '04.
Floyd Landis: In addition to his well-known propensity for drinking dozens of caffe cortados while listening to ZZ Top in Girona, Spain, USPS-Berry Floor rider Landis also showed his character and determination in 2003. Victim of broken hip in a banal training crash in January, Landis's season was compromised. But he had surgeries, trained hard to come back and rode courageously at the Tour de Georgia with bolts sticking out of his pelvis! But Landis still had complications from his broken hip and so had another surgery, came back again and made it to the Tour De France again as a key member of Armstrong's USPS-Berry Floor squad. This time around, Landis claimed a Tour stage win on USPS's TTT squad and finished the Tour and the Vuelta. Watch for this outspoken, determined 28 year old from Pennsylvania to make more of an impact in 2004.
Stefano Garzelli: Another comeback kid, nice guy Garzelli was runner-up to an untouchable Simoni in the '03 Giro. Garzelli will be back in '04 more determined than ever to take another Giro title.
Iban Mayo: Seven wins and a huge leap up the UCI points classification to enter the top 10 were the rewards Basque sensation Mayo reaped from a great season in 2003. The talented 26 year old rider from Igorre dominated the Tour of the Basque Country in April, went head to head with Lance Armstrong in the Dauphine' Libéré and won at L'Alpe d'Huez in the Tour. Look out for this ambitious Basque in 2004.
Tim Johnson: Another American hits the road to the European pro peloton and it couldn't have happened to a nicer guy. Johnson is 26 year old from Massachusetts following in the footsteps of Tyler Hamilton. Johnson humped away on the front all season riding tempo on Saturn for Chris Horner, but when the former mountain biker and 'cross champ had a chance to win Down Under, he triumphed in the Herald Sun Tour and attracted the attention of Mauro Gianetti at the Division I Saunier Duval squad. Johnson now gets his shot at the major leagues from AA ball in 2004. Good Luck Tim.
2003 Bottom of the Barrel
Oscar Sevilla: Super talent, major head case. Let's see if El Niño will storm at Phonak in 2004 with former Kelme DS Alvaro Pino guiding the way.
Joseba Beloki: Clearly ready for a great Tour, Beloki crashed out of Le Tour. Que lastima!
Levi Leipheimer: Major bad luck for the quiet American, who cracked his pelvis in the infamous Stage 1 crash Le Tour.
Aitor Gonzalez: Another super talent, another major head case. And major pressure to earn his big bucks at Fassa Bortolo in 2004.
Roland Green: Bad crash in final stage of Tour de Georgia wrecked this mega-mountain bikers hoped for transition to road racing and ruined his dirt season too.