Cyclingnews 2003 Reader Poll Results
Best Stage Race
The devil celebrates the centenary
Photo: © AFP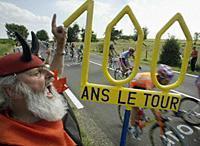 Previously this has been a reasonably close vote as fans of the Other Two grand tours make their mark. In 2003, though, the Centenary Tour de France was the only game in town. Many factors contributed to the drama of Tour 2003: Armstrong faltering and eventual victory despite illness, dehydration, bag straps, and the breakdown of his marriage; Tyler Hamilton soldiering on despite breaking his collarbone and eventually winning a stage; Joseba Beloki's awful, disastrous crash; two Australians duking it out for the green jersey right to the line; Richard Virenque re-emerging as the darling of France to take the mountains contest; the stunning return of Jan Ullrich in a race he had played down as a rehearsal for 2004 and beating Armstrong in a time trial; Gilberto Simoni's lousy GC performance and redemptive stage win; David Millar's victory in the slippery, wet conditions of the final 'death match' time after losing the prologue to a mechanical and an in-form Bradley McGee; the emergence of Alexandre Vinokourov as a grand tour contender...
If you wrote a three-week cycling soap opera this eventful, nobody would believe it, and so packed and engrossing was this year's Tour that we found ourselves explaining Tour 101 down the pub to complete novices who were captivated by the unfolding drama. Cycling could not have asked for a better showcase - the the Tour could not have asked for a better hundredth year.
Nevertheless, the Vuelta and the Giro were not without interest. Roberto Heras finally repeated his 2000 victory in a Vuelta that went almost down to the wire, and the Giro was livened by Marco Pantani's last hurrah, some fine tactical riding by Gilberto Simoni and the redemption of Stefano garzelli.
Here's a selection of the reasons why people voted as they did.
Tour de France
3 weeks of spectacular riding with true sportsmanship and team tactics
5 wins for Lance, Petacchi sprints to multiple stage wins, Tyler 4th with broken collar bone...what more do you need?
An epic year - the most exciting I've ever watched. Ullrich's comeback from slow start to serious challenger, Beloki's aggression ended by a horrible crash, Mayo & Zubeldia's climbing, Vinokourov's continual never say die attacking, Hamilton's suffering, Armstrong's crash and fifth win and Cookie and Robbie battling till the last second.
Armstrong's tenacity, his refusal to never give up when most of us would have done
Centennial tour had a historic build-up to a great race. Victories by all the greats: Petacchi, Armstrong, Mayo, Vino, Hamilton, Ullrich, Virenque. Stage 1 crash, Beloki crash, Ullrich crash, Armstrong crash kept the suspense high throughout. Unforgettable race.
Closest in years, Armstrong really fighting, the return of Der Kaiser, Vino on the front foot, crashes that still take my breath away in horror, Petacchi's sprinting, Cooke's perservance, everything.
Every stage is raced harder than a World Cup. The event itself is a cultural aspect of the French summer.
Finally a TdF where multiple contenders attack the favorite. Alpe d'Huez was awesome this year!
Hands down, this year's Tour had the year's best riders in their best form at their most competitive. Their were more winners in this Tour than any other recent Tour and the overall winner was the most uncertain and exciting race it has been for many years.
It was a classic Tour, with the winner not really decided until the final Time Trial when Ulrich fell.
It's a race where there are no flukes, the best rider always wins.
Lance Armstrong struggles for his record equalling fifth win, in the process showing the fighting spirit of a true champion
Looked like a walk in the park for Armstrong, until Alpe d'Huez.... Attack after attack made the next week and half of racing the best in GT recent memory.
Nothing ever compares, especially this year. The drama was unreal!!! The attacks that Lance and the Posties had to answer were numerous. The fact that Lance was human this year and had a bad day, the first we have seen since 2000, added more drama than I cared for, but made the end result that much more exciting!! Vinokourov relentless attacks are to be commended. The list of reasons is simply endless....
The drama was relentless-We never knew what was going to occur from day to day, and the winner wasn't clear until Ullrich fell off in the final TT
Ullrich likely pulled off the greatest of all individual time trials going back to whenever the ITT got its start. And to witness a struggling Lance still finish second to Ullrich's unsurpassed ride also gave the race a uniqueness that helped stamp it as the greatest ITT of all time. In America, Ullrich (due to America's overriding ethnocentrism) does not receive the recognition he most certainly deserves. Ullrich, in addition to many of the other great European riders, has given me a sport that now look forward to above all others. Americans simply don't know what they are missing.
Vuelta a Espana
3 years in a row now the race has been decided in the last couple of days. Wow!!!! Cannot wait for this year!
Always a much different course which means new challenges and exciting finishes. Not predictable.
Brilliant comeback by Roberto Heras - St. Roberto Archangel of the Mountains
Coolest, less conservative race with a surprise every year
Heras' amazing come-from-behind victory.
Heras chipping away at an unknown (Nozal) until he finally takes the win at the last time trial, and an impossible win at that 1:55 secs in 12 kms!!
In spite of Nozal's loss, ONCE showed the meaning of teamwork as they worked for the best man at the moment, no matter who it was. Heras' victory was great... not only is he a great support rider for Armstrong, but when Postal pulled Hincapie from the race for the world's Heras showed that he could win a Grand Tour with less support than he himself has given others.
It is my personal favorite. I like the fact that there are no time bonuses. I like the shorter stage lengths and the insanely steep mtns that are sometimes included.
The birth of Nozal as a champion and the incledible comeback of Heras.
The real climbers chance to shine
1) Saiz's combativeness, and his ultimate expulsion, 2) Nozal's early dominance and ultimate collapse, 3) Heras's tenacity, and ultimate dominance, due to his climbing skills. It all added up to a lot of drama!
Beautiful sights, gnarly riding!
Giro d'Italia
Because it was a great cliff-hanging battle and FUN to watch: 1. Stefano clawing his way up a mountain, pulling up sneaky Rumsas, who then tries to steal second place, but NO! a dead dog tired-looking Stef pulls the sprint out of nowhere. And the crowd goes wild! 2. A has-been looking Mario breaks the record. And the crowd goes wild! 3. The Alessandro world-sprint domination machine is revealed for the first time. And the crowd goes wild! 4. Marco shows signs of life (albeit breifly). And the crowd goes wild! 4. Popovych the revelation seems assured of taking the overall second from Stef but Stef against all odds beats him in a time trial. And the crowd goes wild! 5. Because Lance wasn't there we weren't subjected to three weeks of back and forthing neverednign debate"about whether he is or is not the greatest cyclist since Jesus Christ. 6. The Tour will win anyway because most people lack imagination. Bonus: Stef is the cutest cyclist in any peloton so three weeks of looking at him beats three weeks of looking at anyone else!
1. It's in Italy. 2. It has great racing without the Tour's super-hype.
Great way to start the season...love to watch Italy and everyone is so pumped up for the event. Great way to welcome in spring
Does not get all of the hype as the TDF, but stages are usually harder & Italian Fans are the best in the world...
Gibo just looks insane in that pink skinsuit, aero shell, and pink Cannondale TT bike.
Italy is so pretty. Its where cycling is at its best. (AS long as you can keep those silly Italians off the dope)
Passionate
Simoni vs Garzelli really put on a show, particularly in light of last year's events. Cipo going for the record, Petacchi (and the other sprinters) standing in his way. Plus Pantani! Every day was an adventure. What more could you want?
Zoncolan. 'Nuff said.
Results
                                     Votes     %ge
 
1 Tour de France                       931    75.4
2 Vuelta a Espaņa                      155    12.6
3 Giro d'Italia                         82     6.6
4 Paris - Nice                           9     0.7
5 Tour de Georgia                        6     0.5
5 Tour de Suisse                         6     0.5
5 Tour Down Under                        6     0.5
8 Dauphine Libere                        5     0.4
9 The International                      3     0.2
9 Tour of the basque country             3     0.2
11 Cascade Classic                       2     0.2
11 Multi-Laser Grand Prix                2     0.2
11 Sea Otter                             2     0.2
11 Tour of the Gila                      2     0.2
15 Driedaagse de Panne                   1     0.1
15 Ecology Center Classic                1     0.1
15 Fitchburg stage race                  1     0.1
15 Four Days of Dunkirk                  1     0.1
15 Grand Boucle Feminin                  1     0.1
15 Grand Prix de Beauce                  1     0.1
15 Herald-Sun tour                       1     0.1
15 La Ruta  De Los Conquistadores        1     0.1
15 Mt Hood Classic                       1     0.1
15 Saaremaa Velotuur                     1     0.1
15 Tour de Burg                          1     0.1
15 Tour de L'Abitibi                     1     0.1
15 Tour de Langkawi                      1     0.1
15 Tour de Romandie                      1     0.1
15 Tour of Germany                       1     0.1
15 Tour of Southeast Michigan            1     0.1
15 Tour of Southland                     1     0.1
15 Volta a Portugal                      1     0.1
15 Vuelta a Cuba                         1     0.1
15 Wildside                              1     0.1
 
Total                                 1234     0.0