Cyclingnews 2003 Reader Poll Results
Best Moment of 2003
Determination
Photo: © Olympia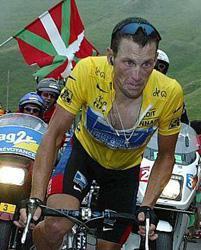 It was reasonably close but we have a clear winner in what you thought was the Best Moment of 2003 in cycling. Unsurprisingly, it came from the Tour de France, which was definitely the most exciting stage race of 2003 as well as being one of the most exciting Tours in recent memory. After two weeks of battling Alexandre Vinokourov and Jan Ullrich, defending champion Lance Armstrong finally took the bull by the horns on Stage 15 to Luz Ardiden when he convincingly won the stage and put enough time into Ullrich to secure the yellow jersey until the end of the race.
In doing so, Armstrong had to survive a freak crash on the final climb when a spectator's bag entangled itself in his handlebars and he came down together with Iban Mayo. At the time, the pair had broken away with Jan Ullrich, who avoided the crash and (depending on who you ask) did not try to take advantage of the situation. Ullrich waited until the rest of the pack including Armstrong and Mayo had caught back on before the race was "on" again. But when they did get back on, Mayo attacked almost immediately and an adrenaline filled Armstrong countered and rode away from the Basque, eventually winning by 40 seconds and turning the Tour in his favour.
By an odd coincidence, the runner up for this award came from Stage 16 of the Tour, when Tyler Hamilton showed how tough he really is by winning the stage from Pau to Bayonne in a magnificent solo breakaway. Hamilton, who had ridden the entire Tour with a fractured collarbone after an early crash, rode away from the peloton on the Col de Soudet after 50 km. He caught and dropped the 17 rider breakaway in front of him and by the summit of the Col de Bagargui (km 110) he was alone. The last 90 km he managed solo, amazingly keeping 2 minutes of his 4 minute lead intact to win an incredible stage.
Results
1 Lance Armstrong crashing & winning at Luz Ardiden, TdF stage 15    255    21.4
2 Tyler Hamilton winning Tour de France stage 16                     225    18.9
3 Roberto Heras winning the Vuelta in the last time trial             68     5.7
4 Lance Armstrong going cross-country to avoid Beloki, TdF stage 9    59     4.9
5 Jan Ullrich winning ITT, TdF stage 12                               56     4.7
6 Tyler Hamilton winning Liege-Bastogne-Liege                         44     3.7
7 Rider after rider attacks on Alpe d'Huez, TdF stage 8               43     3.6
8 Lance Armstrong's fifth Tour win                                    42     3.5

Total                                                               1193     0.0