Cyclingnews 2003 Reader Poll Results
Rider of the Year
Tyler Hamilton winning big
Photo: © Luc Claessen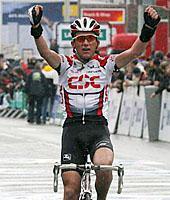 Hamilton gets the gong
Our final reader poll award for 2003 is the Rider the Year - simply who you thought was the best rider of the season, male or female in any discipline. In somewhat of a surprise result (given Paolo Bettini won the Road Rider of the Year), it was American Tyler Hamilton (CSC) who took the top gong, scoring 321 votes, representing 25.1% of the total. In second place was Lance Armstrong, with 262 votes (20.5%), followed by Paolo Bettini with 187 votes (14.6%). Alessandro Petacchi (138 votes/10.8%) and Alexandre Vinokourov (134 votes/10.5%) rounded out the top five.
In his second year as team captain at CSC, Hamilton's season had several highlights. After winning the mountains competition in Paris-Nice in March, Hamilton went on to win his first big classic, Liege-Bastogne-Liege, in April, becoming the first American to do so. In May he won the Hors Categorie Tour de Romandie with a blistering final time trial. But his greatest moment came in the Tour de France in July, when he finished fourth overall and won a tough mountain stage - riding the whole three weeks with a fractured collarbone, a result of a crash in the first stage. In our readers' minds, it was this performance that really lifted Hamilton over the other riders this season. Not forgetting that he is one of the most modest guys in the peloton - another quality appreciated by our readers.
Second placed Lance Armstrong won fewer races than in 2002, but achieved a historic victory in the Centenary Tour de France, winning his fifth consecutive Tour and joining the other greats who have managed this feat: Eddy Merckx, Jacques Anquetil, Miguel Indurain and Bernard Hinault. Armstrong also had to overcome adversity to win the Tour, including the crash on Luz Ardiden in Stage 15 and a narrow escape in Stage 9 when Joseba Beloki crashed in front of him on a descent. Armstrong went cross country to avoid Beloki, miraculously rejoining the race further down the mountain.
Paolo Bettini, winner of our Road Rider of the Year, did have an excellent season. With three World Cup wins and the overall classification, as well as the UCI number one ranking, the Italian Championship and the Tour Mediterraneen, Bettini was a man for the whole season. He too had to overcome a bad crash in Gent-Wevelgem in April which wiped out his spring season, but he bounced back to his best by the Italian championships in June.
Here's a few comments from you:
Tyler Hamilton
"For racing in and winning a variety of races and for finishing 4th overall in the TdF with a broken clavicle suffered in Stage 1. And for his work ethic and humility - rare commodities these days."
"He won the biggest classic, a major stage race, and was a huge factor in the Tour. A complete performance."
"His tenacity and results put him in a class of his own. Even with the fractured bone, produced an amazing ride in the Tour, leaving you wondering what could have been. His modesty and determination are examples for all."
"He finally came into his own and stepped out of a giant's shadow!"
"It's hard not to select Lance but Tyler's ride was beyond human (and he's just such a darn nice guy)."
"The guy takes a beating and keeps coming back for more."
"Again, he wins, he breaks and yet he rides."
"Results and guts."
"Hardcore."

Lance Armstrong
"Five reasons: The Tour de France."
"Who was forced to show if he had the goods in all conditions, and he did."
"Beat cancer and then everybody else."
"He's human, he hurts, he crashes, he still wins."
"5 consecutive Tours! Love him or hate him, no other cyclist is so successful with a single focus. He's marked by every other GC rider from from the first day and still wins."
Paolo Bettini
"3 world cup races, the world cup, and a great guy to boot."
"Raced all year. Won all year. Even got Virenque the Polka dot."
"A complete champ, proves that attacking leads to glory.""
"World Cup champion, an aggressive rider who, like Zabel, is always in the mix no matter what role he is playing for his team."
Results
                                     Votes     %ge
1 Tyler Hamilton                       321    25.1
2 Lance Armstrong                      262    20.5
3 Paolo Bettini                        187    14.6
4 Alessandro Petacchi                  138    10.8
5 Alexandre Vinokourov                 134    10.5
6 Jan Ullrich                           81     6.3
7 Roberto Heras                         17     1.3
7 Alejandro Valverde Belmonte           17     1.3
9 Peter Van Petegem                     13     1.0
10 Nicole Cooke                         11     0.9
11 Michael Rogers                       10     0.8
12 David Millar                          8     0.6
13 Baden Cooke                           6     0.5
14 Gilberto Simoni                       5     0.4
15 Susanne Ljungskog                     4     0.3
15 Igor Astarloa                         4     0.3
15 Erik Zabel                            4     0.3
18 Michele Bartoli                       3     0.2
18 Marco Pinotti                         3     0.2
18 Leontien Zijlaard-Van Moorsel         3     0.2
18 Isidro Nozal                          3     0.2
18 Gunn-Rita Dahle                       3     0.2
18 Chris Horner                          3     0.2
18 Alison Dunlap                         3     0.2
25 Cadel Evans                           2     0.2
25 Bart Wellens                          2     0.2
27 Vera Koedooder                        1     0.1
27 Trent Wilson                          1     0.1
27 Tom Danielson                         1     0.1
27 Thor Hushovd                          1     0.1
27 Sven Montgomery                       1     0.1
27 Stuart O'Grady                        1     0.1
27 Sam Whittingham                       1     0.1
27 Ryder Hesjedel                        1     0.1
27 Paul Martin                           1     0.1
27 Nino Misiti                           1     0.1
27 Nick Price                            1     0.1
27 Michael Boogerd                       1     0.1
27 Michael Barry                         1     0.1
27 Mark McCormack                        1     0.1
27 Mario Cipollini                       1     0.1
27 Manuel Beltran                        1     0.1
27 Jukka Vastaranta                      1     0.1
27 Joseba Beloki                         1     0.1
27 Johann Museeuw                        1     0.1
27 Ilio Keisse                           1     0.1
27 Iban Mayo                             1     0.1
27 Genevieve Jeanson                     1     0.1
27 Fasso Misiti                          1     0.1
27 Enrico Cassani                        1     0.1
27 Earendel Fingerson                    1     0.1
27 Cam Evans                             1     0.1
27 Bradley Wiggins                       1     0.1
27 Brad McGee                            1     0.1
27 Andy Sparks                           1     0.1
27 Andrei Kiviliev                       1     0.1

Total                                 1277