Cyclingnews 2003 Reader Poll Results
Legend of Cycling 2003
Armstrong joins the legends
Photo: © AFP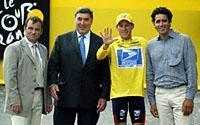 There were no doubts among our readers about who they thought was the Legend of Cycling 2003. This award is for a rider who is currently racing or who retired in 2003 i.e. a rider from today's peloton whose achievements and class have earned them a place alongside the greats in cycling. And after winning the Tour de France for a fifth consecutive time, it was clear that many of you thought Lance Armstrong deserved to be called a Legend of Cycling.
Lance polled 442 votes in this category, representing 40.9 percent of the vote. Other than his five Tours de France, Armstrong's achievements include a World Championship (1993), Dauphine Libere (2002, 2003), Tour de Suisse (2001), GP des Nations (2000), Fleche Wallonne (1996) and an Olympic bronze medal in the time trial (2000). Added to these results is his incredible comeback from testicular cancer which threatened his life in 1997 and his ongoing efforts since then to support the cancer community.
In second place in the "Legend of Cycling" category is a rider who most consider the greatest classics rider of his generation. Belgian Johan Museeuw, winner of 11 classics, the World Championship and two World Cups, is still going strong, and will continue to race through until April 2004 when he will officially retire. Museeuw polled 127 votes (11.8 percent) in our reader poll.
Finally in third place, with 88 votes (8.1 percent) is American Tyler Hamilton, whose career took a big step up this year with wins in Liege-Bastogne-Liege and the Tour of Romandie as well as that courageous solo Stage 16 win in the Tour de France. Tyler's career also includes second overall in the Giro d'Italia (2002), Dauphine Libere (2000) and Tour of Denmark (1999). In this poll Hamilton is ranked ahead of more decorated riders such as Mario Cipollini, Jan Ullrich and Erik Zabel - a reflection of his very gutsy performances and Cyclingnews' predominantly North American readership.
Here's a few comments from you:
Lance Armstrong
"5 in a row. Can't argue with that."
"Not a huge fan of the guy, but 5 straight tour wins definitely shows enough grit, and determination for him to be a legend for a long time to come."
"We are seeing history written each year."
"Maillot Jaune Cinq."
"World Championship, five tours, the cancer thing."
"He trains harder than probably any Tour rider ever. The money could have made him soft but he trains harder than ever now...impressive."
"His status was cemented back in '99, now it's truly amazing to watch as he becomes larger than life."
Johan Museeuw
"He is the best modern day classics rider. He defined an era."
"The Lion of Flanders didn't have a great season, but memories of the past (most notable Roubaix '02) make him the number 1 legend of the modern day classics."
"The Lion of Flanders is one of the strongest and classiest riders ever. Let's hope his recent doping scandal proves to little more than lies. This guy is a champion."
"The Lion of Flanders has a palmares that rivals the greatest of one day champions. His wins and his come back after knee surgery are impressive in themselves."
"The best rider in one day races since Eddy Merckx (and a Belgian!)"
"The man's unstoppable. An inspiration."
"He's the Lion, baby."
Tyler Hamilton
"Winning a Tour stage with a broken collarbone."
"Definitely not giving up because of a first stage crash in the Tour was something special. But going on to finish 4th, winning a difficult mountain stage and making it to 2nd in the last ITT was one heck of a gutsy performance."
"Class personified."
"Broken collarbone in the tour? Broken shoulder in the Giro? Now you have GOT to be kidding me. Now I'm not a Lance basher, I like him too, but Tyler is hands down, the LEGEND."
"What a damn year! keeps breaking stuff and keeps on riding."
"His absolutely unbelievable exploits at the Tour. If they aren't legendary, nothing is."
Results
                                     Votes     %ge
1 Lance Armstrong                      442    40.9
2 Johan Museeuw                        127    11.8
3 Tyler Hamilton                        88     8.1
4 Mario Cipollini                       82     7.6
5 Jan Ullrich                           52     4.8
6 Erik Zabel                            47     4.4
7 Paolo Bettini                         25     2.3
8 Marco Pantani                         21     1.9
9 Alessandro Petacchi                   20     1.9
10 Viatcheslav Ekimov                   16     1.5
11 Peter Van Petegem                    14     1.3
11 Udo Bolts                            14     1.3
13 Jeanie Longo-Ciprelli                 9     0.8
14 Andrea Tafi                           8     0.7
14 Richard Virenque                      8     0.7
16 Marty Nothstein                       7     0.6
17 Alexandre Vinokourov                  6     0.6
17 José María Jiménez                    6     0.6
17 Michele Bartoli                       6     0.6
17 Roberto Heras                         6     0.6
21 Jonathon Vaughters                    5     0.5
21 Thomas Frischknecht                   5     0.5
23 Alex Zuelle                           4     0.4
23 Frank Vandenbrouke                    4     0.4
23 Jacky Durand                          4     0.4
26 Andrei Kivilev                        3     0.3
27 Francesco Casagrande                  2     0.2
27 Gilberto Simoni                       2     0.2
27 John Lieswyn                          2     0.2
27 Joseba Beloki                         2     0.2
27 Mario De Clercq                       2     0.2
27 Pavel Tonkov                          2     0.2
27 Roberto Conti                         2     0.2
27 Rolf Sørensen                         2     0.2
27 Stuart O'Grady                        2     0.2
36 Alison Dunlap                         1     0.1
36 Alison Sydor                          1     0.1
36 Andrei Kivilev                        1     0.1
36 Andy Sparks                           1     0.1
36 Baden Cooke                           1     0.1
36 Bart Brentjens                        1     0.1
36 Brad McGee                            1     0.1
36 Chechu Rubiera                        1     0.1
36 David Millar                          1     0.1
36 Davis Phinney                         1     0.1
36 Dmitri Konychev                       1     0.1
36 Eric Wohlberg                         1     0.1
36 Erik Dekker                           1     0.1
36 Freddy Kubler                         1     0.1
36 George Hincapie                       1     0.1
36 Henk Lubberding                       1     0.1
36 Iban Mayo                             1     0.1
36 Ludo Dierckxsens                      1     0.1
36 Lynn Gaggioli                         1     0.1
36 Massimiliano Lelli                    1     0.1
36 Max Sciandri                          1     0.1
36 Michael Rogers                        1     0.1
36 Missy Giove                           1     0.1
36 Nicole Cooke                          1     0.1
36 Oscar Freire                          1     0.1
36 Petra Rossner                         1     0.1
36 Ray Appleby                           1     0.1
36 Richard Buckaci                       1     0.1
36 Ryan Weaver                           1     0.1
36 Sam Whittingham                       1     0.1
36 Santiago Botero                       1     0.1
36 Scott Sunderland                      1     0.1
36 Steve Speaks                          1     0.1
 
Total                                 1080     0.0