Recently on Cyclingnews.com
2003 US Cyclo-cross Nationals - CN
Portland International Raceway, Portland, Oregon, USA, December 12-14, 2003
December 13: Espoir Men (U23)
Jesse Anthony just too good
By Kristy Scrymgeour in Portland, Oregon
Jesse Anthony (Hot Tubes)
Photo ©: Rob Karman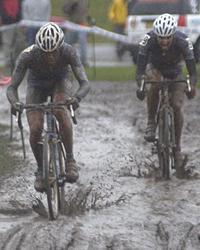 Despite the cold, wet conditions, the crowd was still substantial when time rolled around to the U23 race this afternoon and for those who stayed, nobody was disappointed. In a nail biting race, the espoir men certainly put on a show: right from the gun it was David Fleischauer virtually sprinting onto the course to set a fast pace that characterised the rest of the race. Half way through lap one, however, Alan Obye from Colorado Springs came through in style to take a convincing lead, getting a few contenders little worried.
Halfway through lap two, Troy Wells started to move up on Obye, but couldn't quite get there and was passed by both Jesse Anthony and Zak Grabowski who worked together to catch Obye by the beginning of lap three. The trio were sticking to each other like glue throughout lap three when just at the beginning of lap four, Grabowski attacked to take the lead. Just when it seemed like Grabowski had it won, Obye bridged again and forced a gap, but Anthony still had a little bit left. On the final pinch before the finish, he caught Obye and waited for his moment to attack. The moment came on the second last switchback coming into the finishing straight, and his speed to too much for Obye to follow. Anthony took the win by only seven seconds to Obye, with his team-mate Grabowski taking third place another eight seconds behind. Troy Wells managed to hold on to fourth place, with early aggressor Fleischauer coming in for fifth.
Anthony was shivering from the cold when he accepted his jersey at the podium, but was extremely happy with the result: "Zak and I pulled it together," he said. "I couldn't have done it without him."
Obye, having suffered the Colorado flu in recent weeks, said he almost didn't come to the race this weekend. "I wasn't going to come", said Obye, "but I said to myself at the beginning of the season that I wanted to win the national championships, so I came and gave it everything. Jesse was just too strong today."
Grabowski was happy for his team-mate and gave credit to Obye for his strong race. "Alan (Obye) had two guys to watch, myself and Jesse. All that matters to me is that the national championship stays with Hot Tubes."
Photography
Images by Rob Karman/

Results

U23 Men
 
1 Jesse Anthony (Hot Tubes)                         49.59
2 Alan Obye (Balance Bar/Devo)                       0.07
3 Zak Grabowski (Hot Tubes)                          0.15
4 Troy Wells (Devo Balance Bar)                      1.00
5 David Fleischhauer (Rad Racing)                    1.36
6 Michael Cody                                       2.10
7 Tristan Schouten (Pcw Cycling Team)                2.42
8 Joey Thompson (Balancebar/Devo)                    2.59
9 Solomon Woras (Team Rubicon/Uf)                    3.12
10 John Hanson (Benidorm/Createx)                    3.52
11 Perry Paolini                                     4.12
12 Spencer Paxson (Disco Velo)                       4.23
13 Matt White (Ncc/Bikereg.Com)                      4.29
14 Jeremy Powers (Ncc/Bikereg.Com)                   4.57
15 Aaron Menenberg (Ti Cycles)                           
16 Taylor Kneuven (Beaverton Bike Club)              5.52
17 Mikkel Bossen                                         
18 Daniel Neyens (Ea-Cross)                          7.08
19 Gregory Wittwer (Lsu/Trek)                        7.19
20 Tommy Magrath (Redline/Ritchey)                   8.00
21 Dan Chudleigh (Contender)                         8.41
22 Adam Snyder (Balance Bar)                        11.05
23 Jonathan Long (Fred Meyer)                       12.01