2003 US Cyclo-cross Nationals - CN
Portland International Raceway, Portland, Oregon, USA, December 12-14, 2003
December 12-13: Master Men
December 13: Feldman defends title in 30-34 race
Coats wins nail-biting 35-39 event; Mark the King of 'cross in 40-45 race
By Kristy Scrymgeour in Portland, Oregon
Master Men 30-34
Richard Feldman successfully defended his title today to win the 30-34 Masters' national 'cross title in almost as muddy conditions as last year's Napa course. Feldman was happy with his win but was more adamant about pointing out that Travis Brown was the strongest rider of the day. Brown did in fact come over the line first on his single speed bike, but was disqualified due to the fact that he is ineligible to start in the master's category as a member of a UCI trade team.
"I definitely feel that Travis was better today, especially on the technical sections. I'm now ready to hang up the bike for the season and enjoy Christmas with my family," said Feldman.
No stranger to a bike, Feldman has been riding since he was 15 years of age and is the reigning world masters time trial champion, having won the event both this year and in 2001 in Austria. Feldman also owns a bike shop in his home town of Ketchum Idaho, which specializes in cyclocross equipment. Taking second place in the men's 30-34 event was Shannon Skerritt with Matt Kraus coming in to take the bronze medal.
Master Men 40-45
Oregon rider, Mark King, went one place better than last year today to win the men's 40-45 masters national 'cross title in wet and muddy conditions. Chasing from behind in the first lap, King led for the majority of the race eventually taking the win by 36 seconds. Coming from a cross-country skiing background where he was ranked top 10 in the country, King was talked into taking up cyclocross racing three years ago by the people at Sunnyside Sports. Confident that he could hold his lead once in front, King was still aware that the race was not yet over. "I was thinking it could happen, but you just never know in cross racing," he said.
Taking second place was former British Olympian, Mark Noble, who raced as a member of the track cycling team at the 1984 Olympics in Los Angeles. Noble now lives in Southern California and has been successful in the recent UCI cross races which gave him confidence for today's race. "I was a bit disappointed I didn't win really, but in these conditions, it's really just the person who can give it all in the cold. We have been racing in 70 degree weather and it's just too cold up here for me," said Noble.
Master Men 35-39
The final men's master's race of the weekend - and perhaps the most exciting - was the Master Men's 35-39 category. James (Alan) Coats, Andy Applegate and Todd Hoefer raced neck and neck for most of the race, and it wasn't until the last hill on the home stretch that Coats attacked and got away to eventually win by just nine seconds from Applegate. Behind, Charles Storm made up ground to catch Hoefer making sprint finish with Hoefer taking third on the line.
Coats was very modest in his win, saying that he was just "fortunate." He added: "We were all very strong out there; I just made the right move at the right time."
Coats also won the title two years ago, but missed out last year when Hoefer, who came third today, took the win. It was today's second place getter, Applegate who is frustrated with his second place two years running. "There was a point there today when I thought I would get it, Alan was just that little bit better in the mud. He got the gap and I couldn't close it," explained Applegate. Applegate does already have a national championship title to his name though, winning the Masters road championships in 2001.
Photography
For a thumbnail gallery of these images click here
Images by Rob Karman/

December 12 - Norton & Squires take 50+ titles with Keister taking the 45-49 category
By Kristy Scrymgeour in Portland, Oregon
Karl Keister (Cody Racing)
Photo ©: Rob Karman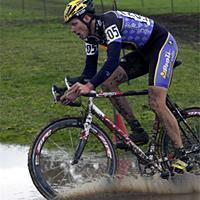 The Masters 50-54 and 55+ categories followed the women with Dan Norton taking the 50-54 win - which was no surprise to anyone - and James Wagner taking the 55+ win surprising himself.
Norton has been racing cyclocross for years and has even put on cyclocross races himself in Washington. He has won more National Titles than even he can remember and this year he still has that form. Norton, who favours the technical courses, had a game plan to watch his competitors and test out their technical skills and then attack them on their weaknesses towards the end of the course. "Because we live on other sides of the country, we don't race against each other often, so I really didn't know what to expect," he explained. These tactics weren't needed however, as Norton took the lead earlier than he had planned and increases the gap on each technical corner. Norton was happy with his result as an injury has kept him of the bike for a few weeks.
"I pulled a muscle in my back about three weeks back so I didn t know how I was going to feel today. But I ate a bunch of aspirin and put it on the line."
Next year Norton moves into the 55+ category which will probably be his last season entering National Championships. "I think the courses are getting too fast and flat and I don't really like the direction cyclocross is going. I think I'll just keep racing in the North West where the races are hard. The situation is very controversial at the moment especially in Europe and to quote Bart Brentjens 'If this is cross racing, I quit.'"
The battle for second between Harold Parker and David Rath made for an exciting sprint finish for second place. Rath had come from behind, after crashing early, to catch Parker towards the end of the race and the two paired up. "I managed to pass Harold," said Rath, "but he passed me again before the last turn and took the sprint for second."
Parker was excited with his second place. "This was a true cyclocross race," he said, "I was sitting right up there with Dan but then I lost it in the mud and went into the tape about half way into the race. Dan rode an amazing race."
In the 55+ category it was James Wagner that took the win in his first season of cross racing. "This is my first race as a cross racer. I usually race MTB and I'm scared on skinny tyres, but I got talked into this and I m more surprised than anyone that I won today." Wagner has been racing the masters B cross series in Seattle to prepare for this. "It s a heck of a lot of fun," he says. "Today there were a few of us racing together and then all of a sudden I looked around and there was no-one there."
Cyclingnews also caught up with Roy Tongue who was the oldest racer in today's event at 66 years of age. "I came last," he laughed, "but I m the oldest so I can."
Tongue started racing in triathlons when he was 55 and got tired of just watching his son race in the Ironman events and wanted to try it himself. It is only in his second season on a cross bike and he loves it. "This is the best thing since sliced bread," he said.
The Master's men 45+ race was the final race of the day today rounding off a successful day of keeping the rain away. The course, however, had been getting softer and softer as the day went on with the off camber corner's becoming quite difficult in the deep mud.
Colorado rider Karl Keister rode a smart tactical race to take the win for his first National title in a long career. After racing a bike for 20 years, predominantly on the road, Keister finally earned the stars and stripes jersey. "I've been trying for so many years and I've had so many top five finishes, finally I've done it. It feels good."
The race was close all day with no one person predominantly holding the lead. Keister sat in behind the leaders in the first lap to play it safe. "In Colorado we rarely get a course like this," he said. "Last week we raced a dry, fast course in 60 degree weather, today's course was very slow compared to that, so I really didn't know how I was going to do here." When Keister finally took the lead he said he "just wanted to keep it steady and float out there."
He took the win from home town rider Dean Lucas and Paul Curley of Taunton Massachusetts. With rain predicted again for tomorrow, the course may become even more of a mud bath for some junior races, the collegiate men, the U/23 men and more master categories
Photography
Images by Rob Karman/

Results

Master Men 30-34
 
1 Richard Feldman (Durance Cycleworks)              48.23
2 Shannon Skerritt                                   0.40
3 Matt Kraus (Independent Fabrications)              2.08
4 Brandon Dwight (7Up Maxxis)                        2.09
5 Jay Noonan (Flathead Cycling)                      2.59
6 John Leonard (Trek/Vw Bike Gallery)                3.00
7 Michael Yozell (Wissahekon/Serfs)                  3.23
8 Kristopher Auer (Trek/Vw)                          3.43
9 David Carr (Napa Valley Velo)                      4.01
10 Jack Swift (Red Rock Velo)                            
11 Shadd Smith (Bike Source)                             
12 Mark Christan (Napa Valley Velo)                      
13 Brody Anderson (River City Bicycles)              4.28
14 Timothy Ellis (Recycled Cycles)                   4.53
15 John Christan Flack (The Valley Athletic Club)    5.09
16 Brett Hondorp (Sycip)                             5.19
17 Kevin Hulick                                      5.24
18 Greg Dunn                                         5.31
19 John Degele (Cycling Spoken Here)                     
20 Jeff Herring (Kelly Bike Co)                      5.37
21 Shawn Harshman (Excel Sports)                     6.02
22 Robert Campbell (The Valley Athletic Club)        6.40
23 Aaron Kereluk (Hunter Cycles)                         
24 Chad Berg                                         7.01
25 Anthony Scott (Genesis Swiba)                         
26 Jeff Bannink (Bikefit)                                
27 Mike Schindler (Sunnyside Sports)                     
28 Phil Oppenheimer (Bicycle Centers Racing)         7.12
29 Paul Thoresen (Aian)                              7.30
30 Jeff Hearing                                      7.46
31 Alex Andel (Broadmark)                            8.01
32 Tye Van Schoiack (Team Hot Death)                     
33 Lance Simanek (Saturn For Seattle)                8.09
34 Rick Hunter (Hunter Cyclerly)                     8.15
35 Bill Crank (Ces Cycling)                          8.23
36 David Stonich (Rubicon)                               
37 David Keefe                                           
38 Brett Batchelder                                  8.43
39 Matt Gossage (Ti Cycles)                          8.55
40 Bill Marshall (Team X Cycling)                    9.05
41 Damon Pettinger (Family Cycing Center)            9.06
42 Cameron Vandersoep (Half Fast Velo)               9.20
43 Todd Crisafulli (North Atlantic Velo)             9.36
44 Mike Martin (Compass)                            10.00
45 Nathan Kamerath                                  11.37
46 Jeff Streifling                                       
47 David Allen (Celo Pacific)                            
48 Ed Arthur (Runningshoes.Com)                          
49 Troy Coleman (Ea-Cross)                               
50 David Ambrose (Eden Bicycles)                         
51 Travis Lukens                                         
52 Gabriel Hajiani (Rubicon)                             
53 Ian Penner                                            
54 Matt Ohran                                            
55 Dan Moeller (Team S+M)                                
56 Steven Williams (Recycled Cycles)                     
57 Nathan Kiger (Ragnarok)                               
58 Hyun Lee                                              
59 David Otterman                                        
 
Master Men 35-39
 
1 James Coats (Soulcraft)                           48.31
2 Andy Applegate (Easton/Kona/CCa)                   0.09
3 Todd Hoefer (Abs/Steelman)                         0.17
4 Charles Storm (Fuji Se/Btd)                            
5 Will Black (Lonestar Racing)                       1.07
6 John Funke (Syclip)                                1.18
7 Matthew Hill (Ti Cycles)                           1.44
8 Greg Ferguson                                      1.46
9 Michael Matthews (Buy Cell)                        1.57
10 Brent Prenzlow (Celo Pacific)                     2.37
11 Richard Mcclung (Broadmark)                       2.45
12 Jonathan Card (Tailwind.Net)                      3.12
13 Mark Roebke (Dean Cycles)                         3.37
14 Kenny Williams (Redline/Ritchey)                  4.17
15 Al Senft (Nuvo/Bap)                               4.24
16 Gannon Myall (Family Cycling Center)              4.48
17 David Eastwood (Team Rossignol)                   4.51
18 Mark Howland (Blackmarket Racing)                 5.32
19 Jon Cariveau (Moots)                              5.36
20 Kelly Cline (Wissahichron)                        5.45
21 Jeff Wardell (Xybix Systems Inc)                  5.57
22 Tad Hamilton (Iomega)                             6.04
23 Jon Gallagher                                         
24 Sean Kelsey                                           
25 Paul Boudreau (Essex County Velo)                 6.15
26 John Kammeyer (Powerbar Ritchey)                  6.25
27 Jim Brown (Rad Racing Nw)                         6.28
28 Martin Baker (Bike N Hike/Giant)                  6.37
29 Steve Gayner (Team Wisconsin)                         
30 Tim Coffey (Lombardy)                             6.51
31 Peter Cariveau (Moots)                            7.14
32 Eric Schlauch (Somerset Wheelmen)                 7.20
33 John Bravard (Half Fast Velo)                     7.24
34 Evan Adams (Swingin Cycles)                           
35 Dale Plant (Kona)                                 7.34
36 Gary Hanson (Amgen/Scary Fast)                        
37 Chris Alling                                          
38 Roger Knight                                      7.41
39 Barry Holman (Team Fuji)                          7.45
40 Doug Graver (Ea Cross)                            7.52
41 Chance Cooke                                      8.15
42 Joe Sales (Rad Racing)                            8.37
43 Andrew Haliburton (Fred Meyer)                    8.40
44 David Diviney (Half Fast Velo)                        
45 Todd Pittman                                          
46 Raymond Mendoza                                   8.55
47 Brad Lewis (Recycled Cycles)                      8.59
48 Kent Johnston (Fred Meyer)                        9.05
49 Ron Gutierrez (Syclip)                            9.10
50 Larry Marti                                           
51 Pat Tounge (Bicycles West)                        9.27
52 Jeff Hane (Wrong Way/Zanotti)                    11.32
53 Pete Brunner (Spoke N Sproket)                   12.29
54 David Karman (Broadmark)                              
55 Paul Anderson (Half Fast Velo)                        
56 Dick Van Der Luit                                     
57 Russ Humberston (Half Fast Velo)                      
58 Michael Blackard                                      
59 Wayne Cunningham (Ne Bicycle Club/Cycle)              
60 David Gill (Team Santa Cruz)                          
61 Paul Schoening                                        
62 Richard Sangalli (Bianchi Usa)                        
63 Jack Fraser (Hypnotic Design)                         
64 Norman Field (Team Santa Cruz)                        
65 Jessie Gascon (Team Shimano)                          
66 Montgomery Worthington (Tifosi Wines)                 
67 Sean Wittmer                                          
68 Chris Kinsell (Seattle Velo)                          
69 Paul Weiss (Portland Velo Club)                       
70 Jay Downs (All Ireland)                               
71 Mike Doherty (Seattle Velo)                           
72 Steven Bonadio (Nebc/Cycle Loft)                      
73 Patrick Leonard (Evolution Racing)                    
74 Troy Tucker (Bike Gallery Trek/Vw)                    
75 Steven Basden (Half Fast Velo)                        
 
Master Men 40-44
 
1 Mark King                                         36.37
2 Mark Noble (Camerillo Ravens)                      0.36
3 Gunnar Shogren (Fort/Gpoa)                         0.41
4 Emilio Cervantes (Dare)                            1.17
5 Dennis Farrell (Red Rocks Velo)                    1.25
6 Rob Meighn (Clif Bar)                                  
7 Geoff Proctor (Montana Velo)                       1.42
8 Tom Phillips (Ragnerak)                            2.18
9 Thomas Feix (Pen Velo/Kondra)                      2.28
10 Robert Bobrow (Texas Roadouse)                    2.37
11 Michael Bernard (Gear Works)                      3.12
12 Loren Bogaard (Abo)                               3.19
13 Rich Maile                                        3.29
14 Chris Daluisio (Clif Bar)                             
15 Todd Cassan (Rocinantb)                           3.40
16 Frank Hibbitts (Cody Racing)                          
17 Christopher Long (Indipendent Fabrication)            
18 Craig Hilton (Red Rocks Velo)                     3.49
19 Paul Lynch (Bicycle Link)                         3.57
20 Todd Anderson                                     4.08
21 John Mitchem (Lombardy)                           4.18
22 Dana Parnello (Team Rei Novara)                       
23 Carl Robert (Team Clif Bar)                           
24 Greg Talbert (Team Clif Bar)                      4.25
25 Samuel Giles (Team Clif Bar)                      4.34
26 Randy Iddings                                     4.44
27 Bill Carslay (Missing Link/Bianchi)               4.48
28 Dan Peterson (Ti Cycles)                          4.52
29 Roger Wilson (Ces Cycling)                            
30 Mike Wilson                                       4.58
31 Fred Huxham                                       5.01
32 Randy Daniels (Avanti Ticycles)                       
33 Dan Wynn (Rei Novara)                             5.06
34 Charles Mcdaniel                                  5.10
35 Thomas Butler (L'ecole #41)                       5.35
36 Andy Lucas (Team X)                               5.40
37 Ronald Weber (Red Rocks Velo)                     6.17
38 Michael Jones (Disco Velo)                        6.25
39 Robert Huff (Half Fast Velo)                      6.31
40 Terry Mcginnis (Canyon Bicycles)                  7.02
41 Jeff Stoen                                            
42 Pat Weiler (Team Rei Novara)                          
43 Tim Shea (Bob)                                    7.20
44 Steve Songer (Team X)                             7.32
45 Darrell Davis (Contender)                             
46 Patric Lassiter (Visenka)                         7.37
47 Daniel Russell                                    7.41
48 Dave Reed (Hvp United)                                
49 Jim Juenger (Sunnyside Sports)                    7.45
50 Brian Wentz (Rad Racing)                              
51 Scott Wilson (Evolution Racing)                   7.54
52 Jeff Steinhart (Bicycle Johns)                    7.55
53 Chauncey Curl (Team Rubicon/United)               8.07
54 Wayne Barlow                                      8.12
55 William Irving (Ems Climbing School)              8.25
56 Jeff Street (Porcupine)                           8.41
57 Jeff Mitchem (Lombardy)                               
58 George Hebner (Chesapeake Wheelmen)               8.50
59 Jerry Hutchinson (Hillenbrand)                    9.12
60 Andrew Deenik (Disco Velo)                        9.17
61 Dave Spagel (L'ecole #41)                             
62 John Meeham                                      10.03
63 David Palmer (Capitol Velo)                      10.16
64  Tbc                                             10.36
65 Mike Adamson (River City Bicycles)                    
66 Shawn Miller (Davis Bike Club)                   11.04
67 Mike Colesar (Disco Velo)                        11.12
68 Craig Austin (Half Fast Velo)                    11.53
69 David Graves (Byre Spec. Cias)                   12.01
70 Virgil Lone                                      12.16
71 Dan Houghton (Bike And Hike Giant)                    
72 Mark Lambie (Asc)                                12.19
73 Robert Barber (Tribe)                            12.25
74 Darrell Bratton (Team Mack Racing)               13.37
75 William Anderson (Team X Cycling.Com)            13.43
76 Scott Cruickshank (Simply Fit)                   14.24
77 David Deatherage (Fred Meyer)                         
 
Master Men 45-49
 
1 Karl Kiester             43.13
2 Dean Lucas                0.27
3 Paul Curley               0.28
4 Randall Root              0.29
5 William Sawyer            0.45
6 Larry Hibbard             1.19
7 Anton Mcgready            1.20
8 Henry Kramer              2.08
9 Scott Wade                2.22
10 Dirk Cowley              2.27
11 Norm Kreiss              2.34
12 Dag Selander             3.02
13 Mark Wolowiec            3.07
14 Mark Abele               3.12
15 Eric Jordan              3.32
16 Jon Suzuki               4.23
17 Brian Vickers            4.27
18 Douglas Hatfield         4.32
19 Glen Conley              4.55
20 Jim Gentes               5.18
21 William (Tom) Stevens    5.32
22 Brian Starr              6.22
23 Brook Watts              7.03
24 Rick Squires             7.07
25 Steve Lamont             7.20
26 David Garfield           7.22
27 John Brown               7.25
28 David Hull               7.30
29 Bruce Werner             7.53
30 Kem Akol                 8.17
31 Scott Ewing              8.37
32 Rick Potestion           8.43
33 Stephen Hemminger        9.18
34 Rick Swanson             9.29
35 David Stanton            9.54
36 Brian Birch             10.08
37 Tim Carmichael          10.12
38 David Woma              10.24
39 Dionicio Ybarra         10.51
40 Anthony Kahn            11.47
41 Jim Beuselinck          11.49
42 David Morrow            11.57
43 Paul Sadoff             12.02
44 Paul Mautner            12.07
45 Mark Kunnecke           12.12
 
Master Men 50-54
 
1 Dan Norton               44.00
2 Harold Parker             0.45
3 David Rath                0.46
4 Robert Bieterman          0.47
5 Mark Schwyhart            1.36
6 Fred Wittwer              1.52
7 Bob Guglielmelli          2.58
8 Charles Townsend          3.49
9 Dave Genest               4.03
10 George Schreck           4.05
11 Larry Smith              4.16
12 Joseph Brown             4.47
13 Robert Kurosawa          5.29
14 Don Leet                 5.53
15 Charles Scarpelli        5.55
16 Richard Sachs            6.08
17 Tom Sullivan             6.33
18 Tim Downing              6.48
19 Dave Samples             6.58
20 Michael Spak             7.18
21 Ronald Peeleman          7.58
22 Stephen White            8.32
23 Steve Rapp               8.46
24 M. Chris Thibodeau       9.31
25 Buck Lorts               9.55
26 Gilbert Ormerod         10.09
27 Jim Quinn               10.29
28 Dan Tieger              10.50
29 Brian Volkert           11.30
30 Steve Baker             11.45
31 Ike Kendrick            12.55
32 Edward Lanton           13.10
 
Master Men 55+
 
1 James Wagner             49.11
2 Keith Gregory             1.14
3 Frank Cuaresma            2.48
4 Walt Chudleigh            5.21
5 Richard Marantz           5.24
6 Jim Cushing-Murry         5.29
7 Erik Nordenson            5.34
8 Gary Noie                 5.49
9 John Forbes               6.09
10 Steven Seaweed           6.49
11 Del Scharffenberg        6.59
12 Jerry Shere              7.09
13 Robert Mandelson         7.19
14 Karl Dittebrandt         7.29
15 Mike Macdonald           7.39
16 Roy Toungue              7.49