2003 US Cyclo-cross Nationals - CN
Portland International Raceway, Portland, Oregon, USA, December 12-14, 2003
December 13: Junior Women
White wants more; Staley steals the show
By Kristy Scrymgeour in Portland, Oregon
Danielle Haluman (Laforza)
Photo ©: Rob Karman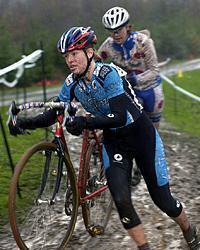 Starting straight after the junior men, were the junior women's races in two categories, 10-14 years and 15-18 years. Thirteen year old Stephanie White took out the 10-14 age category to claim her second National Championship title (the first being a MTB title). White and Danielle Haluman of Colorado rode together for most of the race before White attacked with half a lap to go, opening a gap to eventually take the win by a mere 10 seconds. "I think I was better technically today", said White after the race, "but Danielle was very strong."
White comes from a very enthusiastic cycling family, with her mum, dad and little sister all enjoying riding. With idols like Genevieve Jeanson and Alison Dunlap, White has big plans for the future. "My goal is to qualify to go to World Championships one day," she said, and the way she is riding right now, this dream might well come true.
In the 15-18 category, Larssyn Staley, after forgetting her shoes and having to borrow a pair, capped off a successful season to win the race today. Earlier this year, Staley won a gold medal in the junior track world championships in Moscow. Only deciding yesterday to enter the race, Staley took the lead a little way into the first lap and powered away, never to be seen again. "I didn't want to race because I didn't really want to train for it. I wanted to take the time to start preparing for next year's road season," she said.
Staley's time trial ability showed through today as she put her head down and ploughed through the mud to the finish. "It was so muddy out there and I realized early that if I used my power on the muddy stuff, I could open up a gap and then cruise in the technical sections."
Taking second and third place respectively behind Staley were Karen Amundsen and Rebecca Much. The win gives Staley 10 National titles to date and big hopes for the future: "My goal for next year is to race the road in Europe because I think it would be good for my development as a rider to learn from people like Cathy Marsal," she said.
Despite being only 18 years of age, Staley is confident about living abroad: "I'm used to traveling now and I'm pretty independent so I think I'm ready to live away," said Staley. "There are plenty of good people to race against here in the States, but I really don't think it's the right scene for me right now.". Having taken French at school, she is now practicing hard and is listening to French tapes to touch up. "I don't really want to go over there like an idiot," she said.
Photography
Images by Rob Karman/

Results

Junior Women 10-14
 
1 Stephanie White (Danso Wheelworks)                21.47
2 Danielle Haluman (Laforza)                         0.10
3 Taylor Bogliou (Gregg's/Trek)                      1.03
4 Kayla Woolcock                                     7.12
5 Patty Roper                                       10.01
 
Junior Women 15-18
 
1 Larssyn Staley (Hot Tubes)                        30.11
2 Karen Amundson (Rad Racing)                        0.54
3 Rebecca Much (Xxx Racing)                          1.33
4 Tela Crane (Rad Racing)                            2.20
5 Lauren Trull (Easton/Kona)                         4.03
6 Amara Boursaw (Greggs Trek/Vw)                     8.53
7 Leana Gerrord (Sobe Cannondale)                    9.31
8 Ashlyn Coats (Velobella)                           9.39