Recently on Cyclingnews.com
2002 US Cyclo-cross Nationals - CN
Domaine Chandon, Yountville, California, USA, December 14-15, 2002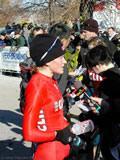 Dunlap after her win at the 2001 Nationals
Photo: © Chris Henry
Shimano America's Chris DiStefano, summed up cyclo-cross as "snot-blowing, lung-searing, leg-breaking pain". And over the weekend of December 14-15, the cream of America's cyclo-cross elite will prove DiStefano right. For on that weekend Domaine Chandon in the Napa Valley, California, will play host to the 2002 Shimano U.S.C.F. National Cyclo-cross Championships.
Riders from across the country will converge on Yountville and brave the weather to see just who the best 'cross rider is. And it isn't just the pro's that will be out to prove themselves, as there will be racing across all categories.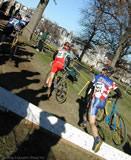 Across the barriers
Photo: © Chris Henry
Sunday, December 15 will feature Elite Women at 1:30 pm and Elite Men at 3 pm. Espoir Men and Women, ages 18-22, will race on Saturday December 14. Amateur racing for men and women of all ages will be staged on both days.
With the weather for Saturday looking like "rain and windy with a chance of thunderstorms" we should see a classic cyclo-cross race, wet and muddy. And the books are still open on the eventual winner. Marc Gullickson, Todd Wells, Jonathan Page, Ben Jacques-Maynes, Jonny Sundt and Dale Knapp all have a chance of wearing the Stars and Stripes, while in the women's race; Carmen d'Alusio and Gina Hall both give Clif Bar a very good chance of a win.
Cyclingnews will have full coverage of the Elite races, kicking off at 1pm (PST) with an audio feed as well as our live text updates.