2003 US Cyclo-cross Nationals - CN
Portland International Raceway, Portland, Oregon, USA, December 12-14, 2003
December 13-14: Junior Men
Driscoll comes out on top
Junior Men: 17-18
Jamey Driscoll of Jericho Vermont led the junior 17-18 category from the gun today and rode a very consistent race to take the Junior National Cross title. In the thick mud deepened by two days of racing, Driscoll looked strong from the start, setting the pace with only Conrad Lebas and Chris Stockburger able to hold his early speed.
On lap two, Lebas was still hanging on to Driscoll and the pair was gaining a little time on Stockburger who had been caught by Taylor Lane. Behind, there was already a minute gap between these leading riders and the next group of four which contained Thomas Tucker, Severin Skolrud, Adam Switters and Braden Kappius.
Lap three was when Driscoll managed to get a gap of 15" on Lebas, and Taylor had escaped from Stockburger. Lebas got a flat when he tried to jump the barriers and was caught by Taylor and the pair went through the finish line with one lap remaining, trailing Driscoll by about 30".
The last lap was exciting with Lebas breaking away from Taylor and started moving in on Driscoll around the back straight. Just as he was getting close his chain got stuck and he drivetrain wouldn't work at all. He tried to fix it, but ended up having to run his bike, which led to him rapidly losing ground and his chance at catching Driscoll.
Driscoll powered to the finished line to take the title with Tucker coming home strongly to take second place. Taylor, Kappius and Stockburger rounded off the top five respectively, with Lebas having to settle for seventh place.
Driscoll was excited with his win, admitting that he had been nervous about the race since Thursday. "It was the toughest race all year," he said. "Conrad and I have been beating each other up all year and today we really put the hurt on each other. It's really sad that he had all the mechanical problems this year."
Driscoll commented that both the competition and the course were hard today. "This was the hardest competition all year and by far the hardest course because of the conditions. The muddy sections were so hard. Some of it was soupy and the rest was just thick mud."
This win automatically qualifies Driscoll for the World Championships in France in January. This will be his first attempt at the World championships, a prospect that makes him nervous. "There is a lot of weight on my shoulders because I've never been before," he said.
Second place getter Tucker had a great race to come from behind. "I just felt stronger and stronger as the race went on," he said. "When I saw Conrad moving up, I was going for him. In the end, I didn't think I'd catch second place but I just gave it everything." I got to the hill," he continued, "and I knew over the top was my strongest section. I got a good jump on it and managed to catch Taylor at the end. I almost threw up afterwards" he laughed.
Lebas was disappointed but accepted his bad luck graciously. "I just had a lot of bad luck today and there was nothing I could do with the chain when it got stuck," he said. "I know I was stronger than the results showed because I really felt good today."
Lebas has already been to Europe this year to prepare for today's race and is now hoping that he'll get selected for the World Championships. "I'm looking forward to Worlds, because I'm really prepared this year." As for whether he would have been able to catch Driscoll if he didn't have a mechanical, Lebas is not sure. "I think I may have been able to catch him he said, but I'm not sure how much I would have had left if I did." Lebas admitted. "I think it just could have been a bit closer."
Photography
For a thumbnail gallery of Rob Karman's images click here
Images by Rob Karman/

Images by Sabine Dukes/www.velobella.org
Images by Mitchell Clinton/Clinton Photo
Junior men
December 13: Junior Men 10-12, 13-14, 15-16
Young guns lovin' the mudbath
By Kristy Scrymgeour in Portland, Oregon
The aptly-named Rio Grande Monsoon team enjoying the mudbath
Photo ©: Rob Karman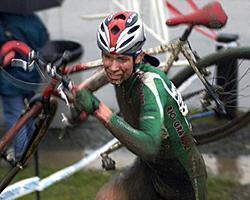 Starting off the racing today in the mud bath that got worse and worse as the day went on were the junior boy's races. Despite the weather, the cyclocross fanatics were still out in great numbers to support the racing; most were sensible enough to wear waterproof clothing and gum boots. A few silly people (specifically yours truly) were not quite prepared for a day of marching through muddy fields in the mud and will probably take a day or two to thaw out.
The junior boys didn't seem to mind the mud however, as they powered over the course at 8am. The three categories raced at the same time with young Luciano Worl making it one better than last year by taking out the 10-12 age category. Worl and his Rad Racing teammate Benny Swedberg rode together for the entire race, with Worl being the strongest in the final stages. He was excited with his win when Cyclingnews caught up with him at the podium. "It was really fun," he said. "I think it was one of the best races this season because I love mud." Worl walks away with his second National championship, the first being from the 2002 MTB championships. Rounding off the top three in today's race was another Rad Racing rider Ethan Maier who finished just over a minute down.
In the 13-14 years category, it was seven time national champion Alex Coehlo who took the win convincingly, coming in 2'36" ahead of second place. Coehlo was also happy with his win claiming to be another one who loves the mud: "I really liked it out there today and I felt good in the technical sections," he explained. This is Coelo's fourth cross title with his other three National title's being the road race, the criterium and the road time trial. Certainly a big hope for the future.
In the 15-16 age group, Tejay Van Garderen of Montana took the win over Bjorn Selander, who recently won the first ever cross race he had entered (perhaps he picks up his talent from his father, who once raced with ex-pro Andy Hampsten). Selander was ahead early in the first lap, but crashed a few times in the technical muddy section of the course which is when Van Garderen got away. From there Van Garderen didn't look back and took the win by 38 seconds from Selander. Cyclingnews caught up with the talented youngster who has been riding a bike of six years, this being his second year of cross racing. "The course suited me well," he said. "It was fast and flat and I felt good on the technical sections even though I made a couple of mistakes, crashing twice. Actually, Bjorn had me nervous for a little while but I just tried not to panic and keep focus."
This win makes it Van Garderen's seventh national title, so far he has won two in cross and five on the road. Taking third place in the race was Colorado rider Alex Howes.
Photography
Images by Rob Karman/

Results

Junior Men 10-12
 
1 Luciano Worl (Rad Racing)                         21.40
2 Benny Swedberg (Rad Racing)                        0.11
3 Ethan Maier (Rad Racing)                           1.07
4 Ben Beaston                                        3.00
5 Brian Jorgensen (Century Cycles)                   3.26
6 Paul Sales (Rad Racing)                            3.56
7 Jeff Hopkins (Corbin Huntair)                      4.04
8 Sam Walters (Asc-Gensoy)                           6.25
9 Jacob Chilenski                                    6.38
10 Erik Jorgensen (Century Cycles)                   6.58
11 Peter Weiler (Asc-Gensoy)                         7.43
12 Tyler Wilson                                      8.58
13 Adam Schlauch (Somerset Wheelmen)                     
14 Ryan Williams (Asc-Gensoy)                        9.31
15 Jordan Wilson                                    10.38
16 J.D. Fette (Asc-Gensoy)                          10.53
17 Sean Williams (Asc-Gensoy)                       12.27
 
Junior Men 13-14
 
1 Alex Coelho (Monsoon/Team Rio Grande)             27.31
2 Collin Samaan (Sacramento Wheelmen)                2.35
3 Daniel H. Summerhill (Rmcef)                       2.36
4 Evan Schmitt (Rad Racing)                          3.24
5 Bryson Sewell (Velo Del Norte)                     3.52
6 Ryan Barlow                                        4.12
7 Noah Buckley (Rad Racing)                          4.20
8 Carson Miller (Hutches/Pearl Izumi)                4.38
9 Grady Weiler (Asc/Gensoy)                          6.36
10 Zachary Johnson (Rad Racing)                      7.03
11 Grant Boursaw (Greggs Trek/Vw)                    7.05
12 Chris Peterson (Heathly Choice)                   7.16
13 Ian Crane (Rad Racing)                                
14 Dylan Markel (Hunter)                             9.58
15 Kenny Bossen                                     10.24
16 Johnathan Skeehan (Asc Racing)                   11.49
17 Spencer Mahan (Asc Gensoy)                       11.56
18 Sonny Miller (Scott's Cycle And Sport)           12.45
19 Wesley Furlong (Asc)                             13.16
20 Steve Fisher                                     13.19
 
Junior Men 15-16
 
1 Tejay Van Garderen                                25.23
2 Bjorn K Selander (Alan Factory)                    0.38
3 Alex Howes (Lakewood)                              2.08
4 Chance Noble (Camerillo Ravens)                    2.23
5 Tucker Olander (Hnecc/Peerless)                    3.41
6 Gian Dalle (Rad Racing)                            4.10
7 Emil Marinov                                       4.17
8 Blake Anton (Davis Bike Club)                      5.15
9 Mario Wilson                                       5.16
10 Nathan Bannerman (Rad Racing)                     5.48
11 Ian Megale (Beaverton Bike)                       7.03
12 Luke Harrison (Corbin-Huntair)                    9.24
13 Keith Beckman (Bbc)                              10.19
 
Jr Men 17-18
 
1 Jamey Driscoll (Gmbc)                      40.43
2 Tucker Thomas (Rad Racing)                  1.06
3 Taylor Lane (Rio Grande)                    1.07
4 Braden Kappius (5280/Subaru)                1.56
5 Chris Stockburger (Rio Grande)              1.58
6 Adam Switters (Sgw/Bianchi)                 2.23
7 Konrad Lebas (Richard)                      2.31
8 Severin Skolrud (Rad Racing)                3.11
9 Nicholas Weighall                           3.53
10 Collin Carbaugh (Rad Racing)               4.07
11 Morgan Macleod (Portland Velo)             4.16
12 Will Dugan (Mean Wheels)
13 Devin Anderson (Rad Racing)                4.33
14 Noah Harwood (Daigel)                      4.43
15 Michael Hosey                              5.07
16 Adam Mcgrath (Team Nena)                   5.15
17 Andy Brooks (Redline)                      5.18
18 Will Freeman (Rad Racing)                  5.27
19 Luke Brechwald (Rad Racing)                5.36
20 Noah Young (Broadmark)                     5.53
21 Sean Van Horn (Aurora Cycles)
22 Tyler Carmichael (Lbc/Highgear)            6.02
23 Eric Riggs (Sgw)                           6.37
24 Derek Laan (Alan Factory)                  7.00
25 Steven Howard (Ada)                        7.05
26 Tyler Given (Asc Racing)                   7.07
27 Mitchell Peterson (Healthy Choice)         7.11
28 Charles T. Marzot (Corner Cycle)
29 Gonzalo Escobar (Cappi/Imsaab)             8.03
30 Davis Glasscock (Rio Grande)               9.21
31 Francis Thomas (Hampton Velo)             10.55
32 Joey Rogerson                             11.17
33 Conor Byrne (Rad Racing)
34 Alex Siegel (Asc Racing)