2003 US Cyclo-cross Nationals - CN
Portland International Raceway, Portland, Oregon, USA, December 12-14, 2003
December 12: Collegiate & under 23 women
Monroe & Pennington take opening titles
By Kristy Scrymgeour in Portland, Oregon
Saturn rider Megan Elliot
Photo ©: Rob Karman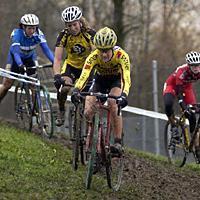 The collegiate and U/23 women started this weekend of racing for the Stars and Stripes jerseys in Portland, Oregon with overcast skies and rain threatening. Overnight the rain had come down to make the relatively flat course nice and muddy and a lot slower than yesterday's warm up.
With both categories in together, 23 riders lined up for a fast start. Saturn's Megan Elliot (U/23) forced the pace on the first lap with Megan Munroe (collegiate) in toe. Elliot crashed and fell back in the field and couldn't quite get it going again leaving 23 year old Monroe to take the lead. From here Monroe, who took the win in the U/23 category last year, led the race not looking back and took the win convincingly from Jennifer Gersbach and Elizabeth Schauer.
The quietly-spoken Monroe, competing for University of Wisconsin, Madison, was pleased with her result in what is only her second season of cyclocross.
"I felt good today. It went hard from the beginning but a lot of people got caught in a crash on the first lap and that's where I took the lead," said Monroe when Cyclingnews caught up with her after the race. About the course she added, "I like the hillier courses but this one was technical enough because of all the mud so I enjoyed that."
Next year Monroe will join the TDS women's team for her fourth year racing the road.
Meanwhile in the U/23 category, the eventual winner Alice Pennington had a good start but suffered the misfortune of a flat tyre in the first lap. After riding half a lap with the flat she swapped her bike and started the chase.
"I started catching people," said Pennington, "and eventually I caught four riders. Three of them were U/23s which put me back into the lead."
Pennington, who is what you would call an all rounder, having dabbled in all the cycling disciplines, kept her lead to take her second National title, the first being a U/23 MTB title. "I liked the course because I struggle with the running part of cyclocross but I feel totally comfortable on my bike in the mud," she explained.
Taking second place was Jennifer Franklin from San Marcos, CA followed by Boulder, Colorado rider, Eszter Horanyi.
Photography
Images by Rob Karman/

Results
Collegiate Women
 
1 Megan Monroe             36.02
2 Jennifer Gersbach         0.56
3 Elizabeth  Schauer        1.51
4 Eszter Horanyi            3.00
5 Catherine Dudley          3.14
6 Kami Tremblay             3.34
7 Irene Mercer              3.43
8 NA                        4.44
9 Martina Patella           5.01
10 Kati Juland              5.08
11 Nichole Wangshard        5.40
12 Marisa Asplund           5.52
13 Kristine Church          9.33
14 Lorelei Pacholec        10.35
15 Mary Perez              11.01
 
Under 23 women
 
1 Alice Pennington         38.40
2 Jennifer Franklin         0.19
3 Eszter Horanyi            0.22
4 Megan Elliott             0.32
5 Catherine Dudley          0.36
6 Alynda Boursaw            7.45