Recently on Cyclingnews.com
2003 US Cyclo-cross Nationals - CN
Portland International Raceway, Portland, Oregon, USA, December 12-14, 2003
December 13: Collegiate Men
Wicks whips up a storm
By Kristy Scrymgeour in Portland, Oregon
Barry Wicks
Photo ©: Rob Karman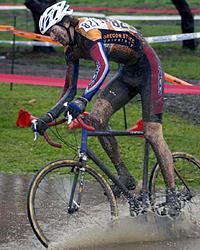 In the collegiate men's race at Portland, Oregon today, it was Barry Wicks who claimed the spotlight, winning the race by a proverbial mile to earn his first ever stars and stripes jersey. Half a lap into the race at the barrier known as the "monolith", Wicks attacked and created a fast gap. "I didn't really want to lead it out too early so I waited until we hit the dirt," he said. "I figured with a course like this, it's better to be by yourself, that way you can pick your own line."
Wicks admits that he didn't know how he was going to fare in the race: "You never know who is going to be here with collegiate racing, but I'm used to riding in the mud so the course was good for me," he said.
Predominantly a mountain bike rider, racing for Kona, Wicks does not intend to go to the cyclocross world's this season, preferring to focus on next year's MTB season. "It's been a long year and another six weeks of racing is too much," he explained. However he will be back tomorrow for the elite men's race and hopes to place in the top ten.
Taking second and third in the collegiate race were Colorado riders Matt Shriver and Chris Jung with Shrivers' Fort Lewis College team just beating out the University of Colorado in the omnium competition.
Photography
Images by Rob Karman/

Results

1 Barry Wicks (Oregon State)                        44.37
2 Matt Shriver (Fort Lewis)                          1.34
3 Chris Jung (CU Cycling)                            2.11
4 Andrew Wulfkuhle (Kutztown University)             2.37
5 Cory Burns (University Of NH)                      2.42
6 Ryan Tiles (GVSU)                                  2.59
7 Michael House (Miami University)                       
8 Troy Heithecker (University Of WA)                 3.09
9 Greg Abramson (Fort Lewis College)                 3.37
10 David Allen (Virginia Tech)                           
11 Alex Hagman (Fort Lewis)                              
12 Andrew Minier (Montana State U.)                      
13 Michael Henry (University Of WA)                  4.15
14 Ryan Leech (Penn State)                           4.40
15 Ford Waterstrat (Lindsey Wilson College)          4.54
16 Micah Morgan (Dogfish Racing Team)                5.07
17 Aaron Molloy (CU Cycling)                         5.18
18 Chris Kuhl (Fort Lewis)                           5.20
19 Gregory Wittwer (LSU/Trek)                        5.26
20 Josh Conner (Lindsey Wilson College)              5.43
21 Doug Ollerenshaw (Oregon State)                   5.56
22 James Holmes (UW-Madison)                         6.16
23 Aaron Brown (CU Boulder)                              
24 Ryan Amirault (Univ Of Colorado)                  6.22
25 Adam Snyder (Fort Lewis)                          6.28
26 Scott Keller (NAU)                                7.11
27 Shawn Mcdonald (Oregon Central Coll)              7.34
28 Steve Carwile (Lindsey Wilson College)            7.43
29 Adrian Hegyvary (Huskey Racing)                   7.52
30 Jimmy Lingwood (University Of WA)                     
31 Jimmy Blair (Cal Cycling)                         9.37
32 Cody Stephenson (Fort Lewis)                      9.47
33 Jonathan Jones (Appalacian St)                    9.59
34 Ian Eglitis (Oregon State)                       10.03
35 Steven Hyde (Oregon State)                       10.46
36 Andrew Oishi (Duke University)                   10.54
37 Stephen Sontag (Northern AZ)                     11.08
38 Adam Szczepanski (Penn State)                    11.36
39 Brian Keegan (UNH)                               12.06
40 Alex Wilson (UBC/Huskies)                        12.39