2003 US Cyclo-cross Nationals - CN
Portland International Raceway, Portland, Oregon, USA, December 12-14, 2003
December 14: Elite Men
Page makes it two for two
By Kristy Scrymgeour in Portland, Oregon
Jonathan Page (Selle Italia)
Photo ©: Rob Karman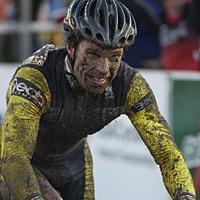 Jonathan Page added his name to the history books today when he joined riders such as Jan Wiejack, Don Myrah and Clark Natwick in winning back to back US National Cyclocross titles. Page was very aware of this fact as he came across the line at the finish claiming that he is already "ready to do it again".
Page came to today's race off a very successful European season where he placed in the top 20 is almost all of his races. His style and speed today reflected this spectacular form. He led the race from the gun with Todd Wells and Andy Jaques-Maynes in tow. At the end of the first lap Page and Wells led by 10" from Ryan Trebon and Jaques-Maynes with the field strung out behind them.
Wells managed to stay with Page until lap three when he slowly slipped off the wheel a little. Not long after Wells was caught by Ryan Trebon who was having a great ride. The pair was still only ten seconds off Page. Page continued to power on taking time gradually on his pursuers. Behind him, Wells and Trebon were caught by Jaques-Maynes; and Marc Gullickson and Stewart Jackson had paired up behind them. The pace of the race was amazing with the guys flying around the tough, grinding course.
Finally with four laps to go, Trebon was able to edge away from Wells, a position which he held for almost three laps until he flatted allowing Wells to catch him again. As Page crossed the finish line for the bell lap, he had about 45" on Wells and was gradually increasing his lead. Wells led Trebon by another 15" who was followed by Gullickson, Jacques-Maynes, Brown and Barry Wicks(who was back again after winning the collegiate race yesterday).
The last lap flew by again without any change in the order of the top riders and Page was tackled on the line by his wife Cori and a plethora of supporters. Without being able to take the grin off his face, Page exclaimed his excitement. "It feels really good. There was a lot riding on this. More than anyone knows," he said. He then spoke of the threat of Trebon who had managed to stay with him for so long in the race. "I just knew I had to make no mistakes and hope for him to crack," he said. "It was very slippery so I made a couple of mistakes but we all did to it didn't matter that much."
Wells was thrilled with his second placing. "I got tangled in the tape and then I flatted and lost time, but everyone had problems today," he said, "so I can't complain."
One of the great rides of the day was from Trebon who was very pleased when Cyclingnews caught up with him after the race "I knew it would be tough today," he said. "I tried to go with Page for a couple of laps but he is just so fast and finally I had to take a lap to recover. Then I flatted and that's when Todd caught me, but I managed to hold on for third and it was a good end to my season and I'm happy with the result."
Taking the final two podium positions were Marc Gullickson and Stewart Jackson respectively, with Andy Jaques-Mayne, Barry Wicks, Ben Jaques-Maynes and Dale Knapp rounding off the top ten. The day ended with the excitement of good racing in the air, as everyone rushed home or back to their hotels to get dry and clean after a long weekend of rain and mud.
Photography
For a thumbnail gallery of Rob Karman images click here
Images by Rob Karman/

Images by Hyun Lee
Images by Sabine Dukes/www.velobella.org
Images by Mitchell Clinton/Clinton Photo
Elite men
Results

Elite Men
 
1 Jonathan Page                              58.49
2 Todd Wells (Mongoose)                       1.09
3 Ryan Trebon (Easton/Kona)                   1.31
4 Marc Gullickson (Redline/Ritchey)           1.54
5 Jackson Stewart (Clif Bar)                  2.20
6 Travis Brown (Trek/Vw/Bike)                 3.22
7 Andy Jacques-Maynes (Clif Bar)              4.14
8 Barry Wicks (Kona)                          4.16
9 Ben Jacques-Maynes (Family Cycling)         4.34
10 Dale Knapp (Kona)                          4.51
11 Justin Robinson (Family Cycling)           5.32
12 Frank Mapel (Specialized)                  6.13
13 Mark Mccormack (Saturn)
14 Charles Storm (Fuje Se/Btd)                6.14
15 Erik Tonkin (Kona)
16 Bart Gillespie (Team Biogen)
17 Bart Bowen (Kona)                          7.10
18 Shannon Skerritt (Trek/Vw/Bike)            7.30
19 John Funke (Sycip)                         8.11
20 Michael* Gallagher (Usa Armed)             8.23
21 Jed Schneider                              8.24
22 Ben Turner (7Up/Maxxis)                    8.28
23 Johannes Huseby (Somerville)               8.38
24 Brent Prenzlow (Celo)                      8.51
25 Troy Heithecker (Seattle)                  8.58
26 Brandon Dwight (7Up Maxxis)                8.59
27 Ryan Leech (Essm/Gpoa)                     9.22
28 Russ Tiles (Slingshot)
29 Jonathan Baker (Pro Peloton)
30 Russell Stevenson (Bianchi/Clif Bar)
31 Troy Wells (Devo Balance)
32 Jason Moeschler (Giant/Cytomax)
33 Daniel Doub (Fuji Se/Btd)
34 Andy Applegate (Easton/Kona/Cc)
35 Matt Kraus (Independent)
36 Gunnar Shogren (Fort/Gpoa)