2003 US Cyclo-cross Nationals - CN
Portland International Raceway, Portland, Oregon, USA, December 12-14, 2003
December 12-13: Master Women
December 13 - Stove cooking with gas; Cox shocks in 35-39 race
By Kristy Scrymgeour in Portland, Oregon
Master Women 30-34
After spending the week in bed with the flu, Marianne Stove came out in less than desirable conditions today to win her first ever national title. Leading from the first muddy technical section, Stover kept her lead to the finish, winning by over a minute on the grueling course.
Stover was delighted with her win, as were her team-mates from Maine. "I can't believe it, I'm so thrilled," said the beaming Stover. As an all-rounder, having ridden MTB, road and cross for two years, Stover said the course was perfect for her style: "I love the mud and I love the grind. I felt really comfortable being in the lead."
Taking second and third place respectively was Katrina Davis of Connecticut and Heather Szabo from Lafayette Colorado.
Master Women 35-39
In only her fifth ever cyclocross race and after only her second full season on the road, today's winner of the Master 35-39 race, Lori Cox, was "shocked but really happy" with her result. Cox liked the course, despite the fact that it was long compared to the Northern California courses she is used to. "The mud suited me because of my MTB experience," she said. "The course was an abusive grind with no real recovery because of the thick mud."
Cox rides for Velogirls in California, which she said is a great supportive network of women: "I know they are celebrating our victory at home now, even though they can't be here. It is a great victory for our club and without their support I probably wouldn't have had the courage to come up here this weekend."
Taking second place in the race was Suzanne King, whose husband won his category earlier in the day, with Dorothy Wong taking third place.
December 12 - Martinez dominant in 40-44; rookie Lisa's win not a Given in 45+
Maryann Martinez
Photo ©: Rob Karman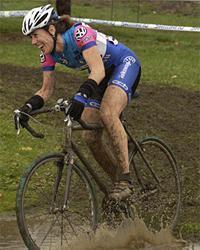 Lisa Given won the Women masters 45+ category today in her first cyclocross season ever. Coming from many years of riding the road, Given took up mountain biking with her husband and son and decided only five weeks ago to buy a cross bike. "I'm a chicken in the mud," said Given, ecstatic with her win. "I normally race on the road so this course was good for me but I would have preferred less mud."
Given explained her instant love for cyclocross racing. "It's such a relaxing atmosphere and the spectators are amazing". Of course the win was even sweeter with her son watching her from the sidelines. Given admitted she was relatively confident leading up to the race. "I knew I had a chance, but I really had no idea what the field would be like. I'm really happy."
Meanwhile second place getter, Susan MacLean, had to settle for the silver medal once again, as she said "I always seem to get second,", and hometown girl Kim Lucas took third place.
In the 40-44 age category Maryann Martinez won convincingly for a very emotional victory. "This has been my dream," she said as tears rolled down her face. "It has been my goal all year." Martinez started cycling five years ago and was rapidly improving in the sport when she broke her back and spent years getting back on track only to have to go through the tragedy of losing both of her parents to cancer within a year.
"This is it for me, and of course my new Jack Russel helps a lot (smiles), I'm so happy. Martinez agreed the course was perfect for her. "It was a power course, and I am a power rider. I really stink at road racing." It seems she has found her forte here taking her first ever stars and stripes jersey. Wanda Howlett of Kent, Washington took third place in front of Karen Kenlan of Bend Oregon.
Photography
Images by Rob Karman/

Results

Master Women 30-34
 
1 Marianne Stover (Gearworks Spin Arts)             45.14
2 Katrina Davis                                      1.02
3 Heather Szabo (Tokyo Joes)                         1.15
4 Sinead Fitzgibbon (Crca/Eas)                       1.46
5 Stella Carey (Kelly Bike Co)                       3.11
6 Megan Render                                           
7 Kori Kunz (Sorella Forte/Titan)                    4.14
8 Julie Brothers (Team Walthour)                    11.43
9 Karen Kefauver (Velo Bella)                       12.04
10 Marianne Arcorace                                13.29
 
Master Women 35-39
 
1 Lori Cox (Bay Area Velo Girls)                    48.11
2 Suzanne King                                       0.30
3 Dorthy Wong (Kelly)                                1.03
4 Amy Hunter-Dillinger (Sobe Cannondale)                 
5 Danielle Crandall (Subway)                         1.31
6 Joanne Stevens (Sunnyside Sports)                  1.36
7 Sami Fournier (Velo Bella)                         1.44
8 Lisa Peck (Team Biogen)                            1.49
9 Sheila Moon (Napa Valley Velo)                     2.12
10 Anne L. Schwartz (Flying Rhino CC)                4.23
11 Kristen Smith (Rei Novara)                        5.27
12 Kristen Dillon (Disco Velo)                       7.15
13 Darien Curl (Team Rubicon)                        8.31
14 Avon Hansen                                       8.58
15 Connie Vine (Nomad)                              10.15
16 Jean Lucas (Freestate Racing)                    12.40
 
Master Women 40-44
 
1 Maryann Martinez         38.55
2 Wanda Howlett             0.57
3 Karen Kenlan              1.57
4 Julia Bestland            2.17
5 Andi Mackie               2.27
6 Mary Skrzynski            2.39
7 Tammy Ebersole            4.43
8 Donna Anderson            5.29
9 Karen Goritski            5.47
10 Roxy Cate                7.07
11 Meg Mautner             14.58
12 Melodie Ross            16.01
 
Master Women 45
 
1 Lisa Given               40.34
2 Susan Maclean             1.23
3 Kim Lucas                 2.43
4 Pam Reid                  3.17
5 Sheila Senft              5.40
6 Tove Shere                6.41
7 Frances Summerhill        6.55
8 Cindi Toepel              7.59
9 Betty Jordan              8.51