2003 US Cyclo-cross Nationals - CN
Portland International Raceway, Portland, Oregon, USA, December 12-14, 2003
December 14: Elite Women
Dunlap takes back her title
By Kristy Scrymgeour in Portland, Oregon
Alison Dunlap (Luna)
Photo ©: Rob Karman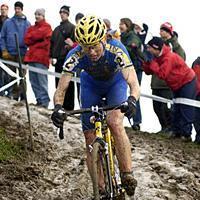 Alison Dunlap took back her National Cross title today from last year's winner Anne Grand. Dunlap won the title in 2001 and has put all her efforts into the cross season this year after sitting out the end of the MTB season with a broken collar bone. After recent success in the St. Wendel Cross World cup were she placed second, Dunlap was considered the favourite for today's race and she didn't disappoint, but was forced to work hard by seasoned cross racer Rachel Lloyd.
For the second last event of the weekend the crowds were out in force with their cowbells and horns; fighting for spectator positions in the thick, sticky mud that many call peanut butter, due to its similar viscosity. The threatening rain held off for the women's race which started very quickly and Gina Hall set the pace. Dunlap stuck to Hall's wheel and soon the pair was caught by Lloyd who took the lead with Hall falling off the pace.
Lloyd led for the next lap, really putting the pressure on the favourite, until midway through lap two, when Dunlap took the lead. From here Dunlap gradually edged away from Lloyd, gaining ground steadily and eventually winning by 19" to Lloyd who held on to second place in front of Hall. Having very strong rides to finish in fourth and fifth place were Carmen Delusio and defending champion, Grand.
Dunlap was all smiles as she came across the line to take her second cyclocross National Title, admitting to the crowd that Lloyd really made her work hard. "Rachel is a great rider. I knew she would be good in the mud because she's a good downhiller and she really went out hard and put the hurt on me today. I just had to hope that she'd tire and she did," she said. "When I got away I didn't really attack, I just went to the front and gradually got away."
Dunlap now goes home to Colorado Spring with six weeks to prepare for Cross Worlds. "I have a lot of work to do," she said. "There's going to about 13 girls over there on a very high level but I'm looking forward to it."
Cyclingnews also caught up with Lloyd after the race, who was happy with her result and was also eager to qualify for Worlds. "On the first lap I was sitting on Gina really and I was trying to be conservative. I didn't feel like I went out hard but then I took the lead and set the pace a little. Eventually, Alison was able to come past me and just ride away, because I was having trouble in the peanut putter. I was able to stay relaxed though and that's what helped me."
Photography
For a thumbnail gallery of Rob Karman images click here
Images by Rob Karman/

Images by Hyun Lee
Images by Sabine Dukes/www.velobella.org
Results

Elite Women
 
1 Alison Dunlap (Luna)                       42.28
2 Rachel Lloyd (Redline/Ritchey)              0.19
3 Gina Hall (Clif Bar)                        1.15
4 Carmen D'aluisio (Clif Bar)                 1.49
5 Ann Grande-Knapp (Kona)                     2.31
6 Josie Beggs (Redline/Ritchey)               3.14
7 Rhonda Mazza (Team)                         4.22
8 Anna Milkowski (Gearworks-Spin)             4.29
9 Barbara Howe (Velo Bella)                   5.51
10 Heather Szabo (Tokyo Joes)                 5.56
11 Marianne Stover                            6.35
12 Maureen Bruno (Dansko)                     6.46
13 Megan Monroe (Lemond Cycles)               6.50
14 Jennifer Gersbach                          6.52
15 Kristi Berg                                7.03
16 Hollie Mcgovern                            7.13
17 Lora Heckman (Laurel St)                   8.21
18 Sarah Kerlin (Another Bike)                8.47
19 Dorthy Wong (Kelly)                        9.01
20 Darcy Foley (Dansko)                       9.05
21 Katrina Davis                              9.10
22 Sinead Fitzgibbon (Crca/Eas)               9.20
23 Hillary Daniels (Hunter Cycles)
24 Rebecca Much
25 Melodie Metzger (Missing Link)
26 Elizabeth Schauer (Fort/Gpoa)              9.45
27 Lisa Randall                               9.46
28 Alice Pennington (Team)                   10.01
29 Eszter Horanyi (University Of Boulder)    10.05
30 Stella Carey                              10.12
31 Julie Emmerman                            10.13
32 Kerry Litka (Dansko)                      10.45
33 Sally Warner (Team Biogen)                11.05
34 Megan Elliott (Saturn Cycling)            12.44
35 Mindi Martin (Los Velos/Mettis)           13.32
36 Sara Cushman
37 Lisa Peck
38 Susan Maclean (Gearworks Spin)
39 Sami Fournier (Velo Bella)
40 Mary Ann Martinez (Ccb/Volkswagen)