World Track Championships - CM
Melbourne, Australia, May 26-30, 2004
Event program and results Qualifying First Round Finals
Men's 4000m Teams Pursuit - Finals - May 29, 2004
The Brits push Australia to a hat-trick
By Mal Sawford
Team Australia
Photo ©: Mark Gunter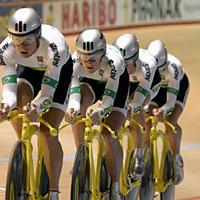 May 29, 2004: Australia claimed its first Gold Medal of the 2004 Track Cycling World Championships thanks to a rampaging Teams Pursuit quartet of Peter Dawson, Ashley Hutchinson, Luke Roberts and Stephen Wooldridge.
As fastest qualifiers by two seconds, the team was heavily fancied to win its third Gold in succession. The plan, according to Australian Endurance Coach Ian Mackenzie, "was to ride controlled for the first 2km, and then give it everything."
And that is exactly how it unfolded. The teams were neck and neck for the first three kilometers, with the lead changing back and forth by a few tenths of a second regularly. When 'Macca' gave the signal to lift in the closing laps, the British team could not respond, losing a rider and dropping a second and a half in the final four laps. Mackenzie summed up the ride as follows, "This is the closest the Brits have come to us for three years, so full credit to them. The guys really had to dig deep in the last few laps. I'm really happy with the ride. We couldn't be in a better position at this stage of the year."
Team Great Britain
Photo ©: Mark Gunter

So how did the Australians feel about winning a gold?
Peter Dawson: "Three in a row, it's unbelievable. It's something really special. To do it in front of a home crowd, is so amazing. Six years it's been . . . it's unbelievable."
Ashley Hutchinson: "I was on the sidelines last year and I just can't thank the Australian team enough for taking me on. I have all these emotions. My family is here watching. It's awesome."
Luke Roberts: "To win in front of a home crowd is unbelievable. We weren't all that confident, really. We came here with the aim of qualifying for Athens and a win would be a bonus. This was just a goal along the way, but the main goal is Athens.
Peter Dawson (Australia)
Photo ©: Mark Gunter

"We didn't ride 100 per cent in form so to still win at 95 per cent was aweseome."
Stephen Wooldridge: "It's unbelievable, three in a row for me. The feeling doesn't change, every time it just gets better. The crowd helped a lot here. I haven't raced in front of a crowd like this before. Luke said he wasn't 100 per cent confident but he didn't tell me about that!"
While the riders celebrated their win with the capacity crowd, taking countless laps of honour, kissing the track and hoisting bikes in the air, British Coach Simon Jones told Cyclingnews he was a bit disappointed with this squad's time.
Team Spain
Photo ©: Mark Gunter

"We hoped to do 4 minutes flat. I hate getting beaten by the Aussies, hate it. In reality, that was as good a time as I can expect from this team – while we have Bradley Wiggins to come in the Australians still have some of their best to come back as well."
Asked if a World Record was within the team's capabilities, he was adamant that it was. "It will take a 3.55 to win the Olympics, and I fully expect to be competitive against Australia for the Gold."
Bronze went to the smooth Spanish squad ahead of the Dutch, with Individual Pursuit winner Sergi Escobar Roure's two-lap turns the difference between the teams.
Team Australia on the podium
Photo ©: Mark Gunter

Again, there was little separating the teams at the three kilometre mark, before Jens Mouris lost contact, and the Spaniards powered away to win by almost a second. Escobar praised the strong team spirit that exists in the Spanish camp.
"The team felt good and we found a great rythmn. We call ourselves the 'Spanish Machine.' We have been training together for two years now, and we know each other very well and can try to cover if one rider is feeling down." Escobar and the Spanish Machine are determined to bring home a medal from Athens.
Photography
Images by Mark Gunter
Results
Bronze medal final
 
1 Spain                     1.05.291 (2)  2.04.514 (2)  3.04.328 (1)  4.04.968 (58.783km/h)
 Carlos Castano Panadero
 Sergi Escobar Roure
 Asier Maeztu Billalabeitia
 Carlos Torrent Tarres
2 Netherlands               1.05.248 (1)  2.04.389 (1)  3.04.453 (2)  4.05.751 (58.595km/h)
 Levi Heimans
 Jens Mouris
 Jeroen Straathof
 Peter Schep
 
Gold medal final
 
1 Australia                 1.04.388 (2)  2.02.896 (2)  3.01.547 (1)  4.00.322 (59.919km/h)
 Peter Dawson
 Ashley Hutchinson
 Luke Roberts
 Stephen Wooldridge
2 Great Britain             1.04.321 (1)  2.02.646 (1)  3.01.835 (2)  4.01.841 (59.543km/h)
 Robert Hayles
 Paul Manning
 Christopher Newton
 Bryan Steel
Startlist
Bronze final
 
Spain
Carlos Castano Panadero
Sergi Escobar Roure
Asier Maeztu Billalabeitia
Carlos Torrent Tarres
 
Netherlands
Levi Heimans
Jens Mouris
Jeroen Straathof
Peter Schep
 
Gold medal final
 
Australia
Peter Dawson
Ashley Hutchinson
Mark Renshaw
Stephen Wooldridge
 
Great Britain
Steven Cummings
Paul Manning
Christopher Newton
Bryan Steel