World Track Championships - CM
Melbourne, Australia, May 26-30, 2004
Event program and results Qualifying First Round Finals
Australia leads - as expected; Boardman wants Brits to go under 4 minutes
By Mal Sawford
Team Australia
Photo ©: Mark Gunter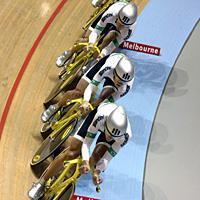 After going away empty handed from the first two days of competition, host nation Australia finally began to live up to expectations with a solid display in the qualifying round of the Teams Pursuit.
Of the sixteen teams competing, only eight could move through to the First Round, and on paper there were a dozen teams in contention. With the top eight also qualifying for Olympic starts, the pressure was really on.
The Danish team were the first to post a competitive time of 4.13.089, but would eventually finish in thirteenth place. Ukraine has held the world title as recently as 2001, but with a disappointing time of 4.10.554 was fortunate to scrape into the next round in eight place.
World Cup Champions New Zealand were eliminated, with their eleventh place finish, but will still be off to Athens thanks to their World Cup ranking. The other major surprise was the shock tenth place finish by the French squad. French riders have dominated the World Championships to date, and the team was ranked third here due to their Bronze Medal performance in 2003, but were well off the pace today.
The Ukrainian team
Photo ©: Shane Goss

They will also have a chance to make amends in Athens, as they will claim the final Olympic starting position due to a much better performance over the world cup rounds. The happy Spanish camp had more to celebrate, with Individual Pursuit winner Sergi Escobar helping the team qualify third fastest, ahead of the highly fancied Great British squad.
Spain has never won a medal in the event at World Championship level, but is in with a chance, as are the Netherlands, who qualified second in 4.05.289. The Netherlands won their only medal – a Bronze – way back in 1973, coincidently when the Championships were last held in Spain.
The reigning World Champions were last to start, and were fractionally behind the Dutch splits at the one and two kilometre time checks, before pulling away to deafening applause to qualify fastest in 4.04.059.
Despite starting with a team missing its four strongest riders (according to British Expert Adviser Chris Boardman), the Australian team are clear favourites to take their third successive World Title.
Australian team member Peter Dawson recovered remarkably quickly and told SBS TV "to come out and ride such a, well it wasn't an easy 4 - 04, but, I mean we weren't stretched to 100%. I think everyone was running at about 90%, which was great. Now we just look forward to the rounds, find out who we race in the first round, pull off a win there and hopefully go faster again".
Great Britain
Photo ©: Shane Goss

Later he told Cyclingnews that the World Record was under threat. "We're going to give it a go obviously. I mean this team is a great team, and we've still got Luke Roberts to come in, and he rode a very good ride last night. We'll use all five riders so hopefully we can all get ourselves a medal – that's if we get there of course".
With the publicly stated aim of Olympic qualification satisfied, a win on home soil is firmly on the agenda. Roberts remarked: "The pressure's off now, so Macca (pursuit coach Ian Mackenzie) can concentrate on getting the boys ready for Athens. Hopefully we can pull off a good result here; we really want to win the World Title for the Australian public. To win three in a row would be really good; I think it would be the first time it has been done (the East German team was undefeated between 1977 and 1981). Being the number one nation for the past few years has certainly been quite taxing but we've handled that alright".
Mark Renshaw, who fell heavily in Wednesday's Points Race showed no sign of his injuries during the qualifying ride, but when asked how his back was advised "I suppose if you need to put pen on paper it's 'crap' basically. It's not good at all, but today I've had a couple of Panadol to try to numb the pain a bit. With the excitement and the expectation of the home crowd, and with my parents up in the grandstand you've got to race through these things.
"They gave me the opportunity to not ride, and really I've got to take that into perspective, because there are a couple of guys who could easily fill my spot. I'm really happy with how I've gone. We've qualified first, that's what we came here to do. I was probably doing it a bit harder than the other guys, but if it improves as much in the next 12 hours as it did in the last 12 hours it's only going to get better," Renshaw said.
Team Australia
Photo ©: Shane Goss

Chris Boardman, all-round legend and expert advisor to the Brits, summed up the British performance as, "a little bit ropey. It was a bit of a shabby ride. There's been a lot going on this week with trying different combinations and that's the first time we run that out, so there was a few things that caught people by surprise. We'll change the line up for the next ride, and everyone knows where they're at so we'll comfortably go a fair bit quicker. We're aware that this is Australia's prime event – four of your best guys weren't here in that last ride, so it's pretty awesome, and it's a tall order".
"We'll bring in Rob Hayles, who we gave a day off after yesterday, and he'll do some big turns, which gives the other guys a break. It's not just one person; it changes the whole dynamic, so I'm quite optimistic."
When asked if the four minute barrier was under threat, Boardman replied: "Yes is the short answer. For the British team it's quite feasible".
Photography
Images by Mark Gunter
Team Australia blasted to the fastest time in the team pursuit qualifiers
Images by Shane Goss/www.licoricegallery.com
Men's 4000m Team Pursuit Qualifying - May 28
Results
1 Australia               1.04.898 (2)   2.04.896 (2)   3.04.537 (1)   4.04.059 (59.002km/h)  
 Peter Dawson
 Ashley Hutchinson
 Mark Renshaw
 Stephen Wooldridge
 
2 Netherlands             1.06.117 (8)   2.05.871 (6)   3.05.123 (4)   4.05.289 (58.706km/h)  
 Levi Heimans
 Jens Mouris
 Jeroen Straathof
 Peter Schep
 
3 Spain                   1.05.915 (6)   2.05.130 (3)   3.04.908 (2)   4.05.389 (58.682km/h)  
 Carlos Castano Panadero
 Sergi Escobar Roure
 Asier Maeztu Billalabeitia
 Carlos Torrent Tarres
 
4 Great Britain           1.04.733 (1)   2.04.428 (1)   3.05.100 (3)   4.06.181 (58.493km/h)  
 Steven Cummings
 Paul Manning
 Christopher Newton
 Bryan Steel
 
5 Germany                 1.05.219 (3)   2.05.650 (4)   3.06.324 (5)   4.07.649 (58.146km/h)  
 Robert Bartko
 Guido Fulst
 Christian Lademann
 Leif Lampater
 
6 Russia                  1.06.764 (12)  2.06.807 (9)   3.07.984 (8)   4.09.583 (57.696km/h)  
 Vladislav Borisov
 Alexander Hatuntsev
 Alexey Markov
 Alexey Shmidt
 
7 Lithuania               1.05.396 (4)   2.05.828 (5)   3.07.679 (7)   4.10.000 (57.600km/h)  
 Linas Balciunas
 Aivaras Baranauskas
 Tomas Vaitkus
 Raimondas Vilcinskas
 
8 Ukraine                 1.06.151 (9)   2.06.278 (8)   3.07.017 (6)   4.10.554 (57.472km/h)  
 Volodymyr Dyudya
 Roman Kononenko
 Vitaliy Popkov
 Volodymyr Zagorodniy
 
9 Belarus                 1.05.768 (5)   2.06.254 (7)   3.08.013 (9)   4.10.753 (57.427km/h)  
 Vasili Kiryienka
 Andrei Kunitski
 Viktar Papinski
 Yauhen Sobal
 
10 France                 1.06.625 (11)  2.07.788 (10)  3.09.791 (10)  4.11.652 (57.221km/h)  
 Anthony Langella
 Fabien Merciris
 Neuville Jérôme
 Fabien Sanchez
 
11 New Zealand            1.06.835 (13)  2.08.139 (12)  3.10.188 (11)  4.12.169 (57.104km/h)  
 Heath Blackgrove
 Hayden Godfrey
 Matthew Randall
 Marc Ryan
 
12 Chile                  1.07.538 (14)  2.08.488 (14)  3.10.419 (12)  4.12.379 (57.057km/h)  
 Marco Arriagada
 Enzo Cesario Farias
 Miranda Figueroa Gonzalo
 José Fernando Medina Andrade
 
13 Denmark                1.06.024 (7)   2.07.899 (11)  3.10.450 (13)  4.13.089 (56.896km/h)  
 Morten Voss Christiansen
 Casper Joergensen
 Jens Erik Madsen
 Alex Rasmussen
 
14 Greece                 1.09.462 (16)  2.12.468 (16)  3.16.025 (15)  4.19.192 (55.557km/h)  
 Ioannis Tsakouridis
 Vasileios Gianniosis
 George Ninos
 Elepidoforos Potouridis
 
15 Argentina              1.08.306 (15)  2.11.263 (15)  3.14.927 (14)  4.21.094 (55.152km/h)  
 Guillermo Brunetta
 Sebastian Cancio
 Edgardo Simon
 Fernando Antogna
 
16 Colombia               1.06.236 (10)  2.08.201 (13)  3.16.080 (16)  4.24.768 (54.387km/h)  
 Carlos Eduardo Alzate
 Arles Antonio Castro Laverde
 Alexander Gonzalez
 Serpa Perez Jose Rodolfo
Start list

1 Greece 
 
118 Vasileios Gianniosis (Greece)
120 George Ninos (Greece)
123 Ioannis Tsakouridis (Greece)
230 Elepidoforos Potouridis (Greece)
 
2 Argentina 
 
1 Fernando Antogna (Argentina)
2 Guillermo Brunetta (Argentina)
3 Sebastian Cancio (Argentina)
6 Edgardo Simon (Argentina)
 
3 Colombia 
 
39 Carlos Eduardo Alzate (Colombia)
40 Arles Antonio Castro Laverde (Colombia)
42 Alexander Gonzalez (Colombia)
43 Serpa Perez Jose Rodolfo (Colombia)
 
4 Denmark 
 
56 Morten Voss Christiansen (Denmark)
57 Casper Joergensen (Denmark)
58 Jens Erik Madsen (Denmark)
60 Alex Rasmussen (Denmark)
 
5 Chile 
 
33 Marco Arriagada (Chile)
35 Enzo Cesario Farias (Chile)
36 Miranda Figueroa Gonzalo (Chile)
37 José Fernando Medina Andrade (Chile)
 
6 Ukraine 
 
213 Volodymyr Dyudya (Ukraine)
214 Roman Kononenko (Ukraine)
216 Vitaliy Popkov (Ukraine)
220 Volodymyr Zagorodniy (Ukraine)
 
7 Germany 
 
99 Robert Bartko (Germany)
104 Guido Fulst (Germany)
106 Christian Lademann (Germany)
107 Leif Lampater (Germany)
 
8 Netherlands 
 
153 Levi Heimans (Netherlands)
154 Jens Mouris (Netherlands)
157 Peter Schep (Netherlands)
160 Jeroen Straathof (Netherlands)
 
9 Bielorussia 
 
27 Vasili Kiryienka (Bielorussia)
28 Andrei Kunitski (Bielorussia)
29 Viktar Papinski (Bielorussia)
30 Yauhen Sobal (Bielorussia)
 
10 Spain 
 
63 Carlos Castano Panadero (Spain)
65 Sergi Escobar Roure (Spain)
69 Asier Maeztu Billalabeitia (Spain)
71 Carlos Torrent Tarres (Spain)
 
11 New Zealand 
 
163 Heath Blackgrove (New Zealand)
165 Hayden Godfrey (New Zealand)
172 Matthew Randall (New Zealand)
174 Marc Ryan (New Zealand)
 
12 Lithuania 
 
145 Linas Balciunas (Lithuania)
146 Aivaras Baranauskas (Lithuania)
149 Tomas Vaitkus (Lithuania)
150 Raimondas Vilcinskas (Lithuania)
 
13 Russia 
 
184 Vladislav Borisov (Russia)
189 Alexander Hatuntsev (Russia)
194 Alexey Markov (Russia)
199 Alexey Shmidt (Russia)
 
14 France 
 
77 Anthony Langella (France)
78 Fabien Merciris (France)
79 Jérôme Neuville (France)
83 Fabien Sanchez (France)
 
15 Great Britain 
 
85 Steven Cummings (Great Britain)
93 Paul Manning (Great Britain)
95 Christopher Newton (Great Britain)
98 Bryan Steel (Great Britain)
 
16 Australia 
 
10 Peter Dawson (Australia)
12 Ashley Hutchinson (Australia)
16 Mark Renshaw (Australia)
18 Stephen Wooldridge (Australia)