World Track Championships - CM
Melbourne, Australia, May 26-30, 2004
Event program and results Qualifying First round Second round Quarter Finals Semi Finals Finals
Women's Sprint First round
Meares qualifies second-fastest in women's sprint
By Karen Forman
Svetlana Grankovskaya (Russia)
Photo ©: Mark Gunter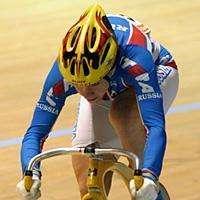 May 28, 2004: Australian Anna Meares continued on her merry way to Athens after clinching the gold medal at the Sydney World Cup a fortnight ago by qualifying second-fastest for the women's sprint at the World Championships in Melbourne this afternoon. She now needs to finish top 10 in the sprint tonight to guarantee the Australian team a sprint spot in Athens.
As an individual athlete she is halfway there after going under the required 11.55 in the qualifying - the only Australian to do so. Meares rode a personal best time of 11.450 in qualification this afternoon to (see all times) finish second behind Russian Svetlana Grandkovskaya (11.339). Third was Lithuanian Simona Krupeckaite with 11.452.
Meares then went on to beat Russian Oxana Grisina in the 1/16 finals in 12.315. Grandkovskaya then beat German Katrin Meini in the 1/16 finals in 12.540 while Krupeckaite beat Italian Elisa Frisoni in 12.146.
"I can't fault my preparation," said Meares, who is sporting 10 beautifully painted (with Australian flags) fingernails. "It has been nice and relaxing being in Australia. Although there are more distractions here than in Europe here we have great support like family and friends, which takes the pressure off."
Anna Meares (Australia)
Photo ©: Mark Gunter

Meares is only 20 years old and it was common for women to improve as they got older. "When you look at it that means I have plenty of time ahead of me." She had painted the nails herself to distract herself from the pressure of today's race while watching TV last night. Seems she has a hidden talent.
"I have been asked to do others now," she admitted. "And sometimes I have painted just one thumb for the pursuit guys." She said tonight's final would be all about tactics but didn't want to look too far ahead. "I don't want to jinx my race beforehand, so all I can say is I will race hard and do the right thing," she said.
Grankovskaya, 28, said she had not performed to her personal best of 10.9 (Moscow 2003) because she wasn't feeling so good, but would try her best in the rounds this afternoon. "The Olympic Games is my main goal - the sprint and the 500 metre time trial," she said. "We need to qualify in both events."
Disappointed with her 12th-place qualifying time of 11.646 was American Tanya Lindenmuth, who finished sixth in the sprint at the Sydney 2000 Olympic Games and was aiming at creating, with team mate Jennie Reed, two Olympic berths for the US in Athens. "I felt good out there today," she said. "But I have been going faster in training. Then you come along to the race and you go slower. A flying 200-metre time trial is so important to seed, but then it is completely different when you come to do the sprint race. Sprints are about tactics and experience. You need to give yourself a good four to five years . . ."
Lindenmuth said she was excited to be in Melbourne for the world championships and enjoying her life. "My major goal is top eight. You need top 10 to qualify for Athens but I say top eight is safe. Both of us need to get top 10 to get the US two spots. Whoever does it will get to ride it. That's the rule for us. And we are both capable."
Lindenmuth, however, was knocked out by Russian Tamilla Abassova in the 1/16 finals, which left her in the repechage. Reed, who qualified ninth in 11.569 then beat Chinese Cuihua Jiang in 13.015 in the 1/16 final got through to the next round.
Reed actually crashed during the event but earned her spot after the Chinese was disqualified after being found guilty of riding off her line. She received first aid in the American compound later.
The 1/16 final repechage saw Meinke, Grishina and Larreal win their way through to tonight's 1/8 finals where Meinke will meet the Lithuanian, Grishina will meet Meares and Larreal will meet Grankovskaya. Dutch rider Yvonne Hijgenaar will meet Briten Victoria Pendleton while Canadian Lori-Ann Muenzer will meet Russian Tamilla Abassova.
Photography
Images by Mark Gunter
Results
First round repechages - May 28, 2004
 
Heat 1 
 
1 Katrin Meinke (Germany)      12.460 (57.784km/h)
2 Yonghua Jiang (China)
 
Heat 2 
 
1 Oxana Grishina (Russia)      12.709 (56.652km/h)
2 Tanya Lindenmuth (USA)
3 Susan Panzer (Germany)
 
Heat 3 
 
1 Daniela Larreal (Venezuela)  11.833 (60.846km/h)
2 Elisa Frisoni (Italy)
3 Clara Sanchez (France) 

First round - May 28, 2004
 
Heat 1
 
1 Svetlana Grankovskaya (Russia)         12.540 (57.416km/h)
2 Katrin Meinke (Germany)
 
Heat 2 
 
1 Anna Meares (Australia)                12.315 (58.465km/h)
2 Oxana Grishina (Russia)
 
Heat 3 
 
1 Simona Krupeckaite (Lithuania)         12.146 (59.278km/h)
2 Elisa Frisoni (Italy)
 
Heat 4 
 
1 Natallia Tsylinskaya (Bielorussia)     12.107 (59.469km/h)
2 Daniela Larreal (Venezuela)
 
Heat 5 
 

1 Yvonne Hijgenaar (Netherlands)         11.993 (60.035km/h)
2 Susan Panzer (Germany)
 
Heat 6 
 
1 Lori-Ann Muenzer (Canada)              12.077 (59.617km/h)
2 Yonghua Jiang (China)
 
Heat 7 
 

1 Tamilla Abassova (Russia)              12.014 (59.930km/h)
2 Tanya Lindenmuth (USA)
 
Heat 8 
 

1 Victoria Pendleton (Great Britain)     12.141 (59.303km/h)
2 Clara Sanchez (France)
 
Heat 9 
 
1 Jennie Reed (USA)                      13.015 (55.320km/h)
2 Cuihua Jiang (China)                   DSQ 

Start lists
First round repechages
Heat 1
 
27 Katrin Meinke (Germany)
13 Yonghua Jiang (China)
 
Heat 2
 
53 Oxana Grishina (Russia)
28 Susan Panzer (Germany)
62 Tanya Lindenmuth (USA)
 
Heat 3
 
37 Elisa Frisoni (Italy)
66 Daniela Larreal (Venezuela)
21 Clara Sanchez (France)
First round
Heat 1 
 
52 Svetlana Grankovskaya (Russia)
27 Katrin Meinke (Germany)
 
Heat 2 
 
6 Anna Meares (Australia)
53 Oxana Grishina (Russia)
 
Heat 3 
 
41 Simona Krupeckaite (Lithuania)
37 Elisa Frisoni (Italy)
 
Heat 4 
 
7 Natallia Tsylinskaya (Bielorussia)
66 Daniela Larreal (Venezuela)
 
Heat 5 
 
46 Yvonne Hijgenaar (Netherlands)
28 Susan Panzer (Germany)
 
Heat 6 
 
9 Lori-Ann Muenzer (Canada)
13 Yonghua Jiang (China)
 
Heat 7 
 
50 Tamilla Abassova (Russia)
62 Tanya Lindenmuth (USA)
 
Heat 8 
 
24 Victoria Pendleton (Great Britain)
21 Clara Sanchez (France)
 
Heat 9 
 
65 Jennie Reed (USA)
12 Cuihua Jiang (China)