World Track Championships - CM
Melbourne, Australia, May 26-30, 2004
Event program and results Qualifying First round Second round Quarter Finals Semi Finals Finals
Women's Sprint Finals
Women sprinters move up a gear
By Karen Forman
Svetlana Grankovskaya (Russia)
Photo ©: Mark Gunter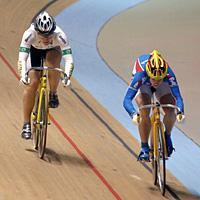 May 29, 2004: When it comes to making comments to English-speaking journalists, the newly-crowned world women's sprint champion Svetlana Grankovskaya is a woman of few - but all the same reasonably powerful - words.
"I trained a lot, I was very motivated and very driven," she said through an interpreter after clinching the title in the evening session of the World Track Cycling Championships in Melbourne. "I was hoping to do well and I did. The Australians were my main rivals."
It was Grankovskaya's second consecutive sprint world title (after Stuttgart last year). The win takes her total of sprint world championships to three after her 2001 title in Antwerpe.
Grankovskaya beat Australian's newest sprint sensation Anna Meares two-one in a dynamic display of tactics and leg speed before a roaring, full-capacity crowd at Vodafone Arena.
Meares' older sister, Kerrie, won the silver medal in Denmark in 2002 and is still considered Australia's premier female sprinter, but little sister is cathcing up as her elder sibling recovers from a back injury.
The Australian was delighted with her silver medal, saying: "Everyone knows I am here, now. " She had been beaten on the night by a better rider. "I gave it my all and in the end I had nothing left to give," she said. "I believe in my ability, in what I can do."
Canadian Lori-Ann Muenzer, who was as thrilled with her bronze medal as with the fact that following her 38th birthday last week she was the eldest rider in the field.
The silver medallist from 2000 and 2001 beat emerging British sprinter, Victoria Pendleton, tonight in straight heats. "I am ecstatic," she said. "Of course I am disappointed that I didn't get a higher medal, but I was in Sydney and that was a good warm-up for today. I think I put it together well.
"I have never seen racing like this - the competition, the standards. I am so thrilled to be on the podium. The worlds are the first chunk of my goal for this year. I had to place in the top eight to qualify Canada for Athens and I have done that. Now I look to tomorrow to the 500-metre time trial. And then, to Athens, which is the big one."
Results
Bronze medal final
 
1 Lori-Ann Muenzer (Canada)          11.866   11.934			
2 Victoria Pendleton (Great Britain)					
 
Gold medal final
 
1 Svetlana Grankovskaya (Russia)     11.620           11.981		
2 Anna Meares (Australia)                     12.065

5-8 ride
 
1 Jennie Reed (USA)                 12.468 (57.747km/h)
2 Oxana Grishina (Russia)
3 Simona Krupeckaite (Lithuania)
DNS Natallia Tsylinskaya (Bielorussia)
 
9-12 ride 
 
1 Yvonne Hijgenaar (Netherlands)    12.167 (59.176km/h)
2 Katrin Meinke (Germany)
3 Daniela Larreal (Venezuela)
4 Tamilla Abassova (Russia)