World Track Championships - CM
Melbourne, Australia, May 26-30, 2004
Day 4 afternoon session progress report:
Steamin' teams pursuit round sets up final
Jens Fiedler (Germany)
Photo ©: Mark Gunter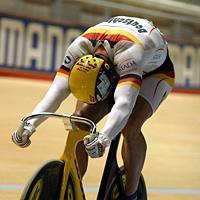 May 29, 2004: Ashley Hutchinson (Aust) pulled on the horn-cord like a train driver as he came across the line in fourth wheel - a position which allows him some emotion as the time is taken on the third rider to cross the line - as the Australian train just motored around the Vodafone Arena like a steam locomotive.
The only team in the first round (see report) to finish with all four riders, the Australian pursuit squad looked very strong and they have chosen the same squad to contest the gold medal final later this evening. The green and gold team qualified fastest and will face Great Britain in the gold medal final later today, while Spain will face the Netherlands in the bronze medal ride-off.
In the qualifying for the men's sprint - where the big men let fly for 200 metres - two riders posted exactly the same time that was down to the thousandth of a second.
First, Ahmed Lopez (Cuba) posted a 10.624 for the flying 200 metres, but then Hiroyuki Inagaki (Japan) posted exactly the same time. Under the rules, only the fastest 18 out of 27 entrants could progress to the actual sprint rounds, and here's the catch, Lopez qualified in 18th spot, so the Japanese rider qualified in 19th, yet they had the same time. What to do? Draw the short straw, basically, it's in the rules. Yes, when there's an occurrence like this, it comes down to a game of chance.
In the first round report, Mal Sawford writes how the sprinters got to stretch their legs against each other and the big man of world sprinting showed he was on the way back from a knee injury and pre-race 'flu.
The results from the first hit-out meant the second round (see start list) would involve two of the local heroes riding off against each other. On the other hand, France's Florian Rousseau showed his true class to come around the outside and take out a vital three-rider repechage heat and go through to the next round.
The men will continue sprinting tonight through to the quarter final stage, so to set up the ride-offs for the medals on Sunday afternoon.
The finals of the men's sprint will take place just prior to the men's Madison - and the teams have been announced for this gruelling 50km event.
Racing at Vodafone Arena continues as 19:15 EST, and Cyclingnews will provide regular updates throughout the evening.
Photography
Images by Mark Gunter