Recently on Cyclingnews.com
Eurobike 2003
Friedrichshafen, Germany, August 28-31, 2003
What's new at Eurobike 2003
A busy start to the show season
Photo: © Bike2Build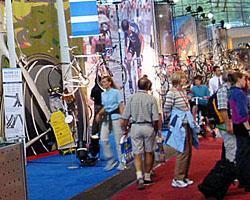 Summer Swoons As Eurobike Launchs New 2004 Bike Product Season
Tim Maloney/European Editor
As the hottest European summer in over 25 years waned at the end of August, the 12th edition of Eurobike trade show officially launched the 2004 bike season in Friedrichshafen, Germany. Situated in the attractive Bodensee region, Eurobike has become a global magnet bike show, attracting 750 exhibitors from 32 nations showing their two wheel wares, up over 15 percent from last season.
Almost 25,000 trade visitors are expected over the two trade days at Eurobike. With Europe's main economies in recession and sparse innovation, many expect the bike sales market in 2004 to be flat again, but some observers surmised that with less vacation spending this season, perhaps this will enable enthusiasts to spend more on their two-wheeled hobby.
And some from the dirt
The lads at Bike2Build were also running amok at Eurobike, taking more photos than we could handle. So we edited the list down to 140 of the best, biggest and strangest bikes you can expect to find next season.
Photos, photos and more photos