Eurobike 2003
Friedrichshafen, Germany, August 28-31, 2003
Light and wow! Ask Trek how...
By Tim Maloney at Eurobike
Superlight superbike
Photo: © Cyclingnews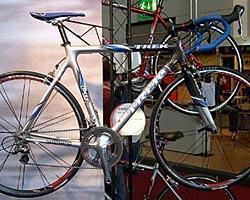 The 2004 Trek 5900 Superlight was Lance's special mountain rig at the 2003 Tour and now the public can purchase this almost obscenely light bike.
According to Trek, in Lance's 58cm size, the '04 Trek 5900 Superlight frame weighs in at 1000 grams for the frame and 339g for Keith Bontrager's Race Triple X Light fork, for a total reported frame weight of 1339 grams! (2.95lbs)
The 151 gram savings over the '03 Trek 5900 Superlight was achieved by manipulating the carbon fibre OCLV lugs and tubes but not compromising the stiffness of the 5900 frame.
Climb every mountain
Photo: © Cyclingnews

Trek's street-legal version of the Madone 5.9, aka Lance Armstrong's Tour 2003 rig, is becoming known as Trek's " fastest, most streamlined frame ever", and the Wisconsin outfit has reason to brag about its newest wind-tunnel crafted OCLV creation.
Named for Lance Armstrong's training climb in France, the Col de la Madone, the bike has aerodynamic top and down tubes, a cool notched, contoured seat tube and new "A-Stay" fastback seat stays.
The Madone 5.9 represents Trek's greatest achievement to date in road bike design, and epitomizes the American firm's drive to create a bike that is perfectly matched to Armstrong's drive to win the Tour de France year after year. According to Trek, the weight of the new Madone frame (58 cm size with fork) is 1439 grams, 51 grams less than the 2003 5900 Superlight model.
Budget racer
Photo: © Cyclingnews

After many years of faithful service in the middle of Trek's road range, the Trek 2300 has gotten a much-needed update from Joe Vadeboncoeur's Waterloo based bicycle product development team. Trek has married their ZR 9000 aluminium front end with a OCLV rear seat stay via their Third Dimension technology to create an affordable elite road bike with the same Pro Race geometry as used in Trek's 5000 series carbon bikes.
With an Ultegra group and a double or triple option, Trek's Trek 2300 and 2200 should please a new generation of demanding bike consumers who look to the Wisconsin outfit for value for money in performance cycling products.
Photos
Images by Tim Maloney/Cyclingnews
Trek's new Madone; named after a little hill
So light it needs a cape and red underwear
For 2004, the Trek 2300 has gotten a much needed update