On Show 2003
What will be the next big thing?
By the Cyclingnews staff
Let's buy 1000.
Photo: © Cyclecomponents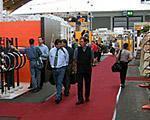 Each year thousands of companies get together to showcase their goods for the coming season. New bikes, new components, and new ideas are shown to members of the bike industry in a number of locations from August to October, at events such as Eurobike, Interbike and EICMA.
Not only do the shows allow the bike and component manufacturers to display the next seasons products, but it allows those fortunate to attend to compare products and to see what trends the next season will follow. And it allows members of the media to report on what's about to become the next big thing.
Over the next few months, Cyclingnews will be bringing to you all the goods from the big three shows, as well as reports from some of the local shows. No product too silly, no price tag too expensive.
Show dates
Eurobike Friedrichshafen: Aug. 28-31
Bicycling Australia show: Sept 5-7
IFMA Koln: Sept. 11-14
EICMA Milano: Sept. 16-21
Interbike Las Vegas: Oct. 11-14
Eurobike - First international show for 2003
Now in its 12th year in Friedrichshafen, Germany, and after a scortcher of a summer, the doors swung open to one of the biggest Eurobike shows ever.
Over 68,000 square feet of exhibition space spread out over eight brand new halls and 700 firms from over 25 countries exhibiting, Eurobike can rightly claim to be the largest and most successful bike show in Europe. Cyclingnews spent a few days at Eurobike to take a look at what's new and innovative in cycling equipment for 2004.