EICMA 2003
Milan, Italy, September 16-21, 2003
What's new at EICMA 2003
By Tim Maloney/European Editor
Now in it's 61st year, the EICMA International Bicycle and Motorbike Exhibition is one of Europe's biggest bike trade shows. Held in Milan, the combined show gives the Italians a chance to show off the latest and greatest on two wheels. Cyclingnews European editor Tim Maloney went along to see what is on show this year.
Superlight and Supernice
Full Speed Ahead
Photo: © Cyclingnews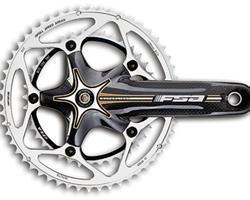 Full Speed Ahead is certainly living up to their name for 2004, with many new, innovative products hitting the market.
Tested by Tyler Hamilton during this year's Tour De France, FSA's Superlight road cranks have a new generation composite body that differs from most composite cranks as the FSA is based around a carbon inner body, not an aluminium core. Weighing in at 505 grams/pair, and sporting new silver 100 percent CNC machined 7075 aluminium chainrings, the FSA Superlight is available in 170mm, 172.5mm and 175mm for Shimano or ISIS bottom brackets. FSA has created the Superlight with a Q-Factor of 147mm and attractive new graphics for 2004.
Tri-flange hubs
Photo: © Cyclingnews

Another innovative new product from the mind of Full Speed Ahead's wheel guru Ric Hjertberg. Founder with his brother Jon of Wheelsmith Fabrications, Hjertberg has brought his expertise to FSA's new wheel line. "I've been thinking about this (tri flange) concept a long time and with FSA, we can develop great product like this." The benefits of this hub are both aerodynamic and power transfer oriented. The front 18-spoke wheel has the six centre spokes placed in line with the rim, with the remaining spokes at the normal location. On the rear wheel, not only is there some aero advantage, but the driving spokes are directly in-line with the rim for more efficient power transfer.
Round Rims? More innovation in FSA's new wheel line, the RD-400 model, with 20 front and 24 rear spokes weigh in at 1.4kg per pair. With their new, round cross section Orca rims and teardrop Wheelsmith spokes, FSA's wheel guru Ric Hjertberg is confident that the hand built wheels with an easily changeable cassette body will be a success for FSA. Who are we to argue?
Tri-flange hubs
Photo: © Cyclingnews

Last year, FSA purchased innovative Seattle aero bar maker Vision Tech and has brought their state of the art carbon-fibre expertise to the mix. Here is a new carbon version of Vision Tech's Pro aero bars with arms and arms rests in carbon fibre. "We've used moulded tubular carbon as well carbon plate to create the new Vision Tech Carbon pro," explained FSA's Doug Stewart. "We've got Vision Tech's superior aerodynamics and with the new carbon version, the weight is down to 800 grams, 200 less than the Pro model."
Check out the Assos
Moo!
Photo: © Cyclingnews

Assos has plenty of new items for the end of 2004, with a completely redesigned Airprotec winter tight, and as pictured, a redesigned series of Clima Jet windbreakers and vests.
Note the triangular tabs at the vest bottom hem that Assos has added to aid a faster zip. Assos is enamoured of Swiss ethnic motifs and their new Carolina Bella jersey is consistent with this theme
Lance's Special Shades
Oakley had Lance Armstrong Special Edition M-Frames on show at EICMA. The Lance Armstrong Special Edition M-Frames have a special Texas logo on the US Postal coloured frames and Lance's autograph on the lenses.
50 Years and Counting
For the 50th anniversary of Bell, who have been making head protection for motor sports as well as cycling for half a century, Bell has created a special 50th anniversary edition of their Ghisallo helmet. This is the same 300-gram, 17-vent, in mould microshell lid that Tyler Hamilton rode to World Cup Classic and Tour De France stage wins this year. The limited edition Ghisallo 50th anniversary model also has a sweet Bell carrying case.
Utmost Atmos
Atmos-fear
Photo: © Cyclingnews

Previewed on Cyclingnews this year during the Tour De France, Giro's newest high-end helmet is called the Atmos. With its 26-vents and Giro's Wind Tunnel ventilation channels, Atmos was well appreciated by pros in the hottest Tour ever, with the new mandatory helmet rule adding to the heat.
Featuring Giro's new reinforcement technology called Rib Cage, a system of precision carbon fibre subsections that complement the existing Roll Cage structure and polycarbonate outer microshell. Carbon fibre not only reinforces key areas of the Atmos, it reduces weight to 240g. However, do not expect to find Giro's Atmos under your Christmas tree with a Colnago C-50; the Santa Cruz, California firm advises Cyclingnews that Atmos will be available at retail in early 2004.
Bell's Metro: A Helmet for All Seasons
This goes with that
Photo: © Cyclingnews

It's not often a product breaks new ground, but with Bell's attractive new Metro helmet, expressly designed with commuters, messengers and "bicycle errand runners" in mind, the Metro is an interesting solution to the challenge of everyday bike riders head protection. A clean looking, sober in-mould design in 4 colours, Metro offers upgrade kits with winter protection, a rain shield, a flip mirror and a flashing Vistalight that can be clipped on to the back of the helmet.
Although targeted at the transportation set, the Bell Metro is also perfect for serious racers who are trying to get in that extra training in lousy, cold weather or at night and early mornings. The Bell Metro offers practical solutions to these situations. Sure, a racer may not use the Metro in the middle of the summer, but the insulated earflaps will come in handy on a cold winter's day when one is trying to get the miles in.
Photos
Images by Tim Maloney/Cyclingnews
EICMA Coverage
Photos, photos and more photos