EICMA 2003
Milan, Italy, September 16-21, 2003
Dario does it again
Nice legs, Emma
Photo: © Cyclingnews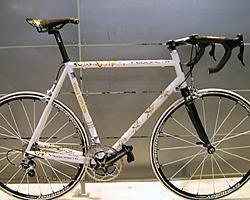 Pegoretti is perhaps the ultimate in artisan bike builder. Ultimate, as Pegoretti always has some unique twist to its bikes on show for EICMA Milano.
"This year, our new creation is called 'Big Leg Emma'; named after a song from Frank Zappa's Absolutely Free album," explained Dario Pegoretti in his stand at the Milan bike show. "I think all the emphasis on lightness these days is kind of silly, so I wanted to build a strong bike." And Big Leg Emma certainly is. Crafted from special heavy-duty custom drawn 7000 series Columbus aluminium tubing, this bike is a perfect steed for the 100kg-plus Clydesdale set.
"We built this bike with super-stiff 35mm chainstays and to stiffen the downtube, we laser-cut five slots and pressed in and welded lateral stiffeners. It's perfect for big riders and criteriums."
Pegoretti was also exhibiting an updated version of his sensational steel 'Luigino' model debuted last year at EICMA Milano. "Since some riders wanted an Aheadset design, we added this version with an extended heatube for this style headset," said Pegoretti.
Crankin'
Photo: © Cyclingnews

Ofmega off to the races
Ofmega enters the carbon crank sweepstakes with its new Mistral model.
Available in three lengths, the Mistral has a reported weight of 550grams per set, a Q-factor of 120mm and is available for Isis, ISO (Shimano) and J-Square (Campagnolo) spindles.
Cinelli's new stem
Neo Carbo is the A-1 extension from Cinelli; a marriage of 2030 T6 aluminium alloy that is machined to shape, then mated with hi modulus carbon fibre. A 110mm Neo Carbo reportedly weighs in at 140gr.
Jaja does the deal
Hey, Look!
Photo: © Cyclingnews

After his illustrious cycling career, Laurent Jalabert has become a product development consultant to his long-time bike sponsor Look.
Jaja is photographed explaining the exciting new KG486 to Italian retailers, telling them about the monobloc frame, 'Progressive Sloping Evolution' geometry and 'Double Curve' wishbone stays.
Hail Wilier
Photo: © Cyclingnews

Imperiale bike
The new Wilier Imperiale attracted plenty of attention at the show from folks who'd have been citizens of the Roman empire, had they but lived a couple of millennia earlier.
Recently ridden to victory by Francesco Casagrande of the Wilier-sponsored Lampre squad in Coppa Agostoni, the good-looking carbon fibre rig has an integrated headset, Colnago B-Stay style rear stays and straight fork, equipped with Shimano's Dura Ace 10-speed group and Mavic Ksyrium SSC wheels.
Irio's creation
Irio Tommasini is rightly regarded as one of Italy's top artisan bike builders, and his top of the line Carbolight model has Columbus Super Muscle carbon fibre frame elements throughout, with FSA's Superlight crankset, Campagnolo transmission and wheels.
FIR fears no one
The Bergamo rim and wheel firm has introduced the Ronda Carbon wheelset with carbon fibre rims for clinchers.
Photos
Images by Tim Maloney/Cyclingnews
EICMA Coverage
Photos, photos and more photos