Recently on Cyclingnews.com
Interbike 2003
Las Vegas, USA, October 10-14, 2003
Interbike 2003
Where's the bikes?
Photo: © Cyclingnews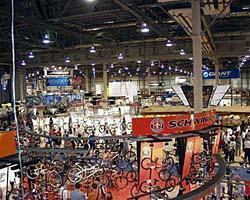 The Vegas spectacular known as Interbike 2003 has begun, with the who's-who of the cycling world either standing around in their own trade-stand, or wandering around the Sands Convention Center with 14,000 other people.
Congressman James Oberstar officially opened the 22nd annual Interbike show, cutting the ribbon out front of the Sands Convention Center's main entrance yesterday at 9:00 am. Thus began three days of schmoozing, dealing and drooling, with more than 1,000 exhibitors showing of what they believe is the ultimate "toy" for next season.
Interbike round-ups
With the show over and Cyclingnews editors back in the office, it's time to assimilate the information we were bombarded with over the three days of the show.