Interbike 2003
Las Vegas, USA, October 10-14, 2003
Interbike round-up #2: Components - more carbon, less weight
We continue our broader look at what the bike industry has in store for us in 2004 as John Stevenson and Gerard Knapp look at a few of the new components that caught our eye at Interbike.
AX-Lightness' Apollo saddle
Photo ©: Jon Devich

Deda Alanera
Photo ©: Jon Devich

Deda's aero pair
Photo ©: Jon Devich

Time's new ATAC XS
Photo ©: Jon Devich

Bontrager's Triple X Lite carbon wheels
Photo ©: Bontrager

Avid's Juicy 7
Photo ©: Avid

Avid Qwik-eez grips
Photo ©: Avid

SRAM's X0 derailleur
Photo ©: Jon Devich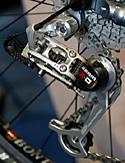 RockShox SID
Photo ©: Jon Devich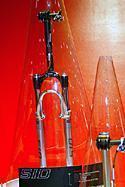 Speedplay's Drillium platform pedal
Photo ©: Robert Gilbreath
If carbon fiber construction dominated the road bike universe at Interbike this year (and therefore the road bike shop universe in 2004) the super-light, super-strong material also made its presence felt in the component arena too, though innovation also continues in more traditional materials too.
One of the show's biggest component buzzes centered on Reynolds Composites' new carbon fiber clincher wheels. Reynolds Composites' Steve Santel told Cyclingnews, "It took us years to finalize but we feel we finally have produced the first everyday carbon clincher."
Reynolds admits it's not the first to market with a carbon clincher rim, but Santel says the rims will take a higher tyre pressure than others. "The tire pressure rating is 160 pounds or 11 bar, which I believe is about 35-40 pounds more than any of the other carbon clincher manufacturers," said Santel.
With a deep section rim, the same shape as Reynolds' Stratus tubular rim, and 16F/20R spoking, the wheels weigh a claimed 1450g per pair and will set you back two thousand of your American dollars.
Want a saddle that weighs so little it's barely there? AX-Lightness' Apollo saddle weighs a claimed 69 to 83 grams. Carbon, of course.
And yet more carbon from Deda Elementi, who showed a new version of the Alanera one-piece bar and stem with an extension to mount your computer and heart rate monitor. For time trialists, Deda still has the combination of the Aeroblack bar and Clip Black extension for more tucked-position carbon than you can shake a stopwatch at.
Metals haven't entirely given up the ghost though. While it's not as widespread as you might have expected from the hype of a couple or three years back, magnesium is making inroads as both a frame a component material. At Interbike American Classic launched its Magnesium 300 wheels with, as you might guess, magnesium alloy rims. American Classic's Bill Shook claims these are the lightest clincher rims available, at 300g each, and they will only be available as complete wheels with a 28 hole American Classic micro hub up front and a 32 hole American Classic ultralight cassette rear hub in Shimano or Campagnolo-compatible versions.
After years of saying it was unnecessary, Time has done an about-face and introduced tension adjustment in the new incarnation of its ATAC mountain bike pedals, the ATAC XS. The three-position adjustment determines the pedal's resistance to rotational movement within the five degree of float it provides. The basic design, of big engagement bars with plenty of clearance for mud, is unchanged. There are three versions: a titanium axle/carbon body/aluminium spring axle at 268g (claimed); steel/carbon/aluminium at 322g and steel/composite/steel at 334g.
Bontrager is also aboard the carbon fiber wheels train, with the Triple X Lite tubular wheels used by Roberto Heras in the Vuelta this year. Claimed weight is 495/690g front rear. Also in carbon in Bontrager's Triple X Lite cross-country mountain bike handlebar. With a claimed weight of 135g and 600mm end-to-end it's not 'ludicrous-light' and the extra width will be appreciated by riders who've got used to the extra space of a riser bar.
Still with the carbon thing, and Easton launched its EC90 SLX road fork. All-carbon, of course, the EC90 SLX is claimed to weigh a feathery 300 grams. Easton also debuted the carbon EC90 Attack aerobar with its own brake levers and mounts for Shimano bar-end shifters.
The highlights of Avid's component line continue to be the Juicy Seven hydraulic brake announced in late 2002 and the Ball Bearing Disc that's widely considered to be the best cable disc available. As well as new incarnations of the popular Speed Dial levers for V-brakes, Avid has introduced a bolt-on grip, the Qwik-eez, with a nifty steel band clamp. With Odi and Oury also offering bolt-on grips we might yet see glue, hairspray, compressed air, cold tea and other grip-mounting bodges finally consigned to history's dustbin.
In a year that's seen two-and-a-half complete new road and MTB groups from Shimano, you'd hope for something big from SRAM. SRAM's introductions for 2004 are more evolutionary than revolutionary this year with two new derailleurs, X.9 and X.7,and new trigger shifters to complement them. Similar is design to the X.0 derailleur introduced last year, the two new derailleurs use SRAM's 1:1 actuation ratio and therefore only work with SRAM's twist shifters and triggers.
For weight freaks SRAM also introduced two hollow-pin chains, the PC-99 for mountain bikes and PC-89R for road.
The biggest noise at SRAM's recently-acquired fork company Rock Shox, is the return of the Judy name for a recreational fork featuring Rock Shox' U-Turn travel-adjustment feature, and a U-Turn rear shock. The Judy SL U-Turn has 70 to 115mm of travel and is accompanied by the Judy TT and Judy XC. In the back, the new U-Turn rear shock provides half an inch of stroke adjustment by means of a collar on the outside of the shock body.
Wheel specialist Mavic has a swag of new stuff including lightened Ksyrium wheels, the Ksyrium SSC SLs at claimed weights of 660/840g front/rear (less 10g each for tubular versions); there's also a Centenary Tour de France version with titanium skewers that saves another 20g/pair. The Ksyrium line also adds the Equipe with steel spokes. In the dirt, Mavic has introduced new versions of the Crossland and Crossmax wheels, and two new cross-country racing rims, the XC 717 and XC 717 Disc. Unlike just about every other pairing of a rim and its disc-only equivalent, the XC 717 Disc is actually lighter than the XC 717. This is as it should be - a disc-only rim can save metal by cutting out the brake track and by thinning the sidewalls because there's no need to allow for brake track wear.
One intriguing new feature of many Mavic rims is H2. In Mavic's words, this is "Local strengthening of the rim, in the area where the spokes exert the greatest force. This improves life expectancy and the resistance to micro cracking." That's not quite an admission that Mavic's rims have had problems in recent years with cracks round the eyelets, but it's close.
Last but not least from Mavic is one of those ideas that makes you slap your forehead and say 'Why didn't I think of that?" Mavic's new Wintech wireless computer has its sensor/transmitter mounted in the handle of a special quick release lever. Nifty.
As well as lots of sweet new bikes, Specialized's big thing for 2004 is the shock-reducing properties of its latest Body Geometry components and clothing. Comprising saddles, shoes, gloves, MTB grips and road bar take, the Body Geometry range is claimed to offer substantial improvements in comfort that translate to measurable performance benefits. Specifics include a longer groove in Body Geometry 2 saddles for better blood flow, shaped footbeds in BG shoes, Bar Phat cushioning for road handlebars and shaped grips for mountain bikes.
Pedal maker Speedplay had no new clipless designs at Interbike, but did give dealers a chance to pore over Speedplay head honch Richard Bryne's pedal museum, and launched the Drillium platform pedal for mountain bike and BMX use. We'll spare you all the silly 'holy pedals, batman' gags that have been going round the office... Speedplay personnel were also spotted deep in conversation with a certain very prominent Italian rider who is rumoured to be keen to use the company's clipless pedals in 2004.