Recently on Cyclingnews.com
14th Japan International Cycle Show
Tokyo, Japan, October 31 - November, 2003
Sozo ijo no mono deshta
By Miwako Sasaki, Cycle Sports Japan
Over 130,000 people visited the Japan International Cycle Show held in Tokyo.
Photo ©: Miwako Sasaki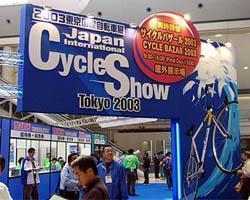 The 14th Japan International Cycle Show was held from October 31 to November 2 in the Tokyo Big Sight centre. Two hundred and fifty two companies from nineteen Nations gathered there to look at the latest products as well as events such as the Dual Trial Grand Prix, or the pro rider's talk show. 130,000 people came for the Show in 2002, and the same number walked through the doors this year. 10,000 people tried new model bikes on the "try to ride outside" space where they could ride over 100 new bicycles.
There was a special location called "Japan Products" in the Entrance Hall, where Japanese companies could introduce their products. The new Dura-Ace range was shown in the Shimano booth, and five times Tour de France winner Lance Armstrong's bike was also there. This always attracted a huge crowd. Japanese Toy maker "Takara" announced a new electric power assisted bicycle, the "B Plus". This motorbike-looking bicycle is priced at 160,000 yen.
Amory Sports Organization, the organizer of the Tour de France, has set up a Japanese bureau in Tokyo, support by the Festina Watch Japan. The ASO also plans to start translating the official Tour web-site into Japanese, a boost to Japanese fans with no English or French language skills.
The Italians and Yoshizo Shimano
Photo ©: Miwako Sasaki

The Italian Trade Commission (ICE) and Italian Association of Bicycle and Motorcycle Industry Manufactures (ANCMA) had a presentation for the "Made in Italy Campaign", that introduced the Italian bicycle industry to the attending Japanese. ANCMA's vice-president Valentino Campagnolo explained how Italian bicycles, components, accessories and clothes are of an exceptionally high quality, and how the Italians have a great love and passion for the bicycle. He also said that Italian bicycle manufacturers have a long history and connection with professional cycling, with their bicycles "growing up" in the peloton with great champions like Coppi, Bartali, Gimondi, Moser, Saronni, Bugno, and Cipollini. Campagnolo said that they want to share this experience with many Japanese cyclists; Italy was the fourth highest import country for Japan in 2002, with China 1st, Taiwan 2nd and the USA 3rd, and Italy had a 1.8 percent share of the Japanese market. For this campaign, seven Italian companies had booths in the Cycle Show.
Photos
Tour de France organizer ASO set up a Japanese bureau in Tokyo.
Photo ©: Miwako Sasaki

Technique Sports showed a Manga design ("Bushido") on their frame for the Japanese Show.
Photo ©: Miwako Sasaki

Italian Trade Commission and ANCMA had a presentation of their Made in Italy campaign.
Photo ©: Miwako Sasaki

Japanese products were introduced in the special "Japan Products" spot.
Photo ©: Miwako Sasaki

Bicycle maker Miyata has a Japanese road team, and the team's director and riders talked about their races on the Miyata booth.
Photo ©: Miwako Sasaki

Five times Tour winner Lance Armstrong's bike also was on display in the Shimano booth.
Photo ©: Miwako Sasaki

Many people came to the Shimano booth to look at the new Dura-Ace group.
Photo ©: Miwako Sasaki

Japanese toy maker Takara announced new electric power assisted bicycle, the B Plus.
Photo ©: Miwako Sasaki

Takara's B Plus is designed to look like a motorbike.
Photo ©: Miwako Sasaki