Bicycling Australia Show 2003
Sydney, Australia, September 5-7, 2003
Bikes down under
By Paul Mirtschin
2003 saw the Bicycling Australia show return to Sydney's Rosehill Racecourse, a location normally associated with four legs, not two wheels. Over 100 companies were present, showing off the latest and greatest in bicycle technology from over 300 brands, as well as a few samples of things that are best left alone.
LA's Daddy Yo-Yo
Photo: © Cyclingnews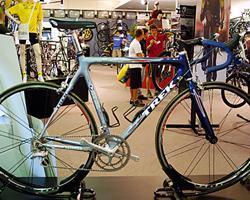 Although a number of big names were missing, there was still plenty to poke, prod, ride and drool over, including a number of European brands not normally seen on these shores. De Rosa, Pinnarello and Cervelo all had a large range of 2004 models on display, and all had a steady flow of potential customers wondering just how they could find the money to put one of the bikes under them.
Both Shimano and Campagnolo had 2004 groups on display, causing spontaneous arguments between punters over which group really is the best, the best looking, and most likely to end up on their bike "if only I could find the money".
For those who needed a break from the bikes on display, the organisers had plenty else to do. The Mongoose MTB Trials team put on a number of displays, showing that speed isn't everything, and a lack of fear gets you everywhere. MacNeil bikes managed to drag two of their Canadian pro riders, Jay Miron and Dave Freimuth, out for the show, letting them try to out-jump, out-trick and out-ride the Aussie riders present.
Next year's show heads to Melbourne's Royal Exhibition Building from September 3-5.
Big winner at Bicycling Australia show
By John Stevenson
Prize winner Carl Drieman (right)
Photo ©:Tom Balks/Bicycling Australia

Prize draws at races and bike shows are often a bit anti-climactic as busy punters have often gone home by the time someone puts their hand into the box and pulls out the winner's ticket. So you could have knocked down with the proverbial feather all involved at the Bicycling Australia show last weekend when door prize winner Carl Drieman was still around to collect his Trek Fuel 80 mountain bike.
Carl was more than a little stunned to win the AU$3,000 bike, and his state of excitement wasn't alleviated by the announcer (who was, er, me) being unable to read his name clearly from his entry form. A quick check of his address to confirm his bona fides and Carl cheerfully accepted the prize from Trek Australia's Tony Cook and Bicycling Australia's Phil Latz.
The show also featured a BMX display, trials demo and roller-racing contests.
Photos
By Tom Balks/Bicycling Australia
Images by Paul Mirtschin/Cyclingnews