Eurobike 2003
Friedrichshafen, Germany, August 28-31, 2003
Colnago
By Tim Maloney at Eurobike
No puns about how many we see
Photo: © Cyclingnews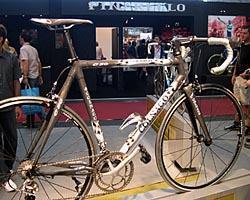 Colnago's long awaited C-50 was officially unveiled at Eurobike and The Great Ernesto's latest is something special. Captured here in the grey and silver PR4 colour, The Wizard Of Cambiago has updated his top of the line carbon fibre model.
Created in a new, lighter high-modulus carbon fibre, the C-50 has an 1.125 inch headtube and headset, plus a revised, lighter Star fork; however the bike does not come with an integrated headset. Colnago's Isia Spinelli told Cyclingnews, "Ernesto wanted to update the C-40 and he started by revising the enlarging the tubes and took the original HP chain stays and by adopting the original shape of the Colnago Master, as well as making the High Power stays more rounded, with a softer shape."
Campy or Shimano
Photo: © Cyclingnews

Colnago C-50 Dura Ace: Another look at Ernesto's new capolavoro, this time it is the Dura Ace 10 speed version. Note the Colnago wheels and Cinelli Ram carbon fibre integrated bars and stem.
One major change that Colnago has implemented on the C-50 is the addition of a 1 1/8" head tube and a special new Colnago headset, but Ernesto still resists going the integrated headset route. Colnago has also rounded and softened the look of his proprietary High Power stays, which claim to enhance power transfer and soften the ride.
Also updated for 2004, the Colnago Dream B-Stay HP now features a 1.125-inch headset and larger tubes to compliment the headset diameter increase, including a 35mm seat-tube. Dream's Force fork has also been upgraded with a lighter, stronger carbon fibre for 2004. This model features Campagnolo's '04 10 speed Chorus group and speedy Vento wheels.
With such a high demand for his bikes, Ernesto Colnago has decided to replace a number of his mid and entry-level models like Mix, Active and Rapid. Pictured is the Active Veloce model, with carbon fibre fork and rear seat stays and the famous Colnago geometry.
Photos
Images by Tim Maloney/Cyclingnews