Eurobike 2003
Friedrichshafen, Germany, August 28-31, 2003
Specialized, Mavic and Pinarello
By Tim Maloney at Eurobike
Specialized
Superlight
Photo: © Cyclingnews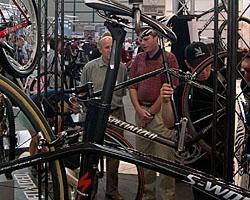 Swoopy Sweet and Light: As covered by Cyclingnews at the Specialized 2004-product presentation in July, the cool new Tarmac Road bike weighs in a 6.86kg for the 54cm complete bike, according to this non-certified scale. Specialized's Tarmac Road mates monocoque carbon up top with Specialized's double butted Columbus E-5 aluminium frame to create a special approach to high-end road bikes from the Morgan Hill, CA. firm. Trivia question: who is the guy with the striped shirt in the background?
All new for 2004, Specialized's Pro Road Carbon shoe features a new M-Lock buckle and two strap closure, mounted on a stiff carbon fibre sole.
Mavic
Win-Tech wireless
Photo: © Mavic
Mavic introduced their new Win-Tech wireless digital computer, chock full with 9 functions (Current, max and avg. speed, Clock and Ride time, Trip distance and total accumulated distance, Trend indicator (+/- vs. average speed), Sleep mode) with a reported weight of 54g with support. Mavic has come up with a cool way to solve that pesky problem of speed sensors via their E-Skewer, a composite wheel skewer with speed sensor built-in. Yes, you still have to use a wheel magnet, but there is no bulky extras dangling below. And the Win-Tech wireless digital computer also offers an optional wireless pedalling cadence sensor.
For those who love to pamper their bikes, Mavic has a new Soft Stone, a pumice stone that eliminates soft stone deposits that stick to rim sidewalls and enhance braking performance. Soft Stone cleans the rim sidewalls with UB Control, Ceramic or other finishes.
Pinarello
Pedigree Dogma
Photo: © Cyclingnews

Pinarello's Dogma is certainly one of the most unique high-end road bikes on planet Earth. The exclusively crafted double butted magnesium tubing is equipped with Onda fork and rear seat stays. Ivan Basso rode his Fassa Bortolo Pinarello Dogma to 7th place in this year's Tour de France. Equipped here with Pinarello's Full Carbon Compact crank set and Dogma Full Carbon handlebars, the Treviso, Italy firm continues their long tradition of Made In Italy innovation.
Pinarello Galileo: This mid-range model has been upgraded for 2004 with carbon fibre seat-stays, 1 1/8' integrated head set and Meta carbon fork, new Pinarello Duel wheels and Compact aluminium crankset. The Lens tubing has a unique cross-section for additional stiffness.
Photos
Images by Tim Maloney/Cyclingnews