Recently on Cyclingnews.com
Mr. Congeniality: The Geoff Kabush diary 2009
Geoff Kabush (Team Maxxis - Rocky Mountain)
Photo ©: Geoff Kabush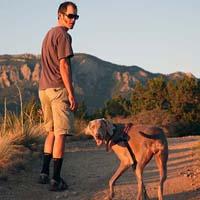 A born and bred Canadian, Geoff Kabush, is known for racing his bike fast and having fun. He races mountain bikes, cyclo-cross, sometimes road and is flying the Team Maxxis-Rocky Mountain banner in 2009. After playing every sport in high school, Kabush decided to take racing seriously after attending his first Mountain Bike World Championship as a junior in 1995. Attending the University of Victoria and studying engineering he slowly moved through the ranks until a breakthrough in 2000 saw him representing Canada at the Sydney Olympics. After consistently being on the podium for several years, it wasn't until 2004 and a switch to Team Maxxis that the wins started piling up.
Kabush is currently tied with Ned Overend with four US national cross country series wins, and as of winning the first race of the year, is tied with John Tomac for most cross country wins ever with 14. Last year saw him podium on three continents and finish fourth overall in the World Cup. Kabush plans to keep racing until the fun stops.
When not riding his bike, Kabush enjoys hanging with wife Keri and the animals, espresso nerding, consuming good food, Belgian beer, specialty cheeses and fresh bread, relaxing, watching hockey, skiing, listening to music, learning and reading.
Latest entry: June 5: Reflections on the spring campaign
2009 diary entries
2008 diary entries
2007 diary entries
2006 diary entries
2005 diary entries
2004 diary entries
Profile and interview