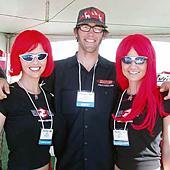 Photo: © Kristy Scrymgeour
Mr. Congeniality: The Geoff Kabush diary 2005
Popular Canadian mountain bike racer had his best ever season in 2004, winning the NORBA final and overall series. For 2005, Geoff will once again be bringing us his unique slant on the racing scene in his diary as he campaigns the NORBA circuit for Team Maxxis. He'll also be riding on the road this year with Jittery Joe's-Kalahari.
Worlds and a tour of northern Italy
Geoff and his fiancee
Photo ©: Geoff Kabush & friends
The 2005 World Championships is in the book and for me and that means that the season is pretty much done; at least the MTB part. 2005 has been a dandy year and it finished off well, or satisfactory at least. It was a quick trip over for Team Maxxis from Mt Snow to Livigno, but definitely not trouble free. It started with me grinding my teeth as I watched our bikes in a cardboard box sit out on the Boston runway for a 15 minute thundershower; fortunately they finally got put on; unfortunately that was the last we would see of them for four days.
That meant that I would be skipping the team relay, which was a little frustrating, as well as training for the week until the bikes showed up on Friday. We were right next to the venue so the hardest part of the week was listening to the announcers out our window; I think I heard the Flow Show's Dangerous Dan say "podium of decision" a few too many times. We did humour ourselves though with some of the English translations we saw on the menus like octupussy, chesse, tunny, whysky; as well as the official phrase for 2005 Livigno which wasn't quite right - "All can be a road".
And so the XC finally came around - at the big races they make you just sit on the line after call up; something stupid like 12 minutes before the start. I was about the only one that hopped the fence and rode a trainer to the last minute and I think it paid off. As everyone struggled with dead legs I went round the outside and cruised through the start loop on the front. All was going to game plan as I settled in on the first climb and coasted backwards; and let me tell you there were some good climbs on this course. Maybe too many climbs going straight up and not enough corners and bumpy stuff for my liking. I felt decent though and finally came around in the low 20's and made it back up close to the top ten before a slow leak left me in 14th at the end. It was okay, but I was hoping for something a little more special. I have time and better Worlds courses on the horizon, I suppose. The village was pretty dead but we finally found Rowney and the party; T-Lowe was out for his last MTB party before going to the dark side. I of course had to dress up and show the Euros some good Canadian fashion; it was one last Deaner appearance before retirement.
Trent Lowe's last MTB party
Photo ©: Geoff Kabush & friends

The end of the year is always a little anticlimatic and sometimes a little sad. I finally got on my bike after 10 days off and it felt good after all the walking I've been doing. It's been walk, pastry shop, walk, panini shop, walk, pictures, walk, wine and cheese and so on. My post season training has involved a little tour around Northern Italy...Lake Como, Milan, Tuscany, Elba. It has been pretty good except for a pesky thief who smashed our rental car window in Milan. Not so wicked filing a police report, changing cars, etc....and losing a bunch of cool stuff. The thief will probably be kind of upset to discover a bunch of really sweet custom Sugoi cycling clothing; a bunch of custom Smith shades; my SpiroTiger breathing device; and the mullet wig. So if you seen some punk riding around in Italy in a K-bomb skinsuit with some Pink glasses and a mullet on take him into the ditch for me.
Before I left for Worlds I did manage to get a last minute shipment from Dubba in Boulder before hopping on the plane; our new Dopers Suck sweat bands. I got the first samples and we should be making them available soon; you might be able to catch a photo from Worlds with them on my arms. The battle that we are trying to fight hit painfully close to home last week with the news about Shep. I am sorting out a lot of emotions but it has renewed my motivation to let people know you don't have to make this decision; just have enough respect for your sport and yourself and anything is possible.
I just made it back to ABQ for a week...then Interbike...and then a little cyclocross probably if I can get a bike together. Thanks to everyone for their support this year and I will keep you posted.
Arrivederci,
gk
Photography
For a thumbnail gallery of these images, click here
Images by Geoff Kabush & friends
World championships XC results