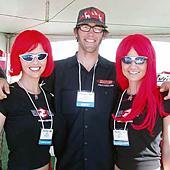 Photo: © Kristy Scrymgeour
Mr. Congeniality: The Geoff Kabush diary 2005
Popular Canadian mountain bike racer had his best ever season in 2004, winning the NORBA final and overall series. For 2005, Geoff will once again be bringing us his unique slant on the racing scene in his diary as he campaigns the NORBA circuit for Team Maxxis. He'll also be riding on the road this year with Jittery Joe's-Kalahari.
Bring on the final
Iím number one'
Photo ©: Steve Medcroft

It has been a good month since I last wrote; weekend off...NORBA Utah...weekend off...NORBA West Virginia. One of the nice things was with a weekend off I got to make it back up to Canada and enjoy some fine summer weather and downtown living at my new condo in Victoria; Hotel Kabush has officially closed. Managed to spend the whole week without making a grocery shop; overheated my van trying to make it to Mr Schum's bachelor party; enjoyed the wedding; got my van back home barely; had a good time showing Pink around Vic with too much to do and too little time; and then I was off for another couple of months of racing.
Vegas was the first stop, being the closest airport to Brian Head Utah and NORBA #6; closest being about three hours and several thousand feet with the base being at 9000ft and the XC course going up to 11,000ft; good fun. XC wasn't so good with a slashed sidewall and a limp home for 9th place; this left JHK back in front for the series after a strong victory. At least the weather held out as the day before the "Team Giant 4 Fun" boys got stuck in a freezing hail storm preride and were rumoured to have struggled to make it back to their condo with gloves smelling like piss. Adam didn't seem to feel the effects and after a strong XC ride he was on the attack in the STXC. After Neethling took the first lap prime for the downhillers and just about took out Wells, the action was fast and furious. I managed to bridge to Adam and timed my attack well to take the win and a stranglehold on the STXC series.
Patience...
Photo ©: Steve Medcroft

A week off at home in Albuquerque meant some good time for training as things focus in on the end of the season and my big goals for the year.
Soon enough I was back on the road heading for another NORBA in West Virginia. I had been watching the weather all month and there'd been an unusually low amount of rain so I was hoping for some possibly dry trails. It was West Virginia of course, so as soon as the team trailers pulled in it started to rain and by the time Toulouse and I showed up it was peanut butter parfait.
Races in nasty conditions aren't that fun, but it's a good time to be riding for Maxxis as I always know I have the right tyres. I won the XC last year by riding a patient race on the very physical course; it was interesting at the bottom of the first descent as there was a group of five well clear of everyone and we were all on dualies....Adam, Wicks, Wells, Jeremiah, and myself. JHK didn't make it that far as he took a pretty serious tumble five minutes in and had to withdraw. Jeremiah was the most aggresive, being the local hero, and I kept him in sight as we seperated from the group. I was feeling good and saving my bullets for the last climb, but I didn't need them as Jeremiah's aggresion didn't pay off when he flatted last lap, leaving me to cruise in for the victory. With JHK not finishing I'm back in control of the series, but it's far from over - the finals next week have to count for the overall.
JHK and Kabush
Photo ©: Steve Medcroft

STXC was a tactical affair with a very long pavement climb. It made it impossible not to choose my hardtail; it's only the second time I've raced it since the Sea Otter Super Moto. A group of five separated at the end, and Team Haro got the tactics right as Seamus countered a strong move by Chris with two laps to go and squeaked out enough of a gap to take the win. JHK was feeling good enough to race STXC and I just managed to come around him in the sprint for second.
Toulouse and I are hanging out here in WV trying to maintain some kind of altitude acclimatisation for Worlds, which is up at 6000ft. If we don't get cabin fever, or go cottage crazy as my French brother-in-law calls it, I will hopefully write with good news after the NORBA finals next week in Vermont.
Chowder,
gk