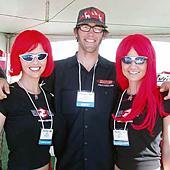 Photo: © Kristy Scrymgeour
Mr. Congeniality: The Geoff Kabush diary 2005
Popular Canadian mountain bike racer had his best ever season in 2004, winning the NORBA final and overall series. For 2005, Geoff will once again be bringing us his unique slant on the racing scene in his diary as he campaigns the NORBA circuit for Team Maxxis. He'll also be riding on the road this year with Jittery Joe's-Kalahari.
Tour of Georgia, April 19-24
Back on the road again…
Well Sea Otter was a pretty crazy week, but it didn't end there for me; after winning that thing, going to antidoping, jumping up on the podium and a bitter-sweet goodbye to my beautiful new fiancee I had to jump on the red-eye out to Georgia. I was heading for the deep end of skinny bar racing.
Geoff Kabush (Jittery Joe's-Kalahari)
Photo ©: Bill Parsons

I haven't done a big road race since the Tour of Langkawi about three years ago, so it was going to be interesting to say the least. Jittery Joes-Kalahari decided to let me jump right in and see what happened.
Quote of day one was at the presentation by TJ [Tim Johnson]; as we rolled by a highly secured and hyped Lance Romance with the rest of the Discovery boys standing aside..."Hey, look it's Tom Danielson". This proved to be a little prophetic for the week.
Race day one was a nice leisurely coast…pedal, coast…brake, talk and then go hard at the end after six hours or so; kind of how some mountain bikers stereotype and make fun of road racing. The hard bit at the end suited me fine and I had a bit of fun mixing it up to finish 12th in the group.
Stage two was another long one; thought Tafi was going to get the spoils after a long break but it ramped up for another hard finish. After a bit of drifting, watching Brooksy fly off course into the bushes, I got up again for 11th in the bunch.
Stage three was when it started to get serious, the TT. I was thinking I wished I had brought my ice vest to keep cool until the weather started to change; the clouds got dark and it started to p*** just in time for our racing. I suffered away in the aero bars for the first time since the '97 Canada Games; limbs went numb, kept her up in the super speed sketchy descent and finished inside the top 30. T-Lowe had a great ride to grab the U23 jersey which defined our team goals for the rest of the week. Landis threw down and schooled everyone else for the lead.
Stage four hurt just looking at the profile; 215km, five mountains, a fast start, and that was before the weather rolled in. It was crazy ass, ass crazy rain and even hail for about 30 minutes; so thick we could barely see. Then it just eased off to a steady drizzle. I suffered just missing the first group, got the hurt put to me by "toothpicks" Perras and "squat" Lange as we tried to make it before settling into the second group for the finish.
Stage five is the one everyone was talking about; Brasstown Bald. It was snowing when we rode it in February and it was just our luck it was snowing again on top. I missed the first group but T-Lowe was riding above everyone's expectations and killed it with the big boys to keep the U23 jersey. I was going cross-eyed but I can remember the incredible amount of people on the mountain yelling at me; I can only guess it was a bit of a taste what it must be like in Europe. I definitely had one of the biggest mega-fan posters as Wyatt at Maxxis put up a supersized 20ft motorcycle hussy poster telling me to "Get Some". Thanks to all who made the ride up a bit easier. Tommy D made a grumpy Bruyneel happy by getting the lead back for the Discovery crew.
Stage six should of been a formality but the guys at Discovery decided to show everyone how big their balls were and rode tempo for 200km in the wind. I don't know why we did 200km on the last time but it was the longest 200km ride I have ever done. I was in a body bag by the end and just wanted to curl up and go to sleep.
T-Lowe kept the jersey which was huge for our little Jittery Joes-Kalahari squad and the chocolate fondue tasted really good at the final banquet. After watching Tufty put his Ultimate Fighting skills to work on Jonny Sundt I passed out after a few cough attacks from the long week. Probably did about as many racing hours in the Tour as I will the rest of the year on the MTB.
Time for me to take a month off. I can't believe some of the guys are heading over to Europe to start another stage race in a couple of days. See you next after the Tour of Connecticut, USPro week and then mtbing will start up again in June for me.
Chowder,
gk