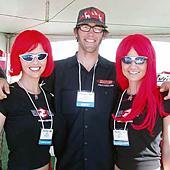 Photo: © Kristy Scrymgeour
Mr. Congeniality: The Geoff Kabush diary 2005
Popular Canadian mountain bike racer had his best ever season in 2004, winning the NORBA final and overall series. For 2005, Geoff will once again be bringing us his unique slant on the racing scene in his diary as he campaigns the NORBA circuit for Team Maxxis. He'll also be riding on the road this year with Jittery Joe's-Kalahari.
Wachovia Cycling Series, May 31-June 5, 2005
Getting smashed in Philly
Geoff Kabush (Jittery Joe's-Kalahari)
Photo ©: Russ and Nancy Wright

I haven't written ones of these race reports for a while; reason being I haven't really been racing. After Tour of Georgia I was a bit pooched. I took a pass on the spring European MTB World Cup racing in favour of staying home; selling my house by owner, purging myself of most of my belongings; trying to move most of the remainder into a condo and then taking as much as I could down to Albuquerque to my new command central with Ms Pink.
I also fit in a bit of roadie stuff at Tour of Connecticut; a few fun stages there. Especially freezing cold and wet in my thermal vest for five and a half hours on the third stage; even had to break out my waterproof socks and went solo for 15 miles or so just trying to warm up. Think I helped set it up for McCormack and Wells, who went 1-2, as the Navigators were shredded in the final circuits and left it up to race leader Vassi to chase by himself. Almost got a nice polka dot jersey in the KOM competition but finished a close but no cigar second.
Went to Chicago for a week to meet and greet with the future inlaws before hooking back up with the Bean Team for USPRO week. Got to see my first baseball game at Wrigley field; had a good Memorial weekend BBQ; and did this ride called Bike The Drive on the downtown Chicago waterfront; 15,000 people, everything including raging tri geeks and first timers to families with trailers. Way sketchier than any road race this year; people were crossing up and going down everywhere. No one in the family crashed but it was amusing when I had to give Mr Pink a tow home after one the cranks fell off the bike known as the "Piece"...I also appreciated my cycling shorts after doing the ride in regular threads.
My final stint on the road this year was the three races known as Lancaster, Trenton, and the big one Philadelphia. Lancaster is hard as balls for three and a half hours and I blew my legs out just finishing it in the caravan. Trenton is for sprinters and fast as balls for only three hours. It was definitely a good workout even if the lap counter screwed up their one job and cut our race short.
Geoff Kabush (Jittery Joes/Kalahari)
Photo ©: Jon Devich

Philadelphia was one of the big reasons I signed up with Jittery Joes-Kalahari; it is a very celebrated classic with big distance (156miles), big spectators (500,000), big money ($142,000), and big riders with a lot on the line; the US Champion's jersey being up for grabs. It was a bit of a weird one this year as the early break was more of a split, with 54 riders going up the road. Our whole team missed the boat and the rest of the guys did a very admirable job of stepping up and chasing all day; other teams eventually joined in but the race was up the road. We came close the last time up the legendary Mayanunk Wall but even the spectators beer breath wasn't going to get me across to the front group that was shredding to bits. I rode around the last 10 miles a little frustrated and just about to pass out after six hours in the stifling heavy heat which hit up around 90 degrees.
So that is it for now with the road for this year; I got quite a good taste and you might see me hit it up a little bit again next year. For now I need to focus back on my day job with Team Maxxis and my MTB; I have a pretty full menu coming up starting with Canadian Nationals in Mt. Stan next weekend. I am on my way there right now after spending an extra night in the "Vacation Capital of the Future"...New Jersey. Had a sweet day hanging out at the Philadelphia airport after every flight got cancelled due to the weather; all hotels were completely booked in Phili so luckily I got to share the last room, the honeymoon suite, back over at our team hotel in New Jersey with team manager Micah.
Over and out,
gk
Results - Lanaster
Results - Trenton
Results - USPRO