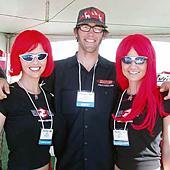 Photo: © Kristy Scrymgeour
Mr. Congeniality: The Geoff Kabush diary 2005
Popular Canadian mountain bike racer had his best ever season in 2004, winning the NORBA final and overall series. For 2005, Geoff will once again be bringing us his unique slant on the racing scene in his diary as he campaigns the NORBA circuit for Team Maxxis. He'll also be riding on the road this year with Jittery Joe's-Kalahari.
NORBA National series #2 - E1
March '05…a good vintage
Geoff Kabush (Maxxis)
Photo ©: Ryan Atkinson

After the first NORBA in Tapatio Springs, Team Maxxis rolled through Austin and on to Waco to spend the week training and getting in some good racing before NORBA #2. The weather turned for the better and I finally got in my first training ride - just shorts and a jersey; the whole week was beautiful and I was surprised more people didn't make the stop-over to race, as the trails are super fun in Waco and there were good UCI points and money on the line.
Not many people showed up, but the racing wasn't easy, with the Fisher boys, Toulouse, and motivated hometown hero Sager keeping the pace pinned. Saturday was a UCI E1 event and I followed JHK and Sager around the twisting singletrack for the first hour before slipping away to grab the money and points and get back on my early season winning streak.
Sunday was another Texas Cup race so we thought we might as well race again and get in some more good mountain bike training. The story line played to a pretty similar tune except that Sager and JHK seemed to be pushing the pace even harder early on; I was hoping we were going to take it a bit easier for the first lap or so. It seemed like those guys were going faster on day two; maybe it was because Sager was trying out my super speed dual Oriflamme tyre set-up. I waited to make my move until the last lap - it was almost foiled when everyone just about ran into a copperhead snake on the middle of the trail, but I got in front on the last singletrack section and squeezed out the win by a few seconds. Thanks to Ian in Waco for the good racing; it was a good weekend and it was nice to get rewarded with some kizzash.
Geoff Kabush
Photo ©: Jon Devich

I took a quick trip to Albuquerque to see Ms Pink after Waco, and I looked out the window as we landed to see a bunch of bloody snow; it seems to be following me. I thought my trainer riding was over but I settled in for a session or two; luckily Pink has high speed internet so I watched UK Cross Nats, K-B-K, and the Tour of Qatar; not a bad way to pass a few hours of boredom.
On to NORBA #2 in Scottsdale, and I was looking to erase the memory of losing the first one in the dying seconds. It seemed like Scottsdale was bummer hummer central - I think I saw five of the stupid things in one block. I was ready for temperatures of 98deg, but a cool front had hit town and I barely got a chance to use my ice vest the whole weekend. I was also looking to erase the memories of my last place finish in the desert last year - up first was the 8.2 mile Time Trial. The early races this year are nice because the focus seems to be more on singletrack and skills and less on fitness; I seem to have both working pretty well right now and managed to ride a smooth TT, avoid the cacti and flats, and took the win by a fairly healthy margin, setting myself up well for the rest of the weekend.
The days were pretty painful as we had really really late start times of 4:45pm, 3:30pm, and 3:45pm. Part of racing involves getting pretty good at doing nothing, but there is a lot of nothing to do when you're waiting until that late to race; I usually felt like I was ready to go take a nap by race time. I got so bored Saturday morning I actually finished entering all my tax receipts for 2004 into my computer.
Geoff Kabush and Jeremy Horgan-Kobelski
Photo ©: Jon Devich

The STXC was a speedy affair with my Cateye computer reading 31.7km/hr avg at the finish which is pretty darn fast for a MTB race. The race came down to who could stay in front and avoid the crashes on the flat track pea gravel corners. There was also the one sharp rock where several victims, including Adam Craig, who was sitting second overall, got a flat. I still had a bit of go with three laps left so I gave her a bit of gas and went solo; mainly trying to stay out of trouble. I managed to make the move stick and had enough time to cross the finish line and turn around to see Wells lead the charge across the line behind me.
Well now I was two for two - could I close the deal this time and complete the sweep? Luckily I was in a good position tactically and didn't need to drive the bus in the XC race. There wasn't anything too selective on the course except a small climb up the ridge; besides the ridge you had to try to avoid someone wrecking into a cactus and gapping you off the group. Adam who seems to like "pink" as much as I do was looking pretty along Decker sporting the euro trash pink jerseys. Unfortunately he wasn't in such a good tactical position after losing time in the STXC so he had to try to make the race hard and did a good job; he also set it up perfectly for me when I went on the attack the fourth time up the ridge. I got a gap and made it stick as everyone hit terminal velocity chasing through the singletrack and couldn't really make up much time. The Specialized boys came out from the group and tried to close the gap but I managed to salute the crowd with about half a minute gap as Liam led in the group finish for the podium spots.
So March has been a pretty good month for me. Something seems to be working - maybe it was the fall while cross racing, maybe it was training in Albuquerque with Ms Pink, maybe it was my new breathing machine, or maybe it has just been the Dopers Suck coffee I have been drinking. I hope I can keep things rolling for the Sea Donkey which is up next for me in mid-April. Stage one is on my birthday so I hope everyone takes it easy on me.
Chowder,
GK