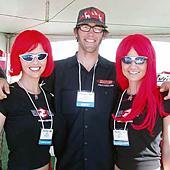 Photo: © Kristy Scrymgeour
Mr. Congeniality: The Geoff Kabush diary 2005
Popular Canadian mountain bike racer had his best ever season in 2004, winning the NORBA final and overall series. For 2005, Geoff will once again be bringing us his unique slant on the racing scene in his diary as he campaigns the NORBA circuit for Team Maxxis. He'll also be riding on the road this year with Jittery Joe's-Kalahari.
The racing's getting hotter
The season is starting to heat up as the NORBA series rolled back into action for Round #3 in Deer Valley, UT last weekend, and continued with my much anticipated first World Cup action in Mt. Stan, Quebec this weekend; I took a pass on the Europa WC rounds in favour of some curly bar racing and so this will be my first World Cup event for '05.
Geoff Kabush (Maxxis)
Photo ©: Marek Lazarski

Ever heard of an uphill bobsled track MTB time trial? Well this was the first event of another NORBA XC stage race. I am not that psyched on mtb events where they need a rule that says you have to race a mtb and leads to people wasting copious amounts of time making freak show mtb bikes for less than four minutes of racing. Toulouse and I didn't waste any energy and just rode our dualies with street slicks, and one easy mod; we let the air out of our forks for better climbing on the steep track. It still frigging hurt like hell and everyone felt like they were creeping; JHK came back from an ugly crash at Sea Otter to take the win creeping a bit faster than everybody else; I placed second, slower by about five seconds. Back to a normal XC course on day two which was fun and fast. Couldn't quite hold on the climbs and dangled at my own pace to finish about a minute down in fourth; Kashi Leuchs was pinch hitting for Bianchi at Deer Valley and attacked JHK and Trebon to take the win.
A tough short track course made up the final event of the stage race; JHK had a substantial overall time gap so I figured I would have to take some risks with a superlight set-up to have any chance. Felt good, actually made some money on a first lap prime, and was just starting to make some moves when it all came unravelled with a flat tire at the halfway point. Wells soloed away for the win; JHK took the overall; and somehow I salvaged fifth overall which was still good for some decent points for the series and that was that; back to Mt. Stan.
Geoff Kabush (Maxxis)
Photo ©: Rob Jones

After winning the Canadian Nationals on pretty much the same course, I had some confidence going into the World Cup. I knew I had a good performance in me and I was praying that my legs would show up for race day. In years past I have had several top tens and felt like I could have possibly hit the podium if I hadn't started way back and got bogged down in all the traffic. I also knew it was to my advantage if I could run my super fast Oriflamme tires, so I was praying the thundershowers would hold off again like at Nationals. The rain did hold and I easily scooted to the front on the fast start loop and settled comfortably in the top ten on the first lap. From there I knew it was going to be a good day and in the heat and humidity I rode my own race and patiently waited for the competition to start showing some cracks. I was pretty excited to finally be battling it out for a spot on the podium as I slid my way up to fifth, fourth, and finally past Craigy Adam (as he was called) at the awards for third.
It was pretty cool to see Adam up on the podium as a new batch of North Americans are starting to see the front end of the race; working hard and doing things the right way is starting to pay off. Couldn't quite reel in the team duo of Sausage and Kracker and they controlled the sharp end of the pack about a minute ahead all day and finished one - two. It was a bummer for teammate and Quebexican National Toulouse who was heading well into the top ten when mechanical issues hit and cost him a great finish...arrrrghhh - bike racing.
This ride gives me a lot of hope for the Angel Fire WC which is next for me in a couple of weeks, and the Worlds, which have been in the back of my head all year. I am finally getting some time to chill out with the lovely Ms. Pink at command central in Albuquerque which works out pretty swell for the altitude racing to come.
Onwards and upwards,
gk