Recently on Cyclingnews.com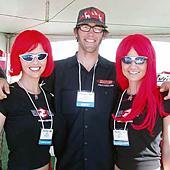 Photo: © Kristy Scrymgeour
Mr. Congeniality: The Geoff Kabush diary 2004
Geoff Kabush is no newcomer to the mountain bike racing scene, but his patient and steady approach has made this past season his best yet. Winning the NORBA final and overall series was the pinnacle of the year for the much-loved Canadian rider, whose passion for the sport will see him racing his bike for many more years to come.
October 9, 2004
Up and at 'em
After a couple weeks at home laying low, going to a few concerts and getting sick, I was back up and at 'em, heading to East Coast cross-central at Gloucester, MA for a little more racing to ward off the post MTB season boredom.
Michelob ULTRA Gran Prix/ECV Cross #1 - C2, Gloucester, USA, October 30, 2004
Grrrrrr!
Photo ©: Mike Morris

Yeah baby!
Photo ©: Mike Morris

The classic seaside venue brought out huge crowds and large fields for some excitement at rounds #3/4 of the Crank Brothers USGP of cyclocross. There was a good thick Scottish fog along with a brisk wind blowing in on day one but after dicing it up for a few laps, Mr. Craig seized the oportunity and jumped off the front of the race. Having a teammate up the road was a huge advantage as I lay low and waited to pounce. Trebon was charging hard and with around 3 laps to go, it all came together and I took my opportunity coming out of the big sand pit. I was hoping to win one race this year and it was sweet to take this one, take the leader's jersey as well, and have Adam on the podium in third.
Michelob ULTRA Gran Prix/ECV Cross #2 - C2, Gloucester, USA, October 31, 2004
Psyched & serious
Photo ©: Mike Morris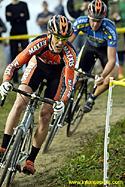 Day two was dry and fast; Trebon had some serious legs and was driving it from the gun. Jonny was able to make it to the front and help out some but after a while it was just myself vs. Trebon and Wells. The boys didn't want to see me win another race so I was getting the ol' one-two punch to the head. I was able to cover attack after attack but it took too much juice out of the legs for the final sprint; I was able to get onto Trebon's wheel but he just kept it pinned to the finish line and there was no way I was coming around. I am psyched with another podium and the leader's jersey again but the fun cross season is starting to pressurize; now that I am doing so well, I feel like I need to get serious; hopefully not too much.
After the race we spent some downtime at manager Eric's brother's place just off the Yale campus in Connecticut; I felt smart just walking around all the old buildings. And from Yale we drove up to central and quite rural Maine and Adam's hometown of East Corinth; got an interesting perspective into the life of Adam Craig and got some good fresh deer for breakfast that his dad had just shot. The drive continued towards Canadian Nationals up to Dieppe, NB, Canada with just Eric, mechanic Jake, and myself. It is much more fun crossing the border into Canada than the US, as we had a good chat with the border patrol lady and even signed an autograph for her son. Being the only rider for the race I was feeling a bit of pressure as Jake and Eric had driven across 17 states and one province now to help me out.
Canadian National Cyclocross Championships - CN, Dieppe, New Brunswick, Canada, November 6, 2004
The race was a head to head battle with myself and the six-time national champ and the godfather of Canadian cross. What made it tougher to go into battle was that it was Peter Wedge who is a longtime friend and former teammate for six years; he was also the hometown hero and had lots of mullet wearing fans and family on the sidelines. Pete has withstood many so-called challengers over the years and he wasn't about to go down easy...
He started hard and was ripping my legs off right away. He got a gap and kept it; I couldn't seem to close it and when I finally did he opened it right back up. I thought it was over with three to go but somehow I was able to grapple my way back to the front for a final lap showdown; somehow I managed to counter and got a small gap and squeaked out the win. You never know when you are going to win a national champ jersey, so I was pretty happy and relieved after a hard battle on the race course.
I am heading back home and only need stay a little bit serious for another 10 days until the final weekend of the USGP; well not really that serious at all. Looking forward to the ski season; it is snowing here on the east coast so hopefully it is snowing on the mountains back home.
Over and out,
gk