Michelob ULTRA Gran Prix/ECV Cross #2 - C2
(Crank Bros USGP #4/Verge NECCCS #3)
Gloucester, USA, October 31, 2004
Trebon nabs Halloween treat in Gloucester
Ryan Trebon
Photo ©: Mike Morris
Ryan Trebon (Kona) exorcised his own personal demons on a Halloween Sunday at Stage Fort Park in Gloucester, winning Round 4 of the Crank Brothers U.S. Gran Prix of Cyclocross. Having come close to winning this race on his last two visits, Trebon battled back from adversity all day to hold off a hard-charging Geoff Kabush (Maxxis-Giant) in a tight, two-up sprint in the Michelob ULTRA Grand Prix of Gloucester. Todd Wells (GT-Hyundai) finished just behind the duo, having been the day's major animator.
Trebon, who finished second to Kabush yesterday, said he clearly benefited from the warm sunny conditions that prevailed - just the opposite from the blustery rainstorm that visited Gloucester 24 hours earlier, when Trebon let victory slip from his grasp by bobbling nearly every slick corner.
This time, Trebon left little to chance, leading out on the uphill, paved finish and holding off a hard-charging Kabush.
"It was so dry and fast today," Trebon explained after the race. "I was at 110 percent for the entire race. I was a little surprised Geoff didn't come around because I was spent… I was surprised I could hold a straight line coming into the finish."
It was a race of attrition. Trebon, Wells and Kabush were all well placed on the first lap, and were quickly joined by Jonny Sundt (Maxxis-Giant), Mark McCormack (Clif Bar/Colavita Olive Oil), Andy Jacques Maynes (Clif Bar), and another half-dozen racers. One favorite conspicuously absent from the leaders was Italian national champion Daniele Pontoni, who finished the first circuit 30 seconds down and continued to lose more time on each lap. After a bad day on Saturday, Pontoni told guest commentator Tim Johnson (Jittery Joe's) that he had "bad legs."
Barry Wicks and Geoff Kabush
Photo ©: Mike Morris

In contrast, Trebon had great legs, constantly attacking the group with huge efforts that ultimately forced Jacques-Maynes, then Sundt, and then McCormack off the pace. Perhaps the only other rider who could match Trebon's pace was Redline's Marc Gullickson, who fought back desperately from a bad start to join the leaders. But the effort took its toll on the Boulder rider, as he spent the last three laps losing and regaining contact with the Wells-Trebon-Kabush trio.
On the last lap, it was anybody's race, as Wells and Trebon alternated attacks, trying to shake Kabush. "Todd and I have raced together for a long time, and since Kabush won yesterday, we tried to work him over," Trebon conceded.
"Todd and Ryan were giving me the 1-2 punch," Kabush agreed. "I could match most of it, but Ryan was the strongest today."
A mountain biker, Kabush looked like an old road pro as he and Trebon lined up for the sprint, having gapped Wells. "I got in his draft," Kabush laughed, "but he kept accelerating all the way to the line."
With his second place, however, Kabush strengthened his hold on the Crank Brothers U.S. Gran Prix of Cyclocross leader's jersey. Maxxis-Giant team director Eric Wallace said the plan had been to try to set up Adam Craig for the win today, but the 23-year-old from Maine had a miserable day, plagued by mechanicals, crashes and all sorts of ghoulish bad luck.
"Kabush is our leader from here on out," Wallace said.
Trick, not treat for Hall
Ann Knapp
Photo ©: Mike Morris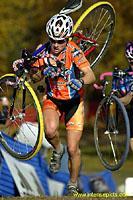 In the elite women's field, Kona's Ann Knapp finished off a difficult Gloucester double by repeating Saturday's victory with a second win. For the first half of the race, however, Knapp looked to be in serious difficulty as Cyclocrossworld.com's Gina Hall lit the course on fire. But unwilling to back off, Hall crashed heavily into Gloucester's sand pit, lodging her front brake lever into her world. Worse than the damage to her bike was the blow she sustained to her head.
"It took about a lap to sort things out," Hall said. "I had to figure out what I had hurt. And I hurt just about everywhere."
The fall cost Hall her 30-second lead, and she dropped about 20 places behind a lead group of Knapp, Velo Bella rider Barbara Howe, Sven Cycles rider Mary McConneloug and British national champion Louise Robinson. Although she fought valiantly to come back, Hall could manage no better than fifth on the day.
"I think she definitely would have won today," Knapp said of Hall. "I don't think I would have caught her. You saw how quickly she came back after the crash, and I think she was hurt pretty badly."
"I felt great today," Hall said. "When I woke up this morning, I felt I was going to have a great day."
Gina Hall
Photo ©: Mike Morris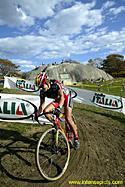 McConneloug finished second in a sprint with Knapp ("Neither of us are great sprinters," Knapp conceded), while Robinson, who was all but anonymous on Saturday, completed a gutsy ride to finish third.
After four rounds, Kabush leads the Crank Brothers U.S. Gran Prix of Cyclocross standings, with 154 points. A resurgent Gullickson is second with 120 points, while Trebon leaps into third with 107 points to Craig's 104. Mark McCormack is sitting fifth with 103 points.
Knapp bypassed Hall to take the women's lead, 14 points ahead of her rival and 74 points ahead of Vanilla/S&M rider Rhonda Mazza.
In the U-23 series, Matt White (NCC-BikeRef.com) holds the leaders jersey, while Jesse Anthony (Cyclocrossworld.com) sits in second and Zach Grabowski (TIAA CREF/Clif Bar) is in third.
Photography
Images by Mike Morris/www.intensepicts.com
Results

Elite men
 
1 Ryan Trebon (USA) Kona                                                55.13
2 Geoff Kabush (Can) Maxxis - Giant                                          
3 Todd Wells (USA) GT/Hyundai                                            0.15
4 Marc Gullickson (USA) Redline                                          0.24
5 Mark McCormack (USA) Clif Bar/Colavita Olive Oil                       0.41
6 Barry Wicks (USA) Kona                                                 0.45
7 Adam Craig (USA) Maxxis - Giant                                        0.48
8 Tyler Johnson (USA) Richard Sachs/CYBC                                 0.55
9 Jonathan Sundt (USA) Maxxis - Giant                                    1.04
10 Peter Wedge (Can) Kona/Easton/CCA                                     1.25
11 Jackson Stewart (USA) Clif Bar                                        1.36
12 Ben Jacques-Maynes (USA) Sierra Nevada Cycling                        1.38
13 Erik Tonkin (USA) Kona                                                1.48
14 Matt White (USA) NCC/BikeReg.com                                      2.12
15 Ben Turner (USA) TIAA-CREF/CLIF BAR                                   2.17
16 Justin Robinson (USA) Bullion Stil                                    3.06
17 Michael Broderick (USA) Seven Cycles                                      
18 Johannes Huseby (USA) FiordiFrutta Elite Cycling Team                 3.25
19 Frank Mapel (USA) Kona/Easton/CCA                                         
20 Brent Prenzlow (USA) Salsa/Celo Pacific                                   
21 Brandon Dwight (USA) TIAA-CREF/CLIF BAR                                   
22 Adam Hodges-Myerson (USA) Cycle Smart                                 3.40
23 Justin Spinelli (USA) Richard Sachs/YCBC                              3.43
24 Zak Grabowski (USA) TIAA-CREF/CLIF BAR                                3.58
25 Jacob Stechmann (USA) Subway-Express                                  4.06
26 Ryan Leech (USA) FORT-GPOA !                                              
27 Troy Wells (USA) Kona/Easton/CCA                                      4.15
28 Noah Taylor (USA) Putney West Hill                                    4.18
29 Troy Heithecker (USA) Recycled Cycles-Airborne                        4.20
30 Roddi Lega (Can) united cycle                                         4.26
31 Daniele Pontoni (Ita) Selle Italia-Elite                              4.29
32 Joshua Snead (USA) Village Peddler presented by Buycell.com           4.32
33 Matt Kraus (Can) Alan Factory Team                                    4.36
34 Nathan Chown (Can) St.Catharines C.C./Fuji Canada                     4.41
35 Cory Burns (USA) Colavita-Bolla                                       4.43
36 Benoit Simard (Can) Team Québec/Cycles Lambert/Auberge La Goéliche    4.47
37 Kevin Bouchard-Hall (USA) USA National Team                           5.02
38 Greg Reain (Can) gearsracing.com                                      5.07
39 John Foley (USA) Bike Alley                                           5.08
40 Christian Meier (Can) DPM Sports                                      5.11
41 Kevin Noiles (Can) TSC BERLIN                                         5.15
42 Andy Applegate (USA) Easton/Kona/CCA                                  5.33
43 Andrew Wulfkuhle (USA) ALAN - Mid Atlantic                            5.42
44 Greg Wittwer (USA) Cyclocrossworld.com                                5.58
45 Peter Morse (Can) Midweek CC                                          6.10
46 Davy Yeater (USA) Monticello                                          6.22
47 Mike Hall (USA) Voo Doo Cycles                                        6.25
48 Jamey Driscoll (USA) Richard Sachs/CYBC                               6.30
49 Jonathan Bruno (USA) Independent Fabrication                          6.34
50 Bruno Lafontaine (Can) Perigny                                            
51 Dan Neyens (USA) RAD Racing                                           6.39
52 Jamie Lamb (USA) Cyclesmith/Kona                                      6.51
53 Ryan Larcque (USA) Team Bicycle Alley                                 7.19
54 Lance Doherty (Can) Missing Link - Bianchi                                
55 Matthew Hadley (Can) Radical Edge/ Powerbar/Maxxis                        
56 Timothy Ellis (USA) Recycled Cycles-Airborne                              
57 Jon Hansen (USA) Embestida!                                               
 
One lap behind
 
58 Ryan Brooks (USA)                                                         
59 David Coughlin (Can)                                                      
60 Matt Demeis (USA) BIKEMAN.COM                                             
61 Daniel Coady (USA) NCC/BikeReg.com                                        
62 David Allen (USA) KHSnm.com                                               
63 Tom Gosselin (USA) Maine Cycling Club/ Rainbow Bike                       
64 Ari De Wilde (USA) Essex County Velo                                      
65 Aaron Molloy (USA) NHCC/Trek                                              
66 Patrick Beland (USA) Xcluziv                                              
67 Ryan Belliveau (Can) Giant Bikes                                          
68 John Burns (Can) Bikeman.com                                              
69 Phil Cortes (USA) Ital Pasta                                              
70 Thomas Carr (Can)                                                         
71 Michael Henry (USA) Recycled Cycles-Airborne                              
72 Sam Martenus (USA) CCB/Volkswagen                                         
73 Donald Snoop (USA) Vergesport.com/Test Pilot                              
 
Elite women
 
1 Ann Knapp (USA) KONA                                                  42.50
2 Mary McConneloug (USA) Seven Cycles                                    0.03
3 Louise Robinson (GBr) Pedros/ECV                                       0.08
4 Barbara Howe (USA) Velo Bella                                          0.14
5 Gina Hall (USA) Cyclocrossworld.com                                    0.25
6 Melissa Thomas (USA) Bike Source/Tokyo Joes                            0.26
7 Sarah Kerlin (USA) Velo Bella                                          0.30
8 Anna Milkowski (USA) RONA                                              1.19
9 Josie Beggs (USA) Starbucks-CCA                                        1.30
10 Allison Baumhefner (USA)                                              1.41
11 Megan Monroe (USA) Lemond                                             1.50
12 Rhonda Mazza (USA) VanillaBicycles/Team S&M                           2.00
13 Christine Vardaros (USA) Velo Bella                                   2.20
14 Maureen "Mo" Bruno Roy (USA) Cyclocrossworld.com                      2.22
15 Sinead Fitzgibbon (USA) Aquafina/CRCA                                 2.26
16 Marianne Stover (USA) Independent Fabrications                        2.53
17 Hillary Daniels (USA) Hunter Cycles                                   3.05
18 Melodie Metzger (USA) Velo Bella                                      3.14
19 Erin Kassoy (USA) Velo Bella                                          3.17
20 Celeste Drumm (USA) HUP United                                        3.32
21 Anne Schwartz (USA) Flying Rhino                                      3.44
22 Tara Ross (Can) Team Diet Cheerwine                                   4.02
23 Heather Szabo (USA) Tokyo Joe's                                       4.06
24 Amber Itle (USA) Yellow Breeches Racing                               4.09
25 Pauline Frascone (USA) Mystic Velo                                    4.14
26 Alicia Henest (USA) Richard Sachs                                     4.17
27 Sara Cushman (USA) Gear Works/Spin Arts                               4.22
28 Kathleen Billington (USA) Fuji                                        4.25
29 Rebecca Wellons (USA) Gearworks/Spin Arts Cycling Team                4.34
30 Catherine Deschenes (Can) Xcluziv                                     4.42
31 Sami Fournier (USA) Velo Bella                                        4.53
32 Maryann Martinez (USA) CCB/Volkswagen                                 5.08
33 Stephanie White (USA) Dansko/Wheelworks                               5.36
34 Mackenzie Dickey (USA) Team Bicycle Alley                             5.52
35 Cara McCauley (USA) Easton/Kona/CCA                                   5.55
36 Darcy Foley (USA) Dansko Wheelworks                                   6.03
37 Lauren Costantini (USA) SyCip Racing                                  6.11
38 Susan Maclean (USA) Gear Works/Spin Arts Cycling Team                 6.19
39 Joanne Stevens (USA) Lowes Properties                                 6.50
40 Catherine Dudley (USA)                                                7.00
41 Lauren Trull (USA) Kona/Easton/CCA                                    7.08
42 Carolyne Haill (Can) Midweek CC                                       7.12
43 Kasandra Cote (Can) Xcluziv                                           7.32
44 Katherine Fargo (USA) NEBC/Cycleloft                                  8.49
 
One lap behind
 
45 Lesley Honsberger (Can) St.Catharines C.C.                                
 
Under 23 men
 
1 Matt White (USA) NCC/BikeReg.com                                      57.25
2 Zak Grabowski (USA) TIAA-CREF/CLIF BAR                                 1.46
3 Troy Wells (USA) Kona/Easton/CCA                                       2.03
4 Cory Burns (USA) Colavita-Bolla                                        2.31
5 Christian Meier (Can) DPM Sports                                       2.59
6 Greg Wittwer (USA) Cyclocrossworld.com                                 3.46
7 Jamey Driscoll (USA) Richard Sachs/CYBC                                4.18
8 Bruno Lafontaine (Can) Perigny                                         4.22
9 Dan Neyens (USA) RAD Racing                                            4.27
10 Jamie Lamb (USA) Cyclesmith/Kona                                      4.39
11 Matthew Hadley (Can) Radical Edge/ Powerbar/Maxxis                    5.07
 
One lap behind
 
12 Ari De Wilde (USA) Essex County Velo                                      
13 John Burns (Can) Bikeman.com                                              
 
Junior men
 
1 Bjorn Selander (ALAN)                                                 40.18
2 Adam McGrath (Redline/Excel Sports)                                        
3 Peter Stetina (TIAA-CREF/CLIF BAR)                                         
4 Brady Kappius (TIAA-CREF/CLIF BAR)                                     0.07
5 Alex Howes (TIAA-CREF/CLIF BAR)                                        0.36
6 Charles Marzot (Coast to Coast - KAM - Stelvio)                        1.27
7 Jon Belcher (Union Velo)                                               1.44
8 Will Dugan (Tosk/BCA)                                                  1.53
9 Mitchell Peterson (Balance Bar/Devo)                                   1.59
10 Noah Harwood (People Cycle/Stelvio Teamwear)                          2.12
11 Luke Brechwald (Rad Racing)                                           2.55
12 Morgan Macleod (Portland Velo/Jamis)                                  3.14
13 Michael Hosey (SOULCRAFT)                                             3.31
14 Tucker Olander (Team Rio Grande)                                      3.40
15 Evan Piche (Necsa/Cuevas)                                             4.18
16 Jerome Townsend (Team Bike Alley)                                     4.26
17 Colt McElwaine (Northeast Bicycle Club-Cycle Loft)                    4.31
18 Austin Carroll (Balance Bar/Devo)                                     5.35
19 Benjamin Zawacki (Coast to Coast - KAM - Stelvio)                     6.03
20 Ryan Barlow (NECSA)                                                   7.05
21 Timothy Halliday (American Cycling Team)                              7.10
 
Masters 35+
 
1 Rich Maile (art by opsal)                                             40.12
2 Chris D'Aluisio (Specialized R+D)                                          
3 Andy Applegate (Easton/Kona/CCA)                                           
4 Jonny Bold (Corner Cycle/ Independent Fabrication)                         
5 John Verheul (Ideal Tile/Brielle Cyclery)                              0.47
6 Mike Yozell (FORT/GPOA)                                                    
7 Robert Campos (HVC/Jessies)                                            0.51
8 Greg Ferguson (FORT/GPOA)                                              1.05
9 Timothy Ellis (Recycled Cycles-Airborne)                               1.16
10 Mark Stotz (Gearworks)                                                    
11 David Eastwood (Art by Opsal)                                         1.26
12 Michael Bernard (Gearworks)                                           1.34
13 Aaron Millett (ESSEX COUNTY VELO)                                     1.39
14 John McKone (CCB/Volkswagen)                                              
15 Steve Roszko (NCC/BikeReg.com)                                        1.42
16 Jon Gallagher (Cole Sport)                                                
17 Peter Brennan (Trek/Doriti Gelati)                                    1.53
18 Brad Patches                                                              
19 Robert Bobrow (TexasRoadhouse/Roark)                                  1.57
20 Colman O'Connor (NEBC/Cycle Loft)                                         
21 Al Senft (NUVO/Bicycle Action Project)                                2.04
22 Troy Fenderson (Boston Scientific/euroTEK)                            2.06
23 Sam Morse (Bicycle Link/MBRC)                                         2.26
24 Todd Watters (Union Velo)                                             2.38
25 Christopher Long (Independent Fabrication/Gotham)                         
26 Norm Kreiss (missing link bicycle club)                                   
27 Wiliam Crecelius (rapid transit)                                          
28 Bob Bisson (Gear Works/Spin Arts)                                         
29 Todd Rowell (NCC/BikeReg.com)                                         2.49
30 Paul Curley (Gearworks/Spinarts)                                      3.07
31 Scott Wade (Gearworks/Spinarts)                                       3.11
32 David Belknap (Bicycle Link/MBRC)                                         
33 Tim Groesbeck (CCB)                                                       
34 Joel Brown (Cox Communications Cycling Team)                              
35 Randall Root (Team Snow Valley)                                           
36 Paul Boudreau (ECV - Essex County Velo)                               3.29
37 Fred Wittwer (Charlottesville racing club)                                
38 John Lux (First Capital velo)                                             
39 Mark Gunsalus (Bike Barn Racing)                                      3.33
40 Wade Summers (Benidorm/Createx Colors)                                3.39
41 Paul Cusick (pacific sunset velo/Team Dare)                           3.46
42 Christopher White (BOB/Nault's Cyclery)                                   
43 John Mosher (NEBC/Cycleloft)                                          3.50
44 George Hebner (Chesapeake Wheelmen/King Pawn)                         3.59
45 John Meerse (Fastsplits Cycling Team)                                 4.03
46 Tom Malniven (Hampton Velo)                                           4.12
47 David Connery (HUP United)                                                
48 William Sawyer (Gearworks)                                            4.16
49 Dan Gagliarcle (MTBmind.com)                                              
50 David Rath (GMBC/Catamount)                                           4.22
51 Michael Cole (Minuteman Road Club)                                    4.35
52 Rob Belcher (Union Velo)                                              4.54
53 James Walsh (Cox Communications Cycling Team)                         5.06
54 Paul Lynch (missing link bicycle club)                                    
55 Kevin Callahan (Bicycle Link/MBRC)                                        
56 Brian Sweeney (Gearworks)                                             5.15
57 Michael Hartley (Mid Coast Velo)                                          
58 Jim Bronson (LSV/Kelly Racing Team)                                   5.19
59 Phillip Kenealy (NHCC/Teah NH)                                        5.24
60 Gray Eldridge (Corner Cycle)                                          5.26
61 Chris Burke (Providence Velo)                                         5.29
62 Chip Sovek (Potomac Velo Club)                                            
63 Timothy Shea (BOB/Nault's Cyclery)                                        
64 Christopher Smith                                                     5.35
65 Mark Laser (Yellow Breeches Racing)                                   5.37
66 Jim Brown (RAD Racing)                                                    
67 Nathan McHugh (Earl's Cyclery)                                        5.41
68 David Schachte (Union Velo)                                           5.46
69 Wayne Cunningham (NEBC/Cycle Loft)                                    5.48
70 David Fredrickson                                                     5.51
71 Dawes Wilson (Pedal Power)                                                
72 Chris Milliman (HUP United)                                               
73 Kelly Cline (Wissahickon)                                             5.56
74 John Grenier (Maine Master's Racing)                                      
75 Edmund Geschickter (Unattached)                                           
76 John Buser (putney/westhill)                                              
77 Tom Stevens (Gear Works/Spin Arts Cycling Team)                           
78 Paul Nyberg (Benidorm/Createx Colors)                                     
79 Alan Buday (rotations racing)                                         6.15
80 Gary Cundiff (CAPE COD PEDROS/K2/WHEELWORKS)                          6.19
81 Geoff Sullivan (Eastern Bloc/Benidorm)                                6.22
82 Sean Wittmer                                                          6.28
83 Michael Satterfield (Cycles De Oro/The Printery)                      6.38
84 Clifford Borden (martin swiss)                                        6.49
85 Paul Weiss (Portland Velo Club)                                           
86 David Lyman (Union Velo Club)                                             
87 Richard Perrotti, Jr (RAGE MTB)                                           
88 Steven Bonadio (Arc-en-Ciel Racing Team)                              7.09
89 Paul Niehiff (Southern Maine Velo)                                    7.14
90 Christopher Zigmot (ECV - Essex County Velo)                          7.37
91 Scott Mares (SIBEX)                                                       
92 Jim Burke (NEBC/Cycle Loft)                                           7.57
93 Mike Hoover (Bikeman.com)                                             8.17
 
One lap behind
 
94 John Baker (putney/westhill)                                              
95 Timothy Bailey (Bicycle Link/MBRC)                                        
96 Tim Crowley (CTS)                                                         
97 Peter Crowley (NCC/BikeReg.com)                                           
98 Richard Costa                                                             
99 James Boudreau (MASTERS VELO CLUB)                                        
100 Fafar Bayat (Strictly Bicycles)                                          
101 Steven Heath (Masters Velo Club)                                         
102 Robert Vaughan (Sunapee-Banagan's Bike Club)                             
103 Mike Jinks (ESSEX COUNTY VELO)                                           
104 Chris Shotwell                                                           
105 John Riedel (Independent Fabrication)                                    
106 Lawrence King (Providence Velo)                                          
107 Christopher Houston (Yellow Breeches Racing)                             
 
Masters 45+
 
1 Robert Bobrow (TexasRoadhouse/Roark)                                  42.09
2 Christopher Long (Independent Fabrication/Gotham)                          
3 Norm Kreiss (missing link bicycle club)                                    
4 Bob Bisson (Gear Works/Spin Arts)                                          
5 Paul Curley (Gearworks/Spinarts)                                       1.10
6 Scott Wade (Gearworks/Spinarts)                                        1.14
7 David Belknap (Bicycle Link/MBRC)                                          
8 Tim Groesbeck (CCB)                                                        
9 Randall Root (Team Snow Valley)                                            
10 Fred Wittwer (Charlottesville racing club)                                
11 Tom Malniven (Hampton Velo)                                           2.15
12 William Sawyer (Gearworks)                                            2.19
13 David Rath (GMBC/Catamount)                                           2.25
14 Rob Belcher (Union Velo)                                              2.57
15 Kevin Callahan (Bicycle Link/MBRC)                                        
16 Jim Bronson (LSV/Kelly Racing Team)                                   3.22
17 Phillip Kenealy (NHCC/Teah NH)                                        3.27
18 Timothy Shea (BOB/Nault's Cyclery)                                        
19 David Schachte (Union Velo)                                           3.49
20 Dawes Wilson (Pedal Power)                                                
21 John Grenier (Maine Master's Racing)                                      
22 Tom Stevens (Gear Works/Spin Arts Cycling Team)                           
23 Geoff Sullivan (Eastern Bloc/Benidorm)                                4.25
24 Clifford Borden (martin swiss)                                        4.52
25 Paul Niehiff (Southern Maine Velo)                                    5.17
 
One lap behind
 
26 Timothy Bailey (Bicycle Link/MBRC)                                        
27 Peter Crowley (NCC/BikeReg.com)                                           
28 Richard Costa                                                             
29 James Boudreau (MASTERS VELO CLUB)                                        
30 Fafar Bayat (Strictly Bicycles)                                           
31 Steven Heath (Masters Velo Club)                                          
32 Robert Vaughan (Sunapee-Banagan's Bike Club)                              
33 Christopher Houston (Yellow Breeches Racing)                              
 
B men
 
1 Kevin Attkisson (Texas Roadhouse)                                     41.31
2 Ryan Rumsey (Bikeman.com)                                                  
3 David Gagnon (SPORTIF BROMONT)                                             
4 Jake Hollenbach                                                        0.05
5 Jamie Belchak (North Atlantic Velo/Mercury Web Solutions Cycling)      0.12
6 Weston Schempf (FORT-GPOA)                                             0.14
7 Michael Magur (Vergesport.com)                                         0.16
8 Logan Hodson (Alan Factory Team)                                       0.38
9 Marc Bavoneau (ECV - Essex County Velo)                                0.45
10 Jean-Nicholas Lavertu (Durand Sport)                                  1.01
11 Tom Hopper (Bikeman.com)                                              1.08
12 David Gruber (Martin Swiss)                                           1.12
13 Paolo Zenoni (Westwood Velo)                                          1.14
14 Pascal Bussières (Biogen idec, Auberge La Goéliche)                       
15 Sean Sullivan (ECV - Essex County Velo)                               1.56
16 Zac Daab (Hup United)                                                     
17 Stan Jurga (Essex County Velo)                                        2.07
18 Charlie Miller (Veritcal Earth)                                           
19 Rick Trojanowski (hampton velo club)                                  2.17
20 Art Trapotsis (Boston Road Club)                                      2.37
21 Brendan Sullivan (VeloEuropa)                                             
22 Jeffrey Gilman (Bicycle Link/MBRC)                                    2.49
23 Brant Hornberger (NCC/Bikereg.com)                                        
24 Kyle Wolfe (Essex County Velo)                                        2.53
25 Brendan Cornett (Maine Cycling Club/Rainbow Bike)                         
26 Ryan Fleming (Peerless Insurance/Papa Wheelies)                           
27 Jerome Hughes (Bikeman.com)                                           3.08
28 Brad Roberts (Putney West Hill)                                           
29 Corey Piscopo (NHCC/Team NH)                                          3.13
30 Brian Keegan (UNH)                                                    3.19
31 Brian Hayes (UCONN Cycling)                                           3.26
32 Coley Bryan (harborside cycle)                                        3.40
33 Ed Meyer (Dartmouth College Cycling)                                  3.49
34 Nick Turner (ALAN Factory Team)                                       3.55
35 William Palm (UC Berkeley)                                                
36 Tim Stanley (UNH Cycling)                                                 
37 Luke Krisch (Louis Garneau)                                           4.01
38 Brian Rutter (Berlin Bike, East Berlin CT)                            4.06
39 Ryan Amisault (Rocky Mtn Cycling Education Foundation)                4.12
40 Todd Pittman (unattached)                                             4.15
41 Jeff Ferraro (Benidorm Bikes/Createx Colors)                          4.22
42 Greg Martin (Bethel Cycle Sport Club)                                 4.32
43 Todd Crisafulli (North Atlantic Velo/Mercury Web Solutions Cycling)       
44 James Wood (Team City Sacramento)                                         
45 Anthony Falk (CRCA/merrill lynch/StelvioTeamwear)                     4.41
46 Joseph Crooks (Cyclonauts Racers)                                     4.45
47 David Rose                                                                
48 Wayne Maceyka (Harris Cyclery)                                            
49 Ethan Parson (NCC/BikeReg.com)                                        4.55
50 Ryan Pomatevich (TriTech)                                             5.00
51 Barton Kirk (Skirack/Provisions Intc)                                 5.17
52 Eric Goodson (Boston Road Club)                                       5.19
53 Jude Demeis                                                           5.45
54 Brian Plouffe (Powder Ridge Cycling Club)                             6.02
55 Alec Riendeau (Highland Park Hermes)                                  6.08
56 Christopher Rehm (Quad Cycles/Alan Grassroots cross)                  6.10
57 Eric Maniez                                                           6.12
58 Darius Greenbacher (NCC/BikeReg.com)                                  6.16
59 Steven Morse (bikeman.com)                                            6.18
60 Paul Niehoff (Southern Maine Cycling Club)                            6.36
61 Eric Lowenstein (Highland Park Hermes)                                6.45
62 Chris McKernan (ECV - Essex County Velo)                              6.56
63 Charles Goldman                                                       7.03
64 Ralph Karam (Southern Maine Cycling Club)                             7.06
65 Timothy Shea (BOB/Nault's Cyclery)                                    7.11
66 Kevin McCarthy                                                        7.15
67 John Genovese (ECV - Essex County Velo)                               7.18
68 Justin Ziemba (NHCC/Team NH)                                              
69 Jeff Guy (FORT-GPOA)                                                      
70 Mike Zanconato (HUP United)                                           7.22
71 Patrick Goguen (NEBC)                                                 8.03
72 Joe Jankovsky (Boston Road Club)                                      8.14
73 Craig Callan (Highland Park Hermes)                                   8.38
 
One lap behind
 
74 Darren Crupi (Heart Of New England/Peerless)                              
75 Sven Lohse                                                                
76 Mike Sheahan (Team Cape Cod Pedro's/K2/WheelWorks)                        
77 Brian Dahlmann                                                            
 
Cub Juniors
 
1 Luke Keogh (Corner Cycle)                                              8.26
2 NA                                                                     0.08
3 Gavin Mannion (CCB/Volkswagen)                                         0.26
4 Jesse Keogh (Corner Cycle)                                             2.02
5 Ryan Packard                                                           2.07
6 Elizabeth White (NECSA)                                                2.14
7 Max Syron (Rocket Riders Club)                                         2.23
8 Thomas Cundiff (Pedros/K2/Wheelworks)                                  3.22
9 Paul Gannitt (Pedros/K2/Wheelworks)                                    3.31
 
Master 55+
 
1 Phil Bannister (Putney/West Hill)                                     40.16
2 Bruce McCowan (Providence Velo Club)                                       
3 Kurt Webster (Putney/West Hill)                                        1.43
4 James Themig (Mystic Velo Club)                                        2.42
5 Thomas Downey (Bicycle Link/MBRC)                                      4.31
6 Jeep Barrett (Magic Cycles/Cane Creek)                                 4.47
7 Jim Titone (JB's Cycling Team)                                         5.07
 
One lap behind
 
8 Karl Dittebrandt (kissena cycling club)                                    
 
C Men
 
1 Stephen Kelley (Vortex Racing)                                        38.59
2 Leo Patnode (TMM)                                                          
3 Robert Bauer (Minuteman Road Club)                                         
4 Chris Gagne (BRC)                                                      0.35
5 Kevin Kerwood (NCC)                                                    0.39
6 Matt Shaffer                                                           0.46
7 Nicholas Keogh (Corner Cycle)                                          0.50
8 Jack Gundling (Portland Velo Club)                                         
9 Nathan Mealey (Cycle Smart)                                            0.58
10 Peter Hutchins (NCC/BikeReg)                                          1.25
11 William Irving (EMS Climbing School)                                  1.30
12 Karl Wedeman (Pedro's)                                                2.15
13 Jonathan Hendricks (Craft/Salem Cycle)                                    
14 Dan Fishkin                                                           2.28
15 Aaron Applebaum (BCA/Tosk)                                            2.36
16 Michael Olbrys (NEBC/Cycle loft)                                      2.52
17 John Jonsen (BCA/Tosk)                                                3.00
18 Jay Cormier (Essex County Velo)                                           
19 Jefferey Dixon (SMCC)                                                 3.04
20 Bernard Harmon                                                            
21 Ralph Gulemmo (East End Kreb Cycle)                                       
22 Rob Magadtni (Housatonic Wheel Club)                                  3.36
23 Roswell Thomas                                                        3.44
24 Paul Pontone                                                              
25 Patrick White                                                             
26 Terry Fina                                                            4.13
27 Bill Doonan                                                           4.17
28 Rich Deandrea (Jaeger Wheelman)                                       4.21
29 Haub Valkenburg                                                       4.37
30 Matt Evans                                                            5.25
31 Tom Warner (Mt. Washington Valley Velo)                               5.53
32 Adam Brodsky (MRBC/Link)                                              6.04
33 Daniel Kliger (Matin Swiss)                                               
34 Mike Brown                                                            6.24
35 Mark Vareschi (Rutgers Cycling)                                           
36 Haub Valkenburg                                                       7.11
37 Peadar Harmon (Quad Cycles)                                           7.18
38 Bruce Greenstein                                                          
39 Michael Hawrelak                                                          
40 Ben Grenier (Maine Cycling Club)                                      7.50
41 Kevin Burke                                                               
42 Ron Menner                                                            8.14
43 Chris Parsons (Catch Restaurant)                                      8.30
44 Alexander Larose (Team Bike Alley)                                    9.22
 
One lap behind
 
45 Lee Levitt (Boston Road Club)                                             
46 Jeffrey Nebolini                                                          
47 Hunter Atherton                                                           
48 Jose Monterroso (UVCC)                                                    
 
B Women
 
1 Marri Hall                                                            43.36
2 Brenda Bahnson (Independent Fabrication)                               0.48
3 Erin Canniff                                                           1.27
4 Natalie Dumont (Gearworks)                                             2.10
5 Jennifer Strasser (NECSA/Cuevas/ACT)                                       
6 Molly Housman                                                          2.34
7 Michele Smith (Independent Fabrication)                                    
8 Sheila Senft (CITGO/PBF)                                               3.13
9 Janet Sestokas (NEBC Cycle Loft)                                           
10 Jess Truslow (NEBC Cycle Loft)                                        3.37
11 Erin Reilly (Verge Sport)                                                 
12 Lana Courtney (Dansko Wheelworks)                                     3.53
13 Heidi Wakeman (Dansko Wheelworks)                                         
14 Natalie Stoll (UNH)                                                       
15 Janet Trubey (Asheville Bicycle Racing Club)                              
16 Amanda Leigh (Espoirs de Laval)                                       4.45
17 Cynthia Joiner (CCB/Volkswagon)                                           
18 Lesli Stevens (Team Berlin Bike)                                          
19 Hanna Walton (Berkshire Cycling Association)                          4.48
20 Linda Moran                                                           5.03
21 Nicole Kesselriry (Dansko Wheelworks)                                 5.17
22 Regina Hammond                                                            
23 Anna-Stina Ohlson                                                         
 
B Masters 35+
 
1 Dominique Desmonts (BVC/Jake's)                                       39.05
2 Andrew Brawn (Daway/Taylors)                                               
3 Doug Aspinwall (NCC/BikeReg.com)                                       0.33
4 Joseph Di Angelo (harborside cycle)                                    0.48
5 Jeff Guy (Fort - GPOA)                                                 1.11
6 Derek Griggs (Recycled Sports)                                         1.19
7 James McDonald (NCC/BikeReg.com)                                           
8 Mark Moran (Flying Rhino)                                              1.40
9 Paul Debartolo (GS Gotham/TOGA)                                            
10 Todd Savage (Minuteman Road Club)                                     1.54
11 Theo Kindermans (cyclocrossworld.com)                                 1.57
12 Michael Keogh (Corner Cycle)                                          2.03
13 Marvin Wang (Velo Europa)                                                 
14 George Hebner (Chesapeak Wheelman/King Pawn)                          2.22
15 Jeff Cohen (NCC/BikeReg.com)                                              
16 Mark Suprenant (CCB/Volkswagen)                                       2.30
17 Christopher Kadlick (Minuteman Road Club)                             2.38
18 James Paterson                                                        2.46
19 Paul Crowley (Mass Bay Road Club)                                     3.10
20 Garabed Minasian (BOB)                                                3.30
21 Robert Tutwiler                                                       3.38
22 Richard Desmarais (Union Velo)                                            
23 Terry Cowman (ECV - Essex County Velo)                                4.15
24 Brian Blodin (Bob)                                                    4.31
25 Richard Wolfe                                                             
26 Arnold T. Kalmbach (Bicycle Link /Mass Bay Road Club)                     
27 Doug Hamilton                                                         4.46
28 Steve White (White's Bikes)                                               
29 Robi Desrosiens (AA Vittorio)                                         4.49
30 David Bar                                                             4.59
31 Chris Naigneault (Corner Cylce)                                       5.07
32 Jerry White                                                           5.58
33 Brian Bicki (Team Hawaiian)                                               
34 John Beaudoin (Lindsay Realty)                                        6.18
35 Jim Quinn (Bicycle Link /Mass Bay Road Club)                              
36 Tom Thomson (Union velo)                                                  
37 Juan Darias (Union Velo)                                                  
38 Paul Brais (Team Hawaiian)                                                
39 Joe Hepp (Southern Maine Cycling Club)                                    
 
B Masters 45+
 
1 Derek Griggs (Recycled Sports)                                        40.24
2 Theo Kindermans (cyclocrossworld.com)                                  0.38
3 Michael Keogh (Corner Cycle)                                           0.44
4 Jeff Cohen (NCC/BikeReg.com)                                               
5 James Paterson                                                         1.27
6 Paul Crowley (Mass Bay Road Club)                                      1.51
7 Garabed Minasian (BOB)                                                 2.11
8 Robert Tutwiler                                                        2.19
9 Terry Cowman (ECV - Essex County Velo)                                 2.56
10 Arnold T. Kalmbach (Bicycle Link /Mass Bay Road Club)                     
11 Doug Hamilton                                                         3.27
12 Steve White (White's Bikes)                                               
13 Jerry White                                                           4.39
14 Brian Bicki (Team Hawaiian)                                               
15 Jim Quinn (Bicycle Link /Mass Bay Road Club)                              
16 Paul Brais (Team Hawaiian)                                                
17 Joe Hepp (Southern Maine Cycling Club)                                    
Crank Bros Gran Prix of Cross series standings after four races
1 Geoff Kabush (Can) Maxxis Giant                             114 pts
2 Marc Gullickson (USA) Redline                                90
3 Adam Craig (USA) Maxxis Giant                                84
4 Mark McCormack (USA) Clif Bar-Colavita                       77
5 Andy Jacques-Maynes (USA) Specialized                        63
6 Danielle Pontoni (Ita) Selle Italia - Elite                  62
7 Carl Decker (USA) Giant Pearl Izumi                          60
8 Ryan Treborn (USA) Kona                                      57
9 Barry Wicks (USA) Kona                                       55
10 Erik Tonkin (USA) Kona                                      43
11 Todd Wells (USA) GT-Hyundai                                 30
12 Jonathan Sundt (USA) Maxxis Giant                           27
13 Ben Jacques-Maynes (USA) Sierra Nevada Brewing              26
14 Ben Turner (USA) TIAA-Cref/Clif Bar                         24
15 Justin Robinson (USA) Buillion Stil                         17
16 Jackson Stewart (USA) Clif Bar                              17
17 Bart Gillespre (USA) Biogen-Idec                            16
18 Brandon Dwight (USA) TIAA-Cref/Clif Bar                     16
19 Brent Prenzlow (USA) Salsa-Cella Pacific                    12
20 Joel Schneider (USA) Alan Factory Team                       8
21 Donald Reeb (USA) Guinness                                   7
22 Christopher McGovern (USA) Sierra Nevada Brewing             7
23 Tyler Johnson (USA) CYBC Richard Sachs                       7
24 Adam Hodges-Myerson (USA) Cycle Smart                        6
25 Roddi Lega (Can) United Cycle                                6
26 Peter Wedge (Can) Kona Cycles/Las Gets                       6
27 John Funke (USA) Sycip Racing                                5
28 Josh Snead (USA) Rock Lobster                                5
29 Mike Broderick (USA) 7 Cycles                                4
30 Eric Atwood (USA) Benaroya Research                          3
31 Johannes Huseby (USA) Fiordi Frutta Elite Cycling            3
32 Michael Gallagher (USA) US Armed Forces                      2
33 David Wyant (USA)                                            2
34 John Flack (USA) The Valley Athletic Club                    1
35 Loren Hanson (USA) Benaroya Research                         1
 
Elite women
 
1 Ann Knapp (USA) Kona                                        170 pts
2 Gina Hall (USA) Missing Link                                156
3 Rhonda Mazza (USA) Vanilla/S&M                               96
4 Sarah Kerlin (USA) Vello Bella                               94
5 Barbara Howe (USA) Vello Bella                               94
6 Josie Beggs (USA) Starbucks Double Shot                      87
7 Anna Milkowski (USA) Rona                                    67
8 Mary McConneloug (USA) Seven Cycles                          66
9 Wendy Simms (Can) Front Runners/Steed Cycles                 52
10 Allison Baumhefner (USA) ABS Center                         49
11 Christine Vardaros (USA) Vello Bella                        43
12 Louise Robinson (GBr) Pedros/ECV                            43
13 Melissa Thomas (USA) Bike Source/Tokyo Joes                 40
14 Maureen Bruno-Roy (USA) Dansko Wheelworks                   36
15 Hillary Daniels (USA) Hunter Cycles                         28
16 Megan Monroe (USA) Lemond                                   26
17 Kristi Berg (USA) Bicycle Centers                           18
18 Melodie Metzer (USA) Velo Bella                             18
19 Ingrid Spies (USA) Ti Cycles                                16
20 Brigette Stoick (USA) Veloshop                              12
21 Lora Heckman (USA) Optic Nerve/Lee's                        11
22 Marianne Stover (USA) Independent Fabrications              10
23 Kim Lucas (USA) Clif Bar                                     8
24 Sarah Warner (USA) Biogen/Idec                               8
25 Erin Kassoy (USA) Velo Bella                                 8
26 McKenzie Dickey (USA) Team Bicycle Alley                     7
27 Celeste Drumm (USA) HUP United                               7
28 Sinead Fitzgibbon (USA) Aquafina/CRCA/Cycle Loft             6
29 Katrina Davis (USA) Richard Sachs                            3
30 Stephanie Uetrecht (USA) Hutch's Bend                        2
31 Kelly Jones (Can) Sugoi                                      2
32 Joanne Stevens (GBr) Lowes Prop                              1
 
Under 23 men
 
1 Matt White (USA) NCC/BikeReg.com                            180 pts
2 Jesse Anthony (USA) Cyclocrossworld.com                     134
3 Zachary Grabowski (USA) TIAA-Creff/Clif Bar                 121
4 Daniel Neyens (USA) Lake Washington Velo                     80
5 Cory Burns (USA) Colavita-Bolla                              64
6 Thomas Magrath (USA) Redline                                 55
7 Morgan Schmitt (USA) RAD Racing                              52
8 Christian Meier (Can) DPM Sports                             49
9 John Hanson (USA) NCC/BikeReg.com                            40
10 Troy Wells (USA) TIAA-Creff/Clif Bar                        34
11 Will Freeman (USA) RAD Racing                               32
12 Greg Wittwer (USA) Cyclocrossworld.com                      31
13 Andy Brooks (USA)                                           30
14 Alex Hodge (USA) Team Devo/Balance Bar                      29
15 Juozas Martynaitis (Ltu) Team Easty/Bicycle Warehouse       28
16 Matthew Hadley (Can) Radical Edge/Powebar/Maxxis            27
17 Ryan Belliveau (Can) Giant Bikes                            27
18 Jamie Lamb (Can) Cyclesmith/Kona                            27
19 Jean Nicolas Lavertu (Can) Quebec Cyclobros/Durand Sport    20
20 Jamey Driscoll (USA) Richard Sachs/CYBC                     20
21 Tim Gosselin (USA) Maine Cycling Club/Rainbow Bike          18
22 Ian Elglitis (USA) Bike N' Hike                             17
23 Severin Skolrud (USA) RAD Racing                            12
24 Lauren Johnson (USA) Wenatchee Valley Velo                  12
25 Konrad Lebas (USA) Richard Sachs                            12
26 James Sparling (Can) Bow Cycle                              10
 
Junior men
 
1 Braden Kappius (USA) TIAA-CREF/Clif Bar                     140 pts
2 Charles Marzot (USA) Corner Cycle                           137
3 Adam McGrath (USA) Excel Sports                             133
4 Taylor Lane (USA) Rio Grande                                 93
5 Alex Howes (USA) TIAA-CREF/Clif Bar                          93
6 Eric Riggs (USA) SF Velosport                                76
7 Luke Brechwald (USA) Rad Racing NW                           64
8 Noah Harwood (USA) People Cycling                            63
9 Michael Hosey (USA)                                          60
10 Peter Stetina (USA) TIAA-CREF/Clif Bar                      52
11 Joseph Rogerson (USA) RAD Racing NW                         46
12 Bjorn Selander (USA) ALAN                                   37
13 Morgan Macleod (USA) Portland Velo/Jamis                    32
14 Will Dugan (USA) Tosk/BCA                                   30
15 Adam Switters (USA) Lombardy/Klein                          26
16 Mitchell Peterson (USA) Balance Bar/Devo                    26
17 Austin Carroll (USA) Balance Bar/Devo                       17
18 Jon Belcher (USA) Union Velo                                13
19 Ian Meagle (USA) Fred Meyer                                 12
20 Colt McElwaine (USA) Northeast Bicycle Club                 10
21 Tucker Olander (USA) Team Rio Grande                         9
22 Jerome Townsend (USA) Team Bike Alley                        9
23 Evan Piche (USA) NECSA/Cuevas                                9
24 Timothy Halliday (USA) America's Cycling Team                2
25 Zachary Rice (USA) Cox Communications                        2
26 Tyler Given (USA) ASC Racing                                 1
27 Kenneth Ethridge (USA) North River Racing                    1
 
Master 35+
 
1 Chris D'Aluisio (Specialized R&D)                           170 pts
2 Rich Maile (Art of Opsal)                                   164
3 Andy Applegate                                              104
4 Richard Feldman                                              90
5 David Eastwood                                               73
6 Tim Ellis (Recycled Cycles/Airborne)                         63
7 Jonny Bold (Corner Cycle/IF)                                 60
8 Greg Ferguson (Fort/GPOA)                                    37
9 John Verheul (Ideal Tile/Brielle Cyclery)                    36
10 Tom Phillips                                                34
11 Art O'Connor                                                29
12 Michael Gaertna                                             26
13 Christian Young                                             26
14 Michael Bernard (Gearworks)                                 26
15 Robert Campos (HVC/Jessies)                                 25
16 Michael Wilson (EWEB)                                       24
17 Mark Stotz (Gearworks)                                      24
18 Mike Yozeil (Fort/GPOA)                                     23
19 Jeff Bannink (Team Oregon)                                  20
20 Sean Kelsey                                                 19
21 Aaron Millett (ECV)                                         15
22 Troy Tucker                                                 14
23 Randy Daniels                                               14
24 Sam Morse (Bicycle Link/MBRC)                               14
25 Jon Gallagher (Cole Sport)                                  13
26 John Mitchem (Guiness)                                      12
27 Doug Carlton                                                12
28 Robert Bobrow (Texas Roadhouse/Roark)                       11
29 Randy Iddings                                               10
30 Todd Anderson                                                8
31 Ed Arthul                                                    8
32 Bill Zale                                                    7
33 John McKone (CCB/Volkswagon)                                 7
34 Ron Schmeer                                                  6
35 Scott Wade (Gear Works/Spin Arts)                            6
36 Steve Roszko (NCC/BikeReg.com)                               6
37 Sam Giles (Art of Opsal)                                     5
38 Eric Martin                                                  5
39 David Diviney (Half Fast Velo)                               4
40 Alec Duxbury                                                 4
41 Randall Root (Team Snow Valley)                              4
42 Peter Brennan (Trek/Doriti Gelati)                           4
43 Michael Berro (Salsa)                                        3
44 Dan Peterson                                                 3
45 Christopher Long (Independent Fabrication/Gotham)            3
46 Brad Patches                                                 3
47 Al Senft (NUVO/Bicycle Action Project)                       2
48 Martin Baker (Bike-n-Hike/Giant)                             2
49 Joe Sales                                                    2
50 Todd Watters (Union Velo)                                    1
51 Matthew Hill                                                 1
52 Doug Graver                                                  1
53 Colman O'Connor (NEBC/Cycle Loft)                            1