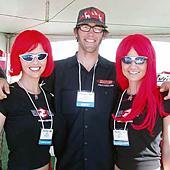 Photo: © Kristy Scrymgeour
Mr. Congeniality: The Geoff Kabush diary 2005
Popular Canadian mountain bike racer had his best ever season in 2004, winning the NORBA final and overall series. For 2005, Geoff will once again be bringing us his unique slant on the racing scene in his diary as he campaigns the NORBA circuit for Team Maxxis. He'll also be riding on the road this year with Jittery Joe's-Kalahari.
NORBA final and onto Worlds
Geoff Kabush (Maxxis)
Photo ©: Clay Lundgren

After surviving "Cottage Nuts" not "Cottage Crazy" in West Virginia (as my sister corrected me on JF's Frenglish of Cabin Fever) Toulouse and I made it fairly smoothly up the East Coast on Thursday to legendary Mt Snow for the NORBA finals.
The XC course was in superb condition in dry conditions which made me quite happy; I wasn't into doing another death march in the mud the week before Worlds. The XC series has been a good story with lead swaps between Adam Craig, myself, JHK, and then back to me, then JHK, and then me again. It has been a battle with Canadian against American, dualie versus hardtail, but it has been good because we all have respect for each other and we know there is no false hero among us. I was happy with the Series Finals in Vermont because I have good memories of my first XC podium way back in 1999. That was the year I went up 1-0 in my offroad series with Lance "I have never doped, no way" Armstrong.
Geoff Kabush leads
Photo ©: Clay Lundgren

No tyre decisions with the dry weather making choices easy, so I just had to sit around until our 3pm start time on Saturday. The day was made even longer as we have been getting out of bed earlier trying to adjust to Euro time. I did manage to catch an Xterra commercial that was still regurgitating one of my spectacular crashes from the 1998 Hawaiian Mountain Tour; thanks for that Kahuna Dave.
I got off the line and into the first singletrack ahead of the group and then let Adam take over with his usual first lap flyer. His attack drew out Roland, Seamus, and myself in a small chase group. Adam finally succumbed at the top of the second of four laps with Roland making a strong push. I sagged a bit on the steep climbs and grabbed handfuls of seconds where I could on the descents as it became grouppo compacto at the half way marker. I decided it was time to fire it up a bit as I found the others suffering and stretched the elastic to its breaking point until Roland was the last one to lose sight. I didn't want to make any mistakes and made sure to try and avoid the trees and sharp things on the last lap. It was also a great day for the team because when I turned around at the finish line I saw Toulouse coming in for a place on the podium in fifth; it has been a long time coming and it was great for things to finally come together for the Quebexican in Vermont. Of course he got pretty wet on the podium but was okay when he found out he also moved up to sixth overall.
Adam Craig (Giant)
Photo ©: Clay Lundgren

Sunday morning we woke up to rain and it didn't really stop all day. Luckily the ground was dry to start so it didn't get too muddy. It was actually dry enough that I made a last minute tyre change on the line to switch to my favourite slick Oriflamme tires. All I had to do was stay out of trouble to win the overall so I tried to stretch things out from the start. Finally I was able to draw out the "Giant Team 4 Fun" and Carl, Adam, and I got a small gap on the field. I was outnumbered but Carl couldn't quite hang on, so it was down to Adam and I. I tried an attack on the last lap but this time Adam hit back with half a lap to go and squeaked out a deserving win in front of the partisan crowd; he's almost a local with the family coming over from Maine.
Well I accomplished some of my big goals for the year this weekend with another couple of NORBA titles, but my biggest one is still to come next weekend. Today I jump in a plane and head over to Zurich and on to Livigno for the World Championships. Relay on Wednesday and XC on Sunday...stay tuned.
gk